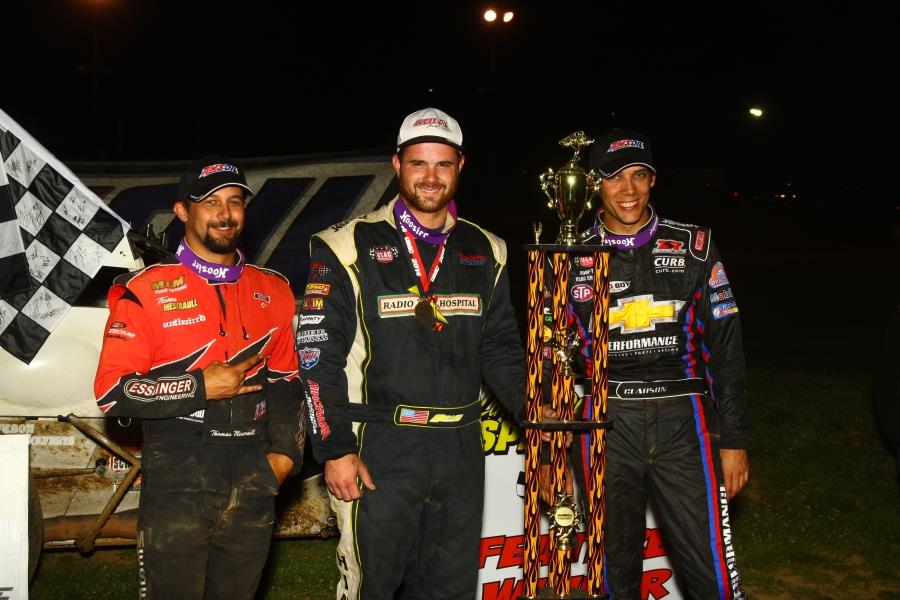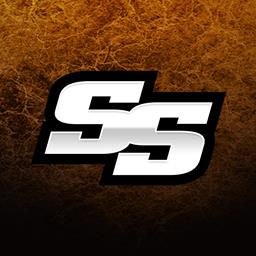 ---
BALLOU BANKS LINCOLN PARK "SPRINTWEEK" LOOT
Putnamville, Indiana…….Robert Ballou broke a dry spell in the win department with the AMSOIL Sprint Car National Championship, as he wired the field in a rim-riding display on Thursday night at Lincoln Park Speedway. The Rocklin, California driver officially led every lap at the line but fought back advances from Chris Windom early and Bryan Clauson late to score his sixth career win with the series in the Deaton's Waterfront Services – Vinny DePalma Motorsports #12x Maxim/Ott.
"In my mind, I gave last night away, so it feels good to get one tonight. Tony Stewart Racing is a great operation and Bryan Clauson is as good as it gets. You can race with that guy. I wasn't gonna let him get me twice in a row, though. I'm from Northern California and I'm used to big curbs like this. I've put in a lot of time up against them, and tonight it just got bigger and harder. I tried to pack it down and work on not losing too much off turn-two because I was better in three and four. We've gotten this Don Ott engine really driveable on the smaller tracks. He has made a big difference. It's great to win for people like that and my guy Derrick Bye, who puts in a lot of time on this deal. Now, we've got to keep this rolling," said Ballou, who won for the first time with the series since August of 2012.
After a few cars, including scheduled polesitter Chad Boespflug were late getting to the race track, Ballou was moved to the front row and out-gunned Windom to the early lead. Ballou carved in his path against the cushion, while Windom stuck to the low line. With a long green-flag stretch, those two were side-by-side for the lead with Ballou inching out an advantage at the stripe on a few occasions. Meanwhile, Clauson had started to slice his way from ninth into the top-five.
A red-flag for Jeff Bland, Jr. on lap nineteen was the first stoppage, as Clauson was able to join the lead pack that also included Kevin Thomas, Jr. and Thomas Meseraull. After the restart, Clauson, Windom, and Thomas fanned out three-wide for second as Ballou opened up some ground. That was short-lived, however, as Windom and Thomas spun together on lap 23, collecting sixth-running Justin Grant.
With just eight laps to go, it was a dogfight between Ballou and Clauson, as the two-time and defending National Champ dove underneath Ballou through turns one and two and edged ahead down the backstretch. Ballou leaned against the large Putnamville curb, though, and rocketed off turn-four with the lead. Clauson eventually jumped to the top in three and four just as Ballou made his only major mistake, and the two gathered both cars up and raced on.
Ballou was strong in the final couple laps, winning by .764 seconds over Clauson, who took over the "Indiana Sprintweek" point lead in the Tony Stewart/Curb-Agajanian Racing – Chevy Performance #20 Beast/Kistler.
"Ballou ran a really good race and didn't make many mistakes – we weren't good enough in open track to get him. He made one big mistake and I wasn't in position to capitalize on it. I moved around a little bit, and the bottom worked but it was tricky to run it. It wasn't typical, for sure. I got in a rhythm and chased those guys down, but I hated to see that red when we started chipping into their lead. Tonight was good, though – we're in the right direction and tonight was big in the points department," Clauson said.
Meseraull kept his nose clean on the top and came home third in the Physical Medicine Consultants – Kercher Engines #41 DRC/Kercher.
"It's good to put the Stenslands on the podium. We stuck to the top and missed a few things and had a great night from start to finish," Meseraull said.
Jon Stanbrough finished fourth in the Griffin's Propane – Indiana Underground Construction #37RW Maxim/Fisher, and Dave Darland charged from tenth to round out the top-five in the Phillips Motorsports – Racer's Advantage Store #71P DRC/Foxco.
Brady Bacon began the night by setting the ProSource "Fast Time Award," but changed an engine after the Semi-Feature and finished ninth, leaving his National point lead over Darland at eleven points.
Tracy Hines' drive from 22nd to finish 11th garnered the B&W Auto Mart "Hard Charger Award," and his recovery from qualifying 33rd to make the Feature earned him the ProSource "Hard Work Award." Jarett Andretti earned the American Racing Ministries "Perseverance Award" as the final transfer out of the Semi-Feature.
AMSOIL USAC SPRINT CAR NATIONAL CHAMPIONSHIP RACE RESULTS: July 17, 2014 – Putnamville, Indiana – Lincoln Park Speedway – 27th Annual "Indiana Sprint Week"
QUALIFICATIONS: 1. Brady Bacon, 69, Dynamics-12.282; 2. Kevin Thomas Jr., 9k, KT-12.317; 3. Brent Beauchamp, 34, Olson-12.436; 4. Jon Stanbrough, 37RW, Dutcher-12.449; 5. A.J. Hopkins, 14H, Hopkins-12.450; 6. Thomas Meseraull, 41, SST-12.475; 7. Robert Ballou, 12x, Ballou-12.529; 8. Shane Cottle, 2E, Epperson-12.548; 9. Justin Grant, 40, Hery-12.582; 10. Chris Windom, 11, Walker-12.600; 11. Jarett Andretti, 18, Andretti-12.616; 12. Chad Boespflug, 57, Hazen-12.626; 13. Bryan Clauson, 20, Stewart/Curb-Agajanian-12.749; 14. Brandon Mattox, 28, Mattox-12.759; 15. Dave Darland, 71p, Phillips-12.778; 16. Hunter Schuerenberg, 20N, Schuerenberg/Nolen-12.781; 17. Jerry Coons Jr., 10E, Edison-12.795; 18. Aaron Farney, 15F, Farney-12.854; 19. Jace Vander Weerd, 88, Vander Weerd-12.859; 20. C.J. Leary, 30, Leary-12.880; 21. Jeff Bland Jr., 04, Burton-12.900; 22. Tyler Courtney, 21x, Pollock-12.934; 23. Casey Shuman, 21k, Krockenberger-12.963; 24. Dakota Jackson, 3, Jackson-13.010; 25. Ethan Barrow, 15, Barrow-13.043; 26. Chase Stockon, 32, 32 TBI-13.055; 27. Chase Briscoe, 5B, Briscoe-13.067; 28. Brian Hayden, 2H, Hayden-13.132; 29. Carson Short, 21, Short-13.149; 30. Logan Jarrett, 29, Jarrett-13.167; 31. Jay Waugh, 99a, Waugh-13.229; 32. Brody Roa, 91R, BR-13.234; 33. Tracy Hines, 4, Hines-13.234; 34. Richard Vander Weerd, 10, Vander Weerd-13.246; 35. Parker Price-Miller, 9p, Ronk-13.247; 36. Max McGhee, 17, McGhee-13.375; 37. Brady Short, 11p, Pottorff-13.426; 38. Mark Smith, 1M, Smith-13.651; 39. Lee Dakus, 75, Dakus-13.679; 40. Mike Gass, 17G, Gass-13.684; 41. Nathan Moore, 48, Moore-13.691; 42. Chris Gurley, 12G, Team Automotive-13.708; 43. Eric Burns, 99, Gasway-14.136; 44. Daron Clayton, 85, Terry-NT.
FIRST HEAT: (8 laps) 1. Courtney, 2. Meseraull, 3. Farney, 4. Windom, 5. Mattox, 6. Bacon, 7. Stockon, 8. R.Vander Weerd, 9. Jarrett, 10. Smith, 11. Gurley. NT
SECOND HEAT: (8 laps) 1. Shuman, 2. Darland, 3. Ballou, 4. Thomas, 5. Andretti, 6. J.Vander Weerd, 7. Briscoe, 8. Waugh, 9. Price-Miller, 10. Dakus, 11. Burns. NT
THIRD HEAT: (8 laps) 1. Leary, 2. Schuerenberg, 3. Boespflug, 4. Beauchamp, 5. Roa, 6. Cottle, 7. McGhee, 8. Jackson, 9. Hayden. 2:11.87
FOURTH HEAT: (8 laps) 1. Clauson, 2. Bland, 3. Coons, 4. Hines, 5. Grant, 6. Stanbrough, 7. Barrow, 8. C.Short, 9. B.Short, 10. Hopkins, 11. Moore. 2:14.52
QUALIFYING RACE: (10 laps) 1. B.Short, 2. R.Vander Weerd, 3. McGhee, 4. Smith, 5. Price-Miller, 6. Dakus, 7. Moore, 8. Gurley, 9. Burns. 2:12.76
SEMI: (12 laps) 1. Bacon, 2. Stanbrough, 3. Cottle, 4. Grant, 5. Stockon, 6. Andretti, 7. Mattox, 8. Jackson, 9. J.Vander Weerd, 10. Jarrett, 11. Briscoe, 12. R.Vander Weerd, 13. Smith, 14. Roa, 15. McGhee, 16. Waugh, 17. Hayden, 18. Barrow, 19. C.Short, 20. B.Short. NT
FEATURE: (30 laps) 1. Robert Ballou, 2. Bryan Clauson, 3. Thomas Meseraull, 4. Jon Stanbrough, 5. Dave Darland, 6. Brady Short, 7. Shane Cottle, 8. Chad Boespflug, 9. Brady Bacon, 10. Chase Stockon, 11. Tracy Hines, 12. Richard Vander Weerd, 13. Hunter Schuerenberg, 14. Aaron Farney, 15. Jarett Andretti, 16. Casey Shuman, 17. C.J. Leary, 18. Mark Smith, 19. Jerry Coons Jr., 20. Chris Windom, 21. Justin Grant, 22. Tyler Courtney, 23. Kevin Thomas Jr., 24. Brent Beauchamp, 25. Jeff Bland Jr. NT
**Hopkins flipped during qualifying. Darland flipped during qualifying. Dakus flipped during the second heat. C.Short flipped during the semi. Bland flipped on the 19th lap of the feature.
FEATURE LAP LEADERS: Laps 1-30 Ballou.
NEW AMSOIL NATIONAL SPRINT POINTS: 1-Bacon-1,272, 2-Darland-1,261, 3-Clauson-1,200, 4-Stanbrough-1,153, 5-Stockon-1,114, 6-Hines-1,076, 7-Grant-1,034, 8-Windom-1,001, 9-Schuerenberg-944, 10-Leary-860.
NEW INDIANA SPRINT WEEK POINTS: 1-Clauson-298, 2-Darland-292, 3-Ballou-275, 4-Bacon-274, 5-Windom-260, 6-Grant-248, 7-Stanbrough-246, 8-Hines-226, 9-Stockon-225, 10-Meseraull-205.
NEXT AMSOIL NATIONAL SPRINT RACE: July 18 – Bloomington (IN) Speedway – 27th "Indiana Sprint Week"
Back to News