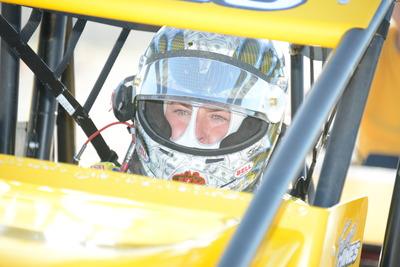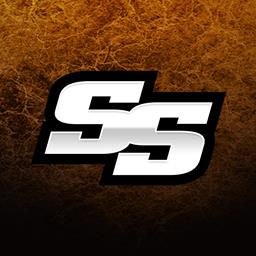 ---
Back in the Saddle: Tracy Hines Returns from Injury for Three Races over Holiday Weekend
NEW CASTLE, Ind.—July 2, 2015-- Being out of a race car when fellow competitors are at the track in action is about the toughest scenario a driver can encounter. That's the situation that Tracy Hines has faced the last couple weeks as he has been recovering from a broken collarbone that he sustained on June 13 at Lawrenceburg Speedway, which required surgery. Hines will return to the track this week as he takes part in races for each of the three USAC National series at a trio of tracks as part of the Fourth of July weekend.
Hines will first hit the track on Thursday, July 2 at the Terre Haute Action Track in Indiana with the Traxxas USAC Silver Crown Series for the running of the Sumar Classic. He will remain on Hoosier soil on the Fourth of July as the Amsoil USAC National Sprint Car Series invades Lincoln Park Speedway in Putnamville. The three-race span will conclude on Sunday, July 5 at Angell Park Speedway in Wisconsin with the running of the 34th Annual Pepsi Nationals, which will be co-sanctioned by the Honda USAC National Midget Series and the Lucas Oil POWRi National Midget Series.
"It will be good to get back in the car," said Hines. "You never want to miss any races, but healing up was certainly the most important thing and making sure things had the time they needed to begin healing properly. Thanks to all of the racing community for their thoughts and support the last few weeks. It definitely means a lot and shows how much of a family we all are in this sport."
The veteran driver will be making his first start of the season at Terre Haute. Last season, he finished second in the Silver Crown race at the half-mile. Hines also made three appearances with the Amsoil USAC National Sprint Car Series at Terre Haute in 2014, finishing eighth each time. The 2000 Traxxas USAC Silver Crown Series champion has five career wins at Terre Haute, with all of those coming with the Amsoil USAC National Sprint Car Series.
Hines raced at Lincoln Park Speedway earlier this season during Indiana Midget Week for the Honda USAC National Midget Series, finishing third In three starts at the high-banked bullring in 2014, he finished second in a midget, eighth in the Carolina Nut Company DRC sprint car and 11th in a sprinter. Hines has won twice in USAC national competition at the 5/16-mile, with both of those coming in Honda USAC National Midget Series events.
The native of New Castle, Indiana made four midget starts at Angell Park Speedway last year aboard the Parker Machinery/Powered by Toyota Spike, finishing eighth or better in all four. He was fourth, fifth, seventh and eighth. Hines has won the Pepsi Nationals three times in his career, with the first coming in 2001 and the most recent in 2010. He also was victorious in the event in 2002.
Hines most recently competed in Indiana Midget Week for the Honda USAC National Midget Series. He finished ninth in the opening round at Gas City I-69 Speedway, followed by a third-place showing at Lincoln Park Speedway. Hines crossed the line eighth at Bloomington Speedway. He was 22nd at Lawrenceburg Speedway, where he sustained the broken collarbone after a flip. The finale of Indiana Midget Week at Kokomo Speedway was rained out.
Entering competition this week, Hines is leading the Honda USAC National Midget Series standings, is sixth in points with the Amsoil USAC National Sprint Car Series and is 13th with the Traxxas USAC Silver Crown Series, after missing the last race due to his injury.
"The Fourth of July is always a busy racing time and I'm glad we have that again this year," said Hines. "Running all three types of cars is always a challenge, but one we look forward to. We are running on three pretty diverse tracks and have had success at all of them in the past. It will take a couple of laps to get the feel again and I'll probably be a little sore, but getting back in the car will probably be the best medicine for me."
Hines is set to compete in all three USAC National Series this season as he has done for most of his career.
Tracy Hines Racing would like to thank Primary Sponsors: The Carolina Nut Company, Powered by Toyota and Parker Machinery. Associate Sponsors for 2015 include: Elliott's Custom Trailers and Carts, Hansen's Welding Inc, MPHG Promotions Inc., Turbines Inc.and Hughs Brothers. Product Sponsors that are part of Tracy Hines Racing in 2015 include: Afco Racing Products, Hoosier Racing Tires, Indy Race Parts, Schoenfeld Headers, Shadow Graphix, Bell Racing, Earl's Performance Products, Autonet Mobile, ProSource Professional Resources, Race Bumpers, Driven Racing Oil, Sander Engineering and Kenny's Components.
For more information on Tracy Hines Racing, visit http://www.tracyhinesracing.com. Follow Tracy on Twitter at www.Twitter.com/TracyHinesRacin and "Like him" on Facebook at: https://www.facebook.com/Tracyhinesracing.
Back to News