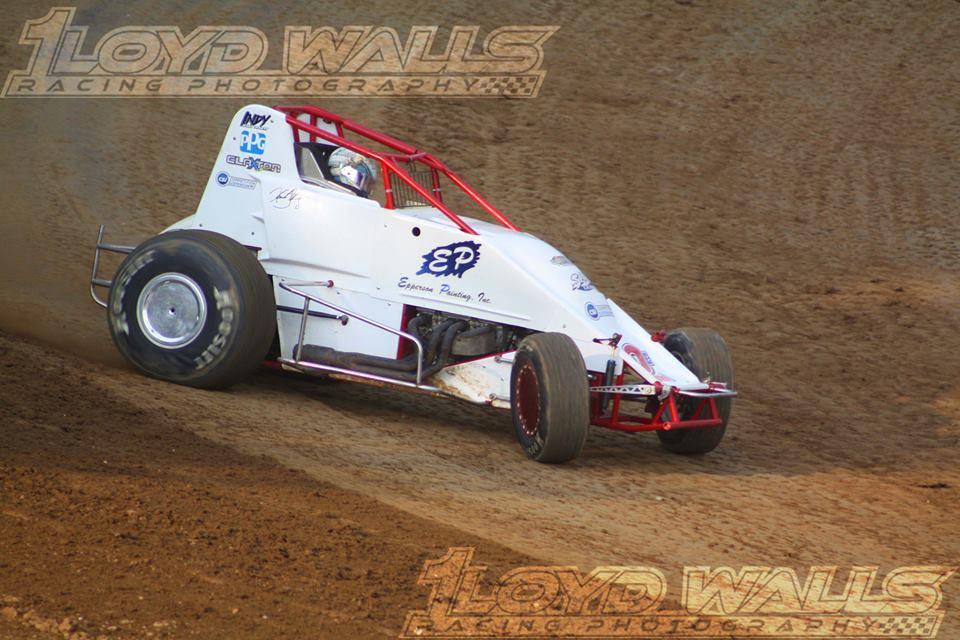 7/8/2015
---
Schuerenberg Shakes Out Bugs Before Sprint Week
(Photo by Lloyd Walls Racing Photography)
PUTNAMVILLE, Ind. – It's been a while since Hunter Schuerenberg has driven a nonwing sprint car in Indiana; nine months, in fact. It didn't take long for him to return to form, even if the results suggest otherwise. An eighth-quick qualifying lap on Saturday was all he had to show for his efforts at Lincoln Park Speedway's "Bill Gardner Sprintacular" over the Independence Day weekend.
Friday night was a Midwest Sprint Car Series-sanctioned race, where 29 entries were set to do battle at the 5/16-mile oval in beautiful downtown Putnamville, Ind. Schuerenberg's first night back in Tony Epperson's No. 2e sprinter since 2009 began from the tail of heat two, starting seventh. He navigated his way forward two spots to finish fifth.
The top 16 in passing points locked into the feature race, and Schuerenberg was 16th after heat races were completed; he would start outside row eight for the main event. In the early laps of the event, Schuerenberg tangled with AJ Hopkins, with whom he shared the eighth row on the grid. With damage to the front axle disabling the Epperson Painting Spike/Claxton entry, Schuerenberg got a lift back to the trailer from a wrecker and was scored in the 21st position.
Night two of the event brought in the United States Auto Club National Sprint Car Series, and a large growth in the car count, with 40 sprint cars in the pit area. Following his 13.742-second, eighth-fastest lap in qualifying, Schuerenberg was set up with fifth starting position for his heat race. It looked as if he could contend for fourth, the final transfer to the feature, but a broken throttle linkage would sideline him after six of ten laps. Heading to the B-main, the Sikeston, Mo. native drove from fifth to third to gain entry to the main event.
USAC feature lineup protocol inverts the top eight, followed by qualifying time behind those, so Schuerenberg would roll off from 11th for the 30-lap affair. The starting position from mid-pack gave plenty of room to advance in the running order, but engine trouble pestered Schuerenberg early. After a spin on lap nine, he refired to join the tail of the field, but called it a night after three more laps with issues persisting.
Schuerenberg would like to thank Roof Bolt Express, Nolen Racing, Mach 1 Chassis, Competition Suspension Inc., AFCO Racing, ButlerBuilt Professional Seat Systems, Hinchman Racewear, Keizer Wheels, High Side Design, and Ron Gorby's Howard Johnson, as well as all of his fans for their continued support. Schuerenberg would also like to thank the Epperson team for the opportunity to drive the No. 2e machine for the coming weeks.
Schuerenberg is next scheduled to compete on July 10-12 and July 15-18 for the United States Auto Club "Indiana Sprint Week" beginning with Gas City I-69 Speedway, Kokomo Speedway, and Lawrenceburg Speedway, then resuming with Terre Haute Action Track, Lincoln Park Speedway, Bloomington Speedway, and Tri-State Speedway, all in the Epperson No. 2e 410ci wingless sprint entry.
Quick Results
July 3 – Putnamville, IN – 410ci Wingless Sprint – Heat: 5th (7); Feature: 21st (16)
July 4 – Putnamville, IN – 410ci Wingless Sprint – Qualifying: 8th; Heat: 9th (5); B-Main: 3rd (5); Feature: 22nd (11)
2015 Stats
23 races, 15 features, 1 win, 4 top fives, 8 top tens, 6 DNFs
Social Media
Facebook: http://www.facebook.com/hunterschuerenberg
Twitter: http://twitter.com/hunterpercent
Instagram: http://instagram.com/hunterpercent
Website: http://www.hunterpercent.com
---
Article Credit: Redbeard Promotions
Back to News