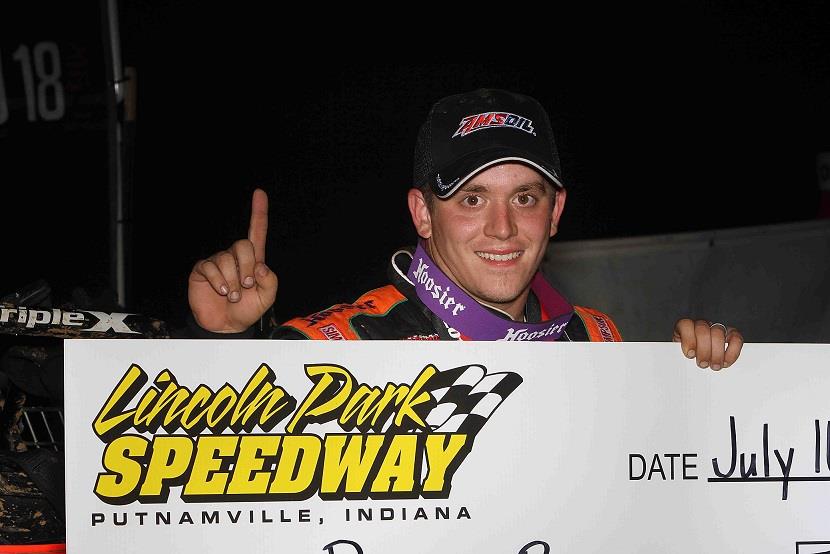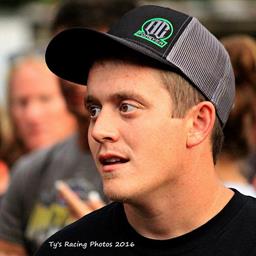 ---
Brady Bacon – Exorcising the Demons at Putnamville!
Brady Bacon – Exorcising the Demons at Putnamville!
(Bill W) July 21, 2015 – Brady Bacon and the Hoffman Racing #69 team have had their bad nights at Lincoln Park Speedway in Putnamville, Indiana, but that all ended last Thursday night when they visited Victory Lane. USAC's Indiana Sprintweek was up and down for the Broken Arrow, Oklahoma driver, and he would end up third in the final point standings. Tonight finds him at the Silver Cup at Lernerville Speedway near Sarver, Pennsylvania with the World of Outlaws. He will go from there to Illinois Speedweek, which will entail four nights starting Thursday.
Last Wednesday at the Terre Haute Action Track, Brady timed in a surprising 20th quick. "We're always good there, and qualifying got us behind," he says. "It definitely cost us. We started 18th in the feature, and we had a pretty good car. It's just pretty tough to come from the back there."
He would charge to a seventh place finish at the checkers on the half-mile. "It was as slick as it's ever been since I've been going there," says Brady. "It was tough to pass people, but we got up through there pretty decent and salvaged it after starting way back."
The team bounced back Thursday at Putnamville, and Brady timed in 8th quick in the 47-car field. "We changed a lot of things on the car for Putnamville," he says. "The race before, we hadn't done too well, but we figured some things out."
After winning his heat from fifth, he started outside row one and led every lap of the feature. "Things went our way, and we were able to win," says Brady. "It was good to beat the place that had been beating us bad!"
USAC moved to Bloomington Speedway on Friday. Brady set a new track record in qualifying on the ¼-mile oval. "We were really fast in qualifying," he says. "The track was obviously heavy. I was running fifth, trying to go for fourth in the heat and got off the track. At that point, I didn't have much to lose. Fifth or last doesn't matter. We ran second in the B, and it rained out after that."
With a shot at the Sprintweek title, it was on to Tri-State Speedway near Haubstadt on Saturday for the finale. Confidence was high heading into a track that the team had tasted victory before. "We were decent in qualifying (8th) and the heat (3rd)," says Brady. "In the feature, it just kind of caught us by surprise. We just couldn't get going. We had the same setup we had won there with. We'll have to go back and look at it and make sure there wasn't an issue causing that."
The eleventh place finish meant Brady would finish third in Sprintweek points. "It's been kind of a weird year," he says. "Last year, the wins weren't coming as much, but we were there in the top five every night. This year, we've won more, but haven't got the top fives."
As always, Indiana Sprintweek is unpredictable. "We struggled a bit at the places that we've been good at," says Brady. "It was an odd week, where we won at a couple tracks (Lawrenceburg and Putnamville) we've struggled at in the past. The draw hurt us at a couple places too. I think we found a few things that will make us faster. Overall, it was a good Sprintweek. We gained a little momentum."
Follow Brady on his Website, Twitter and Facebook!
Follow Brady at his website located at www.BradyBaconRacing.com! Also keep up with him on Facebook and Twitter (which also can be accessed at the website) at the following links…
Twitter Link – http://twitter.com/BradyBacon
Facebook Link - www.facebook.com/pages/Brady-Bacon-Racing/278125555137
Partner of the Week – Triple X Race Components
At Triple X Race Components, we don't just build race parts – we race too. We know how expensive it is to race. That's why we offer the most common Sprint Car, Midget, and 600 Mini Sprint parts. We keep our costs down by building thousands of each part. We build the parts that get damaged the most. With our discounted pricing, you can afford to race hard and race to win. All Triple X components are produced in our ISO 9001 certified factory. They are laboratory tested, race tested, and universally approved. Whether you are a new customer or a repeat customer, you can be assured that you're buying race-proven products at great prices. We guarantee it. Triple X has established a large network of dealers coast to coast and internationally to serve your needs. Please stop by your local dealer and check out our newest products. Check Triple X Race Co. out on the web at www.XXXRaceCo.com!
Associate Marketing Partner of the Week – Simpson Performance Products
Simpson Performance Products is headquartered in New Braunfels, TX with more than 80,000 sq. feet of manufacturing and warehouse space. Many of our restraints, helmets and flagship parachutes are manufactured and tested right here. Simpson fire suits and crew uniforms are manufactured outside of Los Angeles, CA in our 52,000 sq. foot facility. Simpson also employs the largest customer service and sales team devoted solely to servicing NASCAR customers of any racing safety supplier, based in the heart of NASCAR country, Mooresville, NC. Visit us online at www.TeamSimpson.com!
Brady Bacon Racing would like the following sponsors for all their help: Print Place, Fatheadz Eyewear, Triple X Race Co., Tel-Star Technologies, PPM Titanium Products, KTA Kiser's Truck and Auto (formerly Sham's Garage), Heath Clips Lawn Care, Chubby from CnB Mushroom Farms, Lucas Oil Products, Lightning Wings, CP Carillo, Keizer Wheels, Smiley's Racing Products, Eaton Industrial Coatings, Sweet Mfg., Butlerbuilt Seats, Brown and Miller Racing Solutions, Proglide Coatings, Diversified Machine Inc., Fuel Safe, Allstar Performance, Simpson, Octane Ink, Schroth Racing, Wilwood, King Racing Products and Schoenfeld Headers.
The Hoffman #69 sprinter is sponsored by Mean Green, Mopar, Triple X Race Components, Hoosier, DMI, Lykins, Engler Machine & Tool, Goodridge Fluid Transfer Systems, KSE, MPD Racing, CSI Shocks, XYZ Machining, Saldana Racing Products, Fuel Safe Racing Cells, Fastener Specialty Motorsports, Wilwood Brakes, Joe Gibbs Driven Racing Oil, Zemco Headers, Chalk Racing Products and Weld.
Photo: Brady conquered Putnamville last Thursday (Dennis Krieger Imagery)
Bill W Media
Monroe, IA USA
Twitter: @BillWMedia e-mail: sprntcar@iowatelecom.net
Back to News