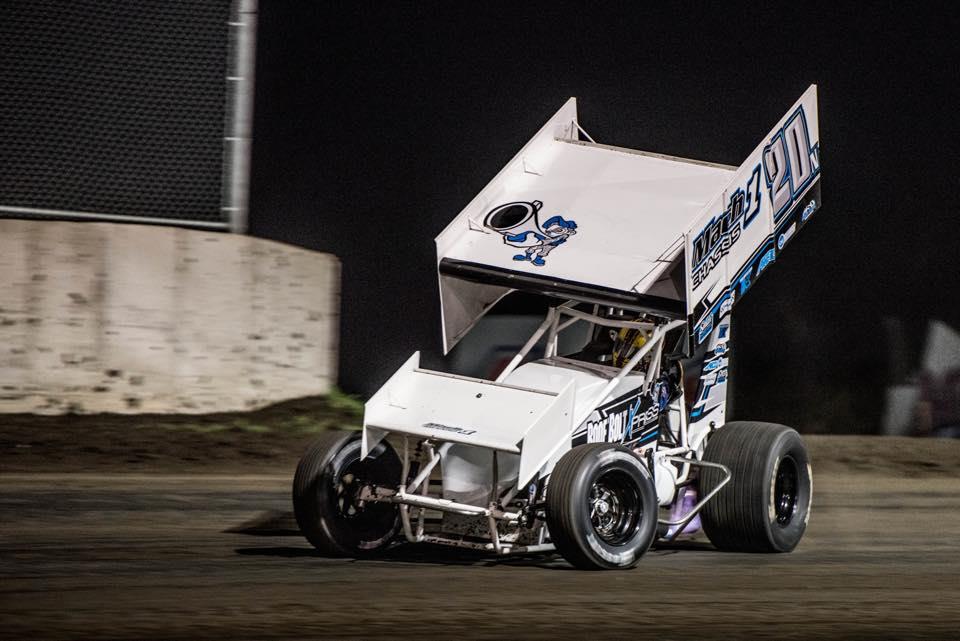 11/10/2015
---
Season Summary: Hunter Schuerenberg
(Photo by TeeJay Crawford Photography)
NEW WHITELAND, Ind. – 2015 was a long season for Hunter Schuerenberg, but a successful one. It was his first season focusing on winged racing since 2005, and it didn't take long to return to form. "Hunter Percent" won in his just third attempt at winged racing this year. The Sikeston, Mo. transplant now living near Indianapolis tacked on 17 top-ten finishes in 39 feature starts to solidify that win.
Before returning to winged racing, Schuerenberg visited the southwest region for a pair of races in the Josh Ford Motorsports No. 73. First was the USAC Southwest vs. West Coast Grudge Series 360 cubic-inch "Sin City Showdown" at the Dirt Track at Las Vegas Motor Speedway. He piloted the machine to a fifth-place finish on March 5, and took seventh two days later in USAC/CRA 410ci action at Perris (Calif.) Auto Speedway.
Getting the winged season underway at Jacksonville (Ill.) Speedway on April 10, Schuerenberg rounded out the top ten. The next night, he missed the transfer to the main event by one position, finishing fifth in the B-Main at 34 Raceway in Burlington, Iowa. Six days later, he redeemed himself with a victory at Tri-City Speedway in Granite City, Ill. with the Midwest Open Wheel Association. An eight-hour overnight drive put him at Atomic Speedway in Chillicothe, Ohio, where he finished sixth.
For his first four races in May, Schuerenberg chased the World of Outlaws. The first was also the furthest from home, at Salina (Okla.) Highbanks Speedway, where he made the main event but pulled in early. I-55 Raceway in Pevely, Mo. was next for the weekend, and Schuerenberg finished 16th. He just missed transferring to the main event the following night at Tri-State Speedway in Haubstadt, Ind., with a fifth-place B-Main finish.
Schuerenberg hit a slump over his next eight races, either missing the feature or not finishing. Ultimately, he rallied back with consecutive runner-up results with MOWA, a rain-shortened event at Route 45 Raceway in Flora, Ill. on June 13, and at Tri-State two weeks later.
Schuerenberg returned to nonwing racing to begin July, making seven starts in Tony Epperson's No. 2E sprinter. A doubleheader at Lincoln Park Speedway in Putnamville, Ind. didn't go as planned, and Schuerenberg didn't finish either night. He got back on track during the first night of the United States Auto Club "Indiana Sprint Week," however, with a phenomenal race at Gas City I-69 Speedway resulting in a second-place finish. He ran tenth at Lawrenceburg Speedway going into the two-day break in the week. Schuerenberg finished 11th at Terre Haute Action Track and fourth at Lincoln Park, then concluded Sprint Week with a 15th-place finish at Tri-State.
Next, Schuerenberg tackled part of the "MOWA Illinois Speedweek." A strong run at Quincy Raceway was dashed by a spin and subsequent DNF, but he returned to Tri-City and garnered a fourth-place run. One week later, he was again running nonwing, this time for Jeff Walker in the Jam-It-In Storage No. 11 entry. The duo captured numerous wins together in the past, and were again fast this time around. Schuerenberg took fourth at Gas City and fifth at Plymouth (Ind.) Speedway.
As July turned to August, Schuerenberg took on some of sprint car racing's most prestigious events. The Ironman 55 weekend at I-55 came with two feature starts for Schuerenberg, but he battled overheating concerns and didn't finish either night. The next morning, he was headed for Knoxville Raceway to get 410 sprint action underway in southern Iowa's speedweek. His first on-track visit to the "Sprint Car Capital of the World," Schuerenberg hoped to find speed on the big half-mile, but he returned to the pits early in the C-Main at the "Capitani Classic." A few short days later, it was time for the "Knoxville Nationals." Schuerenberg battled the nuances of the track size and heavy track surface, and steering issues in the D-Main ended his run in the Saturday night finale, being scored 22nd.
After the Nationals, he returned to Indiana and raced in Kokomo Speedway's "Sprint Car Smackdown" in Epperson's machine. On all four nights of racing, Schuerenberg made it into the main event, and contested for the top spot in two of the four main events. However, a crash ended his best bid for a win during the action-packed weekend.
Once again in his winged entry at Tri-City, Schuerenberg continued to succeed at the 3/8-mile oval. He kicked off September with third- and fourth-place finishes there during the "Gold Crown Midget Nationals." Later in the month, he again paired up with Jeff Walker. At Terre Haute, he finished in 12th, then completed the USAC "4-Crown Nationals" at Rossburg, Ohio's Eldora Speedway in 13th.
Two weeks later, Schuerenberg was back at Eldora in Walker's ride, this time with the Buckeye Outlaw Sprint Series, and captivated spectators with a hard-charge from 19th to finish fourth. The final race of his 2015 season came at Lawrenceburg with the World of Outlaws. Starting deep in the field, Schuerenberg had rallied forward to tenth before a lap-19 incident ended his night early, and closing out the year.
Schuerenberg would like to thank Roof Bolt Express, Nolen Racing, Mach 1 Chassis, Competition Suspension Inc., AFCO Racing, ButlerBuilt Professional Seat Systems, Hinchman Racewear, Keizer Wheels, High Side Design, and Ron Gorby's Howard Johnson, as well as all of his fans for their continued support.
2015 Stats
50 races, 39 features, 1 win, 5 podiums, 12 top fives, 17 top tens, 15 DNFs
Social Media
Facebook: http://www.facebook.com/hunterschuerenberg
Twitter: http://twitter.com/hunterpercent
Instagram: http://instagram.com/hunterpercent
Website: http://www.hunterpercent.com
---
Article Credit: Redbeard Promotions
Back to News