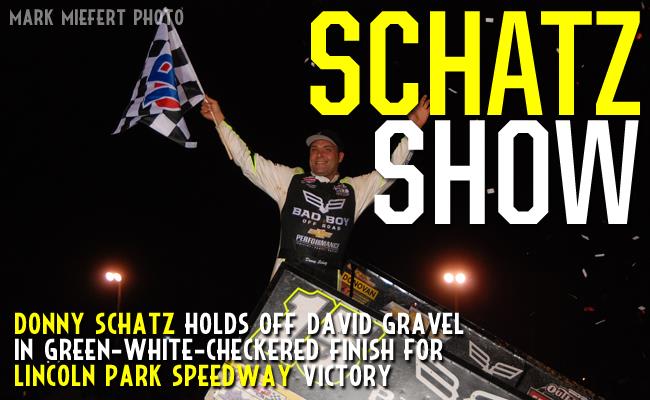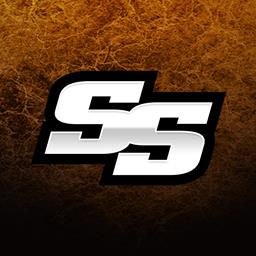 ---
Schatz Out-Duels Gravel at Lincoln Park
Seven-time World of Outlaws Craftsman® Sprint Car Series champion Donny Schatz held off a red-hot David Gravel on a green-white-checkered finish to claim his eighth victory of the season at Lincoln Park Speedway on Wednesday night.
Making their first trip since 1988 to the track located just an hour from Indianapolis, the World of Outlaws returned with a thrilling show that saw Schatz hold on to the lead for all 40 laps to claim the victory and tie Brad Sweet atop the championship standings.
"I wasn't here in '88 but I am feeling old tonight," Schatz said. "This place takes its toll on you - it's a neat little place, very tricky...I'd rather it went right to the end, but I knew [David Gravel] is a racer and he is going to try something - wherever I am at he is going to try and go somewhere else.
"It's a bonus [to be tied in the championship standings]. We are here to win races, and that's what this team has always stood for...we have never been point's racers and I am not going to start that now. We're in a better position than we were a month ago and I know these guys are going to go work their hearts out."
Gravel, who captured the checkered flag the last time the series was on track at I-96 Speedway on Sunday, finished in the runner-up position after he challenged Schatz all night for the win.
"It was really fun racing with the best," Gravel said. "Kyle [Larson] gave us a run for our money there early, and Donny [Scahtz] is a really smart racer and it's hard to go around him, especially with this tight track.
"We will take second tonight, but I really would've liked to win. I would've liked to see how that last lap would've finished instead of having the red flag."
To start the night, NASCAR star, and Larson Marks Racing co-owner, Kyle Larson, captured quick time in qualifying. Larson's time was just a tenth of a second slower than the track record for a winged 410 sprint car set by Danny Lasoski in 2006.
Larson's speed continued into his heat race in which he beat Schatz and the No. 15 Bad Boy/Chevrolet Performance car, who finished second. Gravel and Daryn Pittman claimed wins in the other two heat races, granting them spots in the six-lap dash.
Unfortunately for Larson, his luck did not match his speed as a four was drawn for the dash inversion, placing Schatz on the pole and sliding Larson to the fourth starting position.
In what became a preview for the feature, Schatz and Gravel battled back-and-forth for the victory in the dash, with Schatz prevailing for the win and the pole position for the feature. The only other time Schatz has started on the pole for a feature in 2016 was when he won at Lincoln Speedway on May 19.
When the green flag dropped for the 40-lap A-Main, Schatz jumped out to an early lead over Gravel, who started second in the Big Game Treestands/Nyce Crete & Landis No. 5. Meanwhile, Larson, who started in the sixth position, charged his way to the front of the field quickly. By lap five, Larson had made his way to the third position just behind Schatz and Gravel.
The three drivers remained nose-to-tail, even as they started dicing through heavy lapped traffic. Gravel eventually made his way around Schatz to lead a lap at the halfway point in the race, but Schatz motored back to the top spot the following lap.
All the while, Larson lurked behind the leaders.
The third-place car tried every move imaginable to work his way around Gravel for a shot at Schatz for the lead, but he could never build up enough speed to sling-shot around the second-place car.
Larson's willingness to try anything to get to the front became his downfall. With less than 20 to go, Larson pushed his car onto the cushion exiting turn four causing him to lose control and flip in front of oncoming traffic.
Luckily, the driver avoided collecting other cars and was okay after the crash. Larson retired to his trailer and became a spectator for the final laps.
When the green flag came back out, Schatz again held off Gravel, who stayed glued to the leader's bumper while searching for the right line to make his move to the lead.
As the laps flew by, Schatz and Gravel navigated their way through the lapped traffic while also battling for the top spot. Eventually, with just a few laps remaining the tug-of-war for the lead hit a boiling point.
As the leaders took the white flag for the final lap, Paul McMahan flipped on the front stretch, causing a red flag and a temporary stoppage to the race. McMahan was okay and continued the race, but the stoppage set up a green-white-checkered finish to conclude an already thrilling race.
Over the final two laps, Gravel tried everything he could to steal the victory from Schatz. In the end, Gravel came up just short as Schatz captured the checkered flag and the $6,000 paycheck at Lincoln Park.
"Racing in the lapped traffic was fun, that's what a driver lives for," Scahtz added. "I hope the fans had as much fun with it as I did. It's always nice to come out on the better end of it.
"Tony Stewart's guys are phenomenal, I keep getting a better race car each night and it makes it more fun for me to keep getting in it...more importantly, I think we learned more here tonight that we have in 20 races this year."
Gravel, who sits sixth in the points, just 153 markers behind Schatz and Sweet, scored his 18th top-five of the season and his 13th podium finish.
"It's been a pretty good year so far; we have been fast lately," Gravel said. "Finishing on the podium with two past champions - and I am just a kid - so hopefully we can stay up here and see what happens."
While most of the attention was on the two leaders at the end of the race, Daryn Pittman, in the Great Clips/Sage Fruit No. 9, quietly started and finished in the third position to pick up his series-leading 15th top-three finish of the season.
"It's always nice to race this close to home and sleep in your own bed," Pittman said, who is from Owasso, Okla. but lives less than an hour from Lincoln Park. "This is pretty cool, I came out here and watched a Midget Week race last Thursday and that was the first time I have ever seen the place. This was a cool race to watch and fun to be a part of.
"The guys worked really hard this week and built a brand new car, and we were pretty decent with it. This is the type of racetrack that isn't my best so for us to come out of here with a third, and be solid and right there as the night went on, I am pretty proud of that."
Brad Sweet, who came into the night with a slim point lead, started the feature in the 13th position and charged his way to a seventh-place finish, which earned him the KSE Hard Charger Award for the night.
The World of Outlaws Craftsman Sprint Car Series will head to historical Knoxville Raceway for the Budweiser Night with the World of Outlaws on Friday, June 10 and Xtreme Shootout powered by Mediacom on Saturday, June 11. For more race information and ticket purchasing options, visit: www.WoOSprint.com/Knoxville-Raceway.
Follow the World of Outlaws Craftsman Sprint Car Series on Twitter at www.twitter.com/WorldofOutlaws, like it on Facebook at www.facebook.com/WorldofOutlaws, or check out the latest videos on YouTube at www.youtube.com/WorldofOutlaws.
Back to News