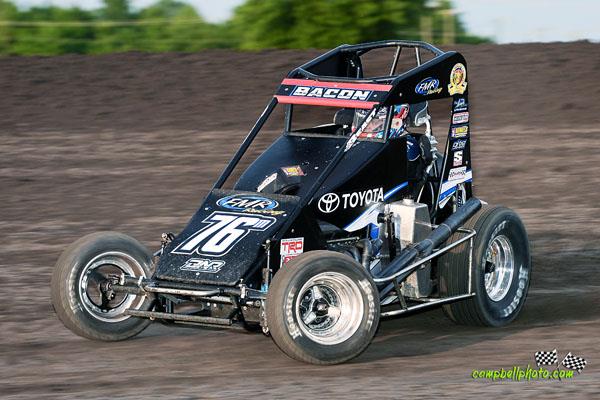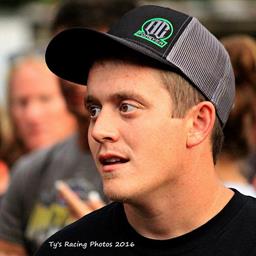 ---
Brady Bacon – Time to Take a Breath, Midget Week/Eastern Storm Conclude!
Brady Bacon – Time to Take a Breath, Midget Week/Eastern Storm Conclude!
(Bill W) June 13, 2016 – Seventeen nights of racing in nineteen days for Brady Bacon concluded Sunday with the final USAC National Sprint Car Series "Eastern Storm" event at Susquehanna Speedway near Newberrytown, Pennsylvania. The Broken Arrow, Oklahoma finished fifth at Indiana Midget Week before towing east for an "Eastern Storm" tour that saw him maintain his point advantage with the sprint car series. This weekend, he'll be back in USAC National Midget action aboard FMR #76m midget at Riverside International Speedway in West Memphis, Arkansas.
Indiana Midget week saw a pair of top five finishes (Montpelier and Kokomo) and a fifth place standing over the course of five nights (Lawrenceburg rained out). "Midget Week went pretty well," says Brady. "It was really our first go over an extended period for the team. The car was really, really good. Sometimes, it's hard to keep up with some of the motor programs that are out there right now. We were better than most though. Bob East is our crew chief, and we worked really well together."
In addition to his top fives, Brady was seventh at Gas City and Bloomington. "We had a shot to win at Putnamville, but we had a motor failure," he says. "We were right there qualifying in the top six every night, and doing the things you have to do to win. Some of the guys out there were driving pretty crazy, so if you were surviving, you were doing pretty good. I'm really pleased with how fast we've gotten so quickly. We're right there in the points, and I'm looking forward to the rest of the year with that."
He also broke out the sprint car during the week. "We were out in the sprint a couple of times," says Brady. "We were second at Montpelier, and we were leading at Gas City. We had a little contact with Bryan Clauson. We did a 360, kept going and got a fourth."
The "Eastern Storm" began last Tuesday at Grandview Speedway near Bechtelsville, Pennsylvania for Brady and the Hoffman Racing #69 team. "We had an issue with the car early in the week," he says. "We struggled at Grandview a little bit (eighth), and that's a place we typically struggle. Lincoln was really slick, and we tend to struggle there a little bit too (16th). We tried some things in the second feature at Lincoln (third), and the car seemed a little more forgiving."
The series moved to New Egypt Speedway in New Jersey Thursday. There the team made a change that helped the rest of the week. "The car was still acting goofy at New Egypt, and we're usually good there," says Brady. "We put some new torsion bars on the car, and everything seemed to go back to normal. We were right back where we needed to be the rest of the week. I don't know if we had one wore out or what, but the new bars seemed to help. We ended up fourth at New Egypt. We didn't tighten up enough there. We were kind of being cautious with the way the car had been acting. It was kind of nice to get those first two races out of the way. To be the fastest in Indiana and come out east and struggle…it's an up and down thing."
The lone Silver Crown race of the week was the 100-lapper at Williams Grove Speedway near Mechanicsburg, Pennsylvania on Friday. "We had a pretty good car there," Brady says of the Paul Martens #48. "I got the car a little tight for running the cushion. I should have run third pretty easily, but I hit the cushion too hard once. I got caught up for a while and Kody Swanson got by me. It was a real racetrack, with a cushion and a bottom. They had a good crowd, and they really liked it. The track took a gamble and it paid off. But we were happy with the fourth place finish. We have a few bugs to work out, but I can't complain. The new car they've put together is really nice."
Saturday, it was on to Port Royal Speedway where Brady has visited Victory Lane. "We got what should have been a win handed to us, when (Robert) Ballou broke and pulled off," he says. "He was the class of the field really. We inherited the lead, and just didn't get through one and two well enough on the restart. I let Bryan slide me. Our cars were about equal, and once he got the jump on me, I was able to stay right there together with him. I had a shot at passing him back, and slipped up a little bit. That put us back in third, and I had to make my way back to second. It was disappointing not to get the win, but it was a good point night at the same time."
Susquehanna's event last night was a welcome surprise for the team. "We've struggled at Susquehanna the last couple of years," says Brady. "We were able to run third, so we were definitely happy with that. We finally got a decent draw. We drew the last group all week it seemed. We were second quick there, which really helped. The track was really slick. We were able to win the heat from sixth and went from fifth to third in the feature."
Brady and the Hoffman Racing team came out of the week with a 29-point advantage in the standings. "We would have liked to have gotten a win, but we're happy that we had a solid week," he says. "It was another good week for the points, and our focus is on the championship. We're looking forward to Indiana Sprintweek in July. We've been pretty good in Indiana this year."
Follow Brady on his Website, Twitter and Facebook!
Follow Brady at his website located at www.BradyBaconRacing.com! Also keep up with him on Facebook and Twitter (which also can be accessed at the website) at the following links…
Twitter Link – http://twitter.com/BradyBacon
Facebook Link - www.facebook.com/pages/Brady-Bacon-Racing/278125555137
Partner of the Week – Heath Clips Lawn Care
Call Heath Clips Lawn Care in St. Charles, Missouri for all your lawn needs! Call them today at (636) 299-3092!
Associate Marketing Partner of the Week – Sweet Manufacturing
Sweet Manufacturing was incorporated in 1978 with the basic concept of providing racers with steering products that would offer a competitive advantage. All of their products have been designed and built using the experience and knowledge gained from Randy Sweet's fifty years of racing competition, plus continuous input from the nation's top drivers, engineers, and chassis builders. Randy Sweet's background and desire to win is what helps Sweet Manufacturing produce parts that are developed by experience and proven by performance. Visit them online at www.SweetMfg.biz!
Brady Bacon Racing would like the following sponsors for all their help: Fatheadz Eyewear, Viper Risk Management Group, Triple X Race Co., Tel-Star Technologies, PPM Titanium Products, KTA Kiser's Truck and Auto (formerly Sham's Garage), Heath Clips Lawn Care, Chubby from CnB Mushroom Farms, Lucas Oil Products, Factory Kahne, FK Indy, Lightning Wings, CP Carrillo, Keizer Wheels, Smiley's Racing Products, Eaton Industrial Coatings, Sweet Mfg., Butlerbuilt Seats, Brown and Miller Racing Solutions, Proglide Coatings, Diversified Machine Inc., Fuel Safe, Allstar Performance, Simpson, Octane Ink, Schroth Racing, Wilwood, King Racing Products and Schoenfeld Headers.
The Hoffman #69 sprinter is sponsored by Mean Green, Mopar, Triple X Race Components, Hoosier, DMI, Lykins, Engler Machine & Tool, Goodridge Fluid Transfer Systems, KSE, MPD Racing, CSI Shocks, XYZ Machining, Saldana Racing Products, Fuel Safe Racing Cells, Fastener Specialty Motorsports, Wilwood Brakes, Joe Gibbs Driven Racing Oil, Zemco Headers, Chalk Racing Products and Weld.
Photo: Brady in action at Gas City (Mike Campbell Photo – www.CampbellPhoto.com)
Bill W Media
Monroe, IA USA
Twitter: @BillWMedia
e-mail: sprntcar@hotmail.com
website: www.OpenWheel101.com
Back to News