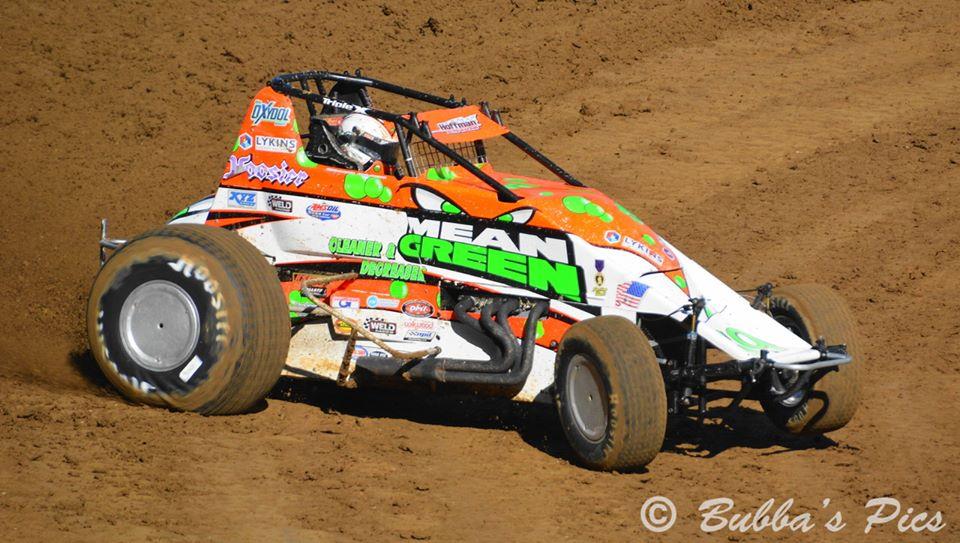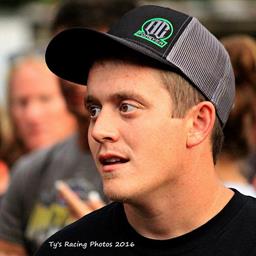 ---
Brady Bacon – Focus on Indiana Sprintweek!
Brady Bacon – Focus on Indiana Sprintweek!
(Bill W) July 6, 2016 – Brady Bacon and the Hoffman Racing/Dynamics, Inc. #69 team are all set for Indiana Sprintweek. Starting Thursday, seven events over nine days will be contested, and the team currently holds the point lead in the USAC National Sprint Car standings heading in. Last Friday night, a third place finish at Lincoln Park Speedway in Putnamville, Indiana gave the Broken Arrow, Oklahoma driver a 104-point cushion heading into Sprintweek.
Brady qualified third quick at Putnamville. "We went out about halfway through," he says. "The cushion can get pretty treacherous there. We got a pretty good lap on the bottom before anyone else tried going down there. That put us in good position for the rest of the night."
Starting sixth in his heat, he would surge to third, locking himself outside row two for the feature. "We were able to get to third on the start," says Brady. "That was pretty much it for us. There wasn't a whole lot of racetrack left. We tried moving from top to bottom. The first and second place drivers (Robert Ballou, Chad Boespflug) were a little bit better than me."
The team's consistency has put them in position to contend for their second USAC title in three years. "It was a night where you just take a third," says Brady. "Especially with (Thomas) Meseraull having problems there towards the end. I didn't want to mess things up at that point. It was another good solid run for the team. I think that's nine straight races we've had in the top four, so I definitely can't complain about our consistency. We're in good shape heading into Sprintweek."
Unfortunately, planned events at Knoxville Raceway in Iowa on Saturday and Tri-State Speedway near Haubstadt, Indiana Sunday were washed out. That sets up Indiana Sprintweek. Thursday, it gets underway at Gas City's I-69 Speedway, before moving to Kokomo Speedway Saturday and Lawrenceburg Speedway Sunday. Nest Wednesday, it will continue at the Terre Haute Action Track, before moving to Putnamville Thursday, Bloomington Speedway Friday and conclude at Tri-State Speedway near Haubstadt Saturday.
Brady has confidence heading in. "We've been pretty good at all of these tracks in Indiana this year," he says. "I think Kokomo is the only one that we haven't run yet in the #69 car. We've had some decent runs at all of these tracks. We're looking forward to it. We'd like an Indiana Sprintweek title. If you can get that, it goes a long way towards the season championship as well."
Follow Brady on his Website, Twitter and Facebook!
Follow Brady at his website located at www.BradyBaconRacing.com! Also keep up with him on Facebook and Twitter (which also can be accessed at the website) at the following links…
Twitter Link – http://twitter.com/BradyBacon
Facebook Link - www.facebook.com/pages/Brady-Bacon-Racing/278125555137
Partner of the Week – Triple X Race Components
At Triple X Race Components, we don't just build race parts – we race too. We know how expensive it is to race. That's why we offer the most common Sprint Car, Midget, and 600 Mini Sprint parts. We keep our costs down by building thousands of each part. We build the parts that get damaged the most. With our discounted pricing, you can afford to race hard and race to win. All Triple X components are produced in our ISO 9001 certified factory. They are laboratory tested, race tested, and universally approved. Whether you are a new customer or a repeat customer, you can be assured that you're buying race-proven products at great prices. We guarantee it. Triple X has established a large network of dealers coast to coast and internationally to serve your needs. Please stop by your local dealer and check out our newest products. Check Triple X Race Co. out on the web at www.XXXRaceCo.com!
Associate Marketing Partner of the Week – Proglide Coatings
When it comes to metal to metal contact and reducing friction, Proglide Coatings has a solution. Not only can we maximize the potential out of every part we coat, we can drastically increase the life of the part. By reducing friction, heat is also reduced. When heat is reduced, distortion and molecular changes in the part itself slows dramatically, naturally prolonging the life of the part. With that said, viscosity of lubricants can be decreased resulting in more free movement and less drag. As heat is reduced, the potential for the breakdown of oil is reduced. This lets your oil and lubricants perform the job that they were designed to do. Proglide also has characteristics that aid in the process of retaining oil at metal to metal contact points through a property called adhesion. Proglide holds oil to the part ensuring proper lubrication. In tight tolerance applications Proglide can fill the void of lack of lubrication where failure often occurs. Our coating adds no measurable tolerance to the part once coated therefor allowing us to coat even the tightest parts like pistons, rings, main bearings, rod bearing, cams, cranks, drive systems, etc. Maximize your parts and protect your investments with Proglide Metal Coating Technologies. Once you do you'll never feel the same about friction again. Visit Proglide Coatings online at www.ProglideCoatings.com!
Brady Bacon Racing would like the following sponsors for all their help: Fatheadz Eyewear, Viper Risk Management Group, Triple X Race Co., Tel-Star Technologies, PPM Titanium Products, KTA Kiser's Truck and Auto (formerly Sham's Garage), Heath Clips Lawn Care, Chubby from CnB Mushroom Farms, Lucas Oil Products, Factory Kahne, FK Indy, Lightning Wings, CP Carrillo, Keizer Wheels, Smiley's Racing Products, Eaton Industrial Coatings, Sweet Mfg., Butlerbuilt Seats, Brown and Miller Racing Solutions, Proglide Coatings, Diversified Machine Inc., Fuel Safe, Allstar Performance, Simpson, Octane Ink, Schroth Racing, Wilwood, King Racing Products and Schoenfeld Headers.
The Hoffman/Dynamic, Inc. #69 sprinter is sponsored by Mean Green, Mopar, Triple X Race Components, Hoosier, DMI, Lykins, Engler Machine & Tool, Goodridge Fluid Transfer Systems, KSE, MPD Racing, CSI Shocks, XYZ Machining, Saldana Racing Products, Fuel Safe Racing Cells, Fastener Specialty Motorsports, Wilwood Brakes, Joe Gibbs Driven Racing Oil, Zemco Headers, Chalk Racing Products and Weld.
Photo: Brady digs in at Putnamville (Bubba's Pics)
Bill W Media
Monroe, IA USA
Twitter: @BillWMedia
e-mail: sprntcar@hotmail.com
website: www.OpenWheel101.com
Back to News