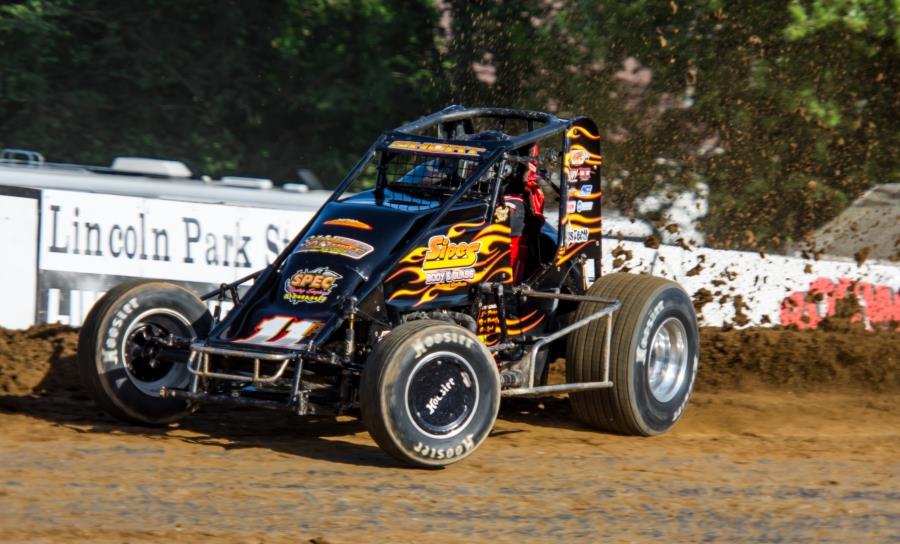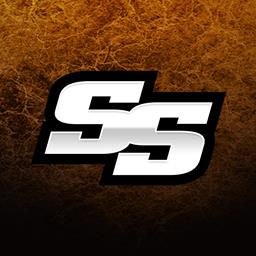 ---
Back From Vacation; Short Returns to Victory Lane in ISW Night Four at Putnamville
After being absent from the first three races of "Indiana Sprint Week," Brady Short made his triumphant return to the seven-race series a memorable one, quickly picking his way through the field one-by-one from his 11th starting position before taking the lead on lap 12 from Dave Darland and pulling away to go virtually unchallenged down the stretch to take the victory Thursday night at Putnamville, Indiana's Lincoln Park Speedway.
Winning an Indiana Sprint Week event is one of the most daunting tasks a USAC AMSOIL National Sprint Car competitor will face all season, but on Thursday night, Short and the Pottorff number 11p worked in perfect harmony as the Bedford, Indiana driver collected his fifth career ISW victory at a fifth different racetrack exactly 10 years to the day of his very first ISW triumph at Bloomington Speedway in 2006.
Aside from Bloomington and Lincoln Park, Short has also scored ISW wins at Lawrenceburg Speedway in 2008, Brownstown Speedway in 2010 and Tri-State Speedway in 2015, moving him into a tie for eighth on the all-time ISW win list alongside Kevin Briscoe, Tony Elliott and Kevin Thomas.
After a torrential downpour hit Lincoln Park Speedway throughout late Wednesday afternoon and Thursday morning, the 5/16-mile dirt oval became "Lake Putnamville" for a period of time. Due to the incredible effort by Joe Spiker and the rest of the LPS crew, the track was in tip-top shape by the time hot laps began and throughout the night, provided a smooth, racy, multiple-lane surface.
Regardless, in this stacked field, Short would have to get his elbows up to reach victory lane on Thursday night from his 11th starting spot. Though, he wouldn't have to come from as far back as he did one year ago when he earned hard charger honors after storming from 22nd to 5th during the feature.
Up front at the beginning of the 30-lap affair were Chase Stockon and Dave Darland. The two battled back-and-forth throughout the first circuit until Stockon lunged ahead for the lead at the exit of turn two on lap two.
However, just moments later as the field funneled into turn three, ISW point leader Tyler Courtney hopped over the right rear tire of Justin Grant while battling for fourth. Courtney slid a lengthy distance over the turn three banking toward the pit exit guardrail before coming to a stop. Courtney would restart from the tail of the field in the 24th position, the very same spot he began his charge from six days earlier during his spectacular come-from-behind victory at Gas City I-69 Speedway.
On the restart, Darland, the winningest driver in the history of "Indiana Sprint Week," engaged in a war for the lead with Stockon. On the third lap, Darland crossed over off the turn four banking, sweeping inside of Stockon, beating him by a bumper in a drag race to the flag stand.
Stockon countered with a slider on Darland at the entrance of one, briefly securing the lead before Darland crossed over to the inside of Stockon once again, driving by him to grab the top spot for good down the back straightway.
Meanwhile, Short's steady, methodical drive through the middle in turns one and two and the bottom in turns three and four put him in the top-three by lap nine. On lap 11, Short worked the low groove to slip by Stockon for second by the length of a wheel at the line. Just one lap later, Short threw his machine toward the bottom of turns one and two to pull even with Darland. The two battled down the back straight with Short outracing Darland to turn three before motoring off with the lead and a stranglehold on the top spot.
Short continued to stretch out his lead by a country mile in the forthcoming laps and, with less than 10 to go, held a half-lap lead over second-running Stockon, who had just gotten by Darland for the runner-up spot one lap prior. However, that substantial lead would be erased after a Zach Daum 360 spin in turn two with five laps remaining that brought out the yellow flag.
For the restart, Stockon was right on the tail of Short, but as soon as the green flag dropped, Short got an excellent jump, quickly distancing himself from the pack. Just one lap, later, though, the yellow flew for ninth-running Brent Beauchamp, who slid to a stop next to an infield tire in turn two.
On what would prove to be the final restart, Short once again shot out of a proverbial cannon, distancing himself from Stockon and the remainder of the field who had no answer for Short at the end. Short put the race on ice, winning by a second and a half over Stockon, Chad Boespflug, Robert Ballou (from 16th) and KSE Racing Products/B&W Auto Mart Hard Charger Thomas Meseraull who darted his way from 18th to 5th in his debut for Landon Simon Racing.
Courtney, who restarted from the tail of 24-car field with just one lap complete, fought back through the field to salvage an eighth-place finish and, in turn, maintained his solid 32-point lead in the "Indiana Sprint Week" standings with just three events to go.
Throughout the first four ISW events, the winner has started no better the sixth: Courtney (16th at Gas City), Kyle Cummins (6th at Kokomo), Bryan Clauson (6th at Lawrenceburg) and Short (11th at Lincoln Park), putting the average winners' starting position at 9.75. However, Short attributes his success Thursday night to getting off on the right foot in ProSource Qualifying, which set the tone and put himself in a position to be a contender come feature time in his Cam Pottorff/Sipes Body & Glass – Indiana Stone Works/Maxim/SPEC.
"Qualifying was huge tonight, but I went out early and made the best lap I could to give us a good spot," Short said. "When we took off in the heat race, I knew we were going to be one of the good cars and it was going to be up to me. I tried to give it away a couple times, just because I kept missing my marks and overdriving. I was on vacation last week and decided to come run this second week, so it's pretty special. To come here and beat 50 cars, you have to have a lot of luck. I didn't think we'd even be racing today, so that's a credit to Joe Spiker and his crew because they gave us an awesome race track."
Stockon led the first pair of laps during the feature before fading back, running fourth, in fact, with just 10 to go. But the Fort Branch, Indiana, responded in a strong way, making his way back to the second spot at the checkered in his 32-TBI Racing/Superior Tank & Trailer - Dewig Meats/DRC/Fisher.
"I knew we could rip the bottom pretty well, but I had to go somewhere they weren't," Stockon explained. "I thought the cushion would blow completely off, but we freed it up quite a bit and couldn't quite roll the bottom like we needed to. I could run higher up in it in turn one and diamond it off to make up some decent ground. We just tried to maintain in (turns) three and four, but we never gave up and rallied back for a good finish."
Hanford, California's Boespflug returned with a vengeance Thursday night after struggling last Sunday night at Lawrenceburg and followed up his second place run at Lincoln Park on July 1 with another podium finish, bagging third at the finish in his NineEight Motorsports-EZR/Pac Racing Springs – Schroeder Torsion Bars/Maxim/Claxton.
"I thought I'd have something for them when I found something on the bottom in (turns) one and two, but we just had to hang on there at the end," Boespflug said. Overall, though, it was a good night for us and we'll take this momentum to Bloomington. I haven't ever been great there, so hopefully we can keep these strong runs up."
Meseraull, of San Jose, California, stepped into the Landon Simon Racing/Mount Baker Vapor – Club W/DRC/Rider after he and the Amati Racing team parted ways after Lawrenceburg last Sunday. Meseraull was a rocket during the feature, driving from the outside of row nine into the top-five to earn his best finish of ISW 2016.
"This car was on kill tonight," Meseraull exclaimed. "I struggled at the beginning of the week, obviously, but I'm just stoked to have a good run."
Contingency award winners at Lincoln Park Speedway included Tyler Courtney (ProSource Fast Qualifier & Simpson Race Products First Heat Race Winner), Thomas Meseraull (Competition Suspension, Inc. (CSI) Second Heat Race Winner), Brady Short (Benic Enterprises Third Heat Race Winner), Robert Ballou (Indy Race Parts Fourth Heat Race Winner), Thomas Meseraull (KSE Racing Products/B&W Auto Mart Hard Charger) & Jarett Andretti (Wilwood Brakes 13th Place Feature Finisher).
Back to News