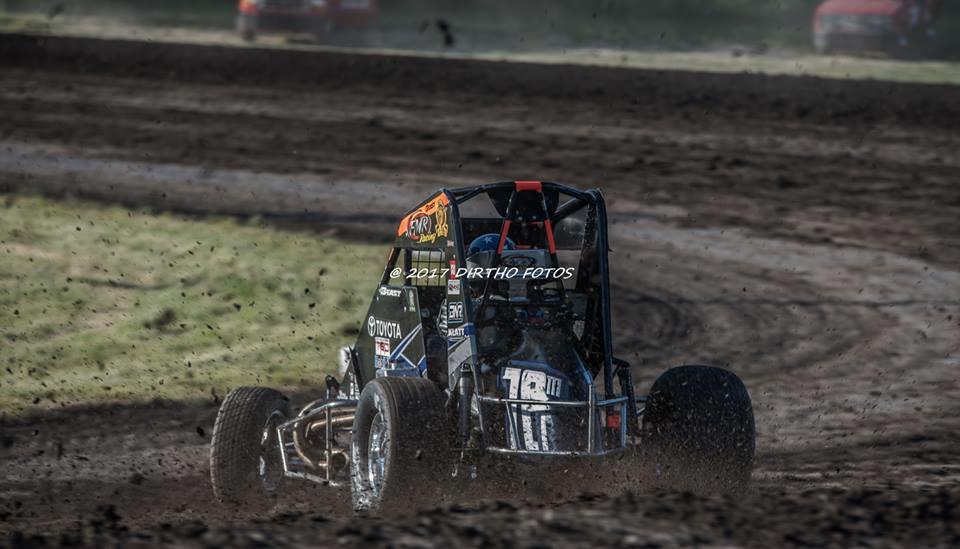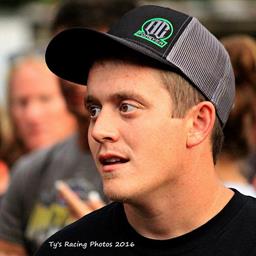 ---
Brady Bacon – Solid Indiana Midget Week, Eastern Storm Brews!
Brady Bacon – Solid Indiana Midget Week, Eastern Storm Brews!
(Bill W) June 12, 2017 – Despite a few mechanical issues, Brady Bacon and the Frank Manafort Racing #76m midget team had a very solid Indiana Midget week. Three top five and five top ten finishes had the Broken Arrow, Oklahoma driver fourth in Midget week points, and he remains the USAC National Midget series leader. Brady also picked up a win in Todd Keen's sprint car in Montpelier last Tuesday night. He added a second place finish in the Keen #18 sprint Wendesday in Gas City. Brady will next head east to Pennsylvania with the USAC National Sprint Car Series in the Dooling/Hayward Racing #63.
The team qualified well every night out. "I felt we had the fastest car most nights, but we had some mechanical issues three of the six," says Brady. "We kind of overcame that, and we ended up with just one DNF at Lawrenceburg. Everything else, we fought through. Every night but Kokomo, we qualified in the top four. That's important for points, because the top five get points and that sets your night up."
Montpelier Motor Speedway started things off last Tuesday. Brady timed in fourth, and started the feature third. "The tracks throughout the week were slicker than normal, but Montpelier was the slickest," he says. "We were running second. We had a late caution that allowed the guys behind me a chance to slide me. (Kyle) Larson was able to get by and we ended up fourth."
It was a different story in Keen's #18 sprint car. They would end in Victory Lane. "That was cool," says Brady. "They are some local people from close to my shop, and they have a pretty low budget. It was great to get a win with them, and finish second at Gas City too."
Wednesday, Gas City would see Brady time in third quick, and line up fourth for the main event. "We had a shot to win the race late, but it didn't play out," he says. "The car was really strong at the end of the race, and that was our strength all week. We were picking up speed at the end of the features."
At Lincoln Park Speedway in Putnamville Thursday, the team timed in second quick, but had some issues before the feature. "We were scheduled to start fifth," says Brady. "We had a battery go bad going out, and we had to come back and change it. We started on the tail, and ended up coming up to eighth. We dodged a pretty big bullet there."
Brady was second quick again at Bloomington Speedway Friday, and started the main event fifth. "The track was really slow at Bloomington," he says. "It was single-file around the bottom, and I got shuffled back on the start. We fell back to around eleventh and we made it back up to sixth."
The only DNF of the week came Saturday at Lawrenceburg Speedway. "We had a mechanical failure that put us out of the race," says Brady. "We were running third, and had a really fast car I think we had a shot at winning that one. Pretty much everyone had a problem one night or another. You'll have that running six nights in a row."
Brady had high hopes at Kokomo Speedway Sunday after winning there earlier in the year. "We drew late there and didn't qualify as well (8th). The track was a little different than normal. We run there a lot, and when it changes, it's harder to adjust. You expect one thing, and it's hard to get that out of your mindset. We had to bring the backup car out, and start at the tail of the B. We transferred out of that and got to as high as third in the feature (after starting eighth). We ended up fading to fifth at the end."
This week's "Eastern Storm" in Pennsylvania will see events Tuesday night at Grandview Speedway near Bechtelsville, Wednesday at Lincoln Speedway near Abbottstown, Thursday and Friday at Williams Grove Speedway near Mechanicsbug, Saturday at Port Royal Speedway and Sunday at Susquehanna Speedway near Newberrytown. "We get the #63 better each time we're out," says Brady of the Dooling/Hayward entry. "We struggled a bit at Knoxville there (when he was part of a crash, restarted at the tail and finished tenth). We're excited to get out there and get a series of races in a row to fine-tune things."
Follow Brady on his Website, Twitter and Facebook!
Follow Brady at his website located at www.BradyBaconRacing.com! Also keep up with him on Facebook and Twitter (which also can be accessed at the website) at the following links…
Twitter Link – http://twitter.com/BradyBacon
Facebook Link - www.facebook.com/pages/Brady-Bacon-Racing/278125555137
Partner of the Week – Triple X Race Components
At Triple X Race Components, we don't just build race parts – we race too. We know how expensive it is to race. That's why we offer the most common Sprint Car, Midget, and 600 Mini Sprint parts. We keep our costs down by building thousands of each part. We build the parts that get damaged the most. With our discounted pricing, you can afford to race hard and race to win. All Triple X components are produced in our ISO 9001 certified factory. They are laboratory tested, race tested, and universally approved. Whether you are a new customer or a repeat customer, you can be assured that you're buying race-proven products at great prices. We guarantee it. Triple X has established a large network of dealers coast to coast and internationally to serve your needs. Please stop by your local dealer and check out our newest products. Check Triple X Race Co. out on the web at www.XXXRaceCo.com!
Associate Marketing Partner of the Week – Brown & Miller Racing Solutions
Brown & Miller's lightweight range of hose satisfies virtually every racing application and their fittings are designed for safety, reliability and optimum weight saving. With an industry standard ProGold convoluted hose system, Smoothbore hose and Adaptor ranges, they have the complete system. To further complement these products, they can also provide custom engineered fittings designed to optimize hose installations where standard fittings may not be suitable. With outlets worldwide, there is no excuse to settle for second best! At Brown and Miller Racing Solutions, they maintain the simple philosophy that when our parts are on your racecar, they are a part of your team. Visit them on the web at www.BMRS.net!
To learn more about the Butler Advantage or if you have questions about your race safety, visit www.ButlerBuilt.net or call 800 621-SEAT (7328) today!
Bacon/Marshall Motorsports would like to thank the following sponsors for all their help: Priority Aviation, Fatheadz Eyewear, Triple X Race Co., Tel-Star Technologies, KTA Kiser's Truck and Auto (formerly Sham's Garage), Heath Clips Lawn Care, Factory Kahne, FK Indy, Lightning Wings, CP Carrillo, FK Rod Ends, Valvoline, Keizer Wheels, Smiley's Racing Products, Sweet Mfg., Butlerbuilt Seats, Brown and Miller Racing Solutions, Proglide Coatings, Diversified Machine Inc., Wilwood, Allstar Performance, Simpson, Octane Ink, PAC Springs, Schroeder, Schroth Racing, Smith Titanium, King Racing Products and Schoenfeld Headers.
Dooling/Hayward Racing would like to thank the following sponsors for all their help: Dooling Machine, B&H Contractors, Diversified Machine, Inc., Stanton Engines, Spike Chassis, Sander, Sweet Mfg., FK Indy, Brown & Miller Racing Solutions, Simpson, Butlerbuilt, Schroeder, Schoenfeld and Schroth Racing.
Photo: Brady's best finish during Indiana Midget Week came at Gas City (Dean Yoder – Dirtho Fotos)
Bill W Media
Monroe, IA USA
Twitter: @BillWMedia
e-mail: sprntcar@hotmail.com
website: www.OpenWheel101.com
Back to News