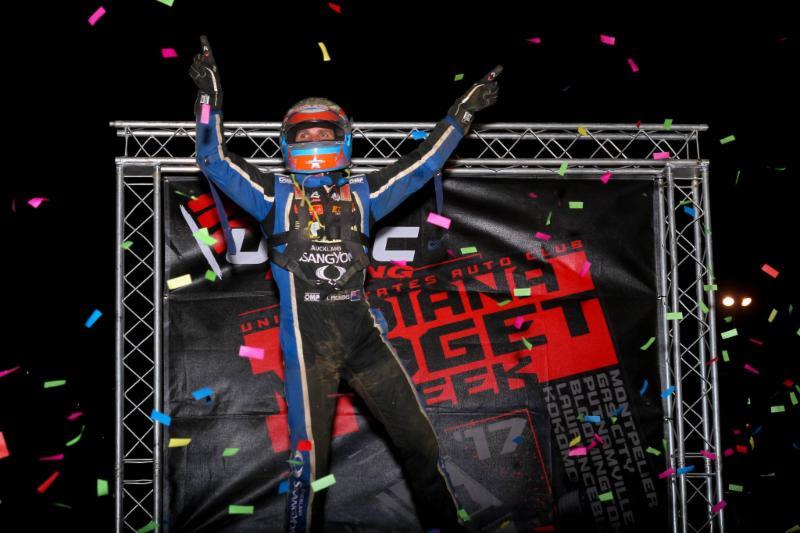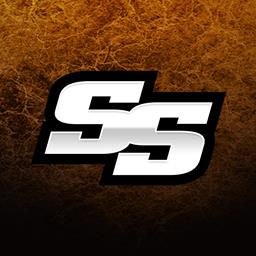 ---
PICKENS DOUBLES DOWN AT PUTNAMVILLE FOR 2ND STRAIGHT INDIANA MIDGET WEEK VICTORY
Putnamville, Indiana.........A standing ovation is reserved for a performance that transcends the ordinary.
What is considered the common or run-of-the-mill may be admirable, but when an individual witnesses one of those handful of instances when the stars align to create a lasting image that will be ingrained in memory, the event is elevated to a status above the norm.
Michael Pickens performance in the final laps of Thursday's Indiana Midget Week round at Lincoln Park Speedway was certainly not ordinary and the audience responded in kind by rising to their feet and applauding the New Zealand driver who captivated them in a mesmerizing five-lap sequence.
One night after bringing a healthy contingent of supporters from his homeland to their feet with a victory at Gas City, Pickens directed an academy award winning performance. In true dramatic fashion, Pickens kept the large crowd in suspense as he saved his best performance for the final act, swapping the race lead back-and-forth between he and Spencer Bayston in a dramatic finish that's fate wasn't decided until the final corner.
Pickens' victory brought race fans to a fever pitch as the veteran driver finally begins to receive his due as one of the top drivers in the sport of midget racing and an international racing star with his electric stage act that has the U.S. midget racing scene abuzz.
Pickens' night began in a completely different light after pulling off in the first practice session without taking a single lap at speed. Apparently, two laps were all that were necessary as the 34-year-old from Auckland set ProSource Fast Qualifying time in his Brett & Leigh Morris/Seamount Racing - Tony Elliott Foundation/King/GRD Toyota.
Funny enough, after being docked two rows in Wednesday night's feature at Gas City for arriving late to pre-race staging, Pickens was the first car to hit the track Thursday at Lincoln Park, making sure that he wouldn't have to make his job any more difficult than it already was.
Pickens would start six, but for the third consecutive night, USAC/ARDC point leader Alex Bright began the feature event from the pole and, as he did in the IMW opener at Montpelier, would jump his way out to the lead on the opening lap.
Back a handful of positions behind Bright was fifth-running Pickens who, on the fifth lap would find himself nearly running into trouble as he got sideways and airborne after elevating all four wheels off the ground. He would gather it up and ride on, but not without losing a position to drop to six.
While much of the field remained on the bottom, Bayston was the top front runner to venture to the outside and pass at will in the first third of the 30-lap event. Sure enough, those dues he paid up top would pay off as he entered the top-three on the eighth lap around the outside of Chad Boat, then swooped to the bottom to swipe Boat's line away on the bottom entry into turn one.
Bayston's crew had replaced the powerplant of the No. 97 prior to the feature event after finishing second in the third heat race. The engine was a songbird as Bayston stuck to his guns to complete the same move on Brent Beauchamp for second into the first turn on lap 11 and, a lap later, the lead would be his own after utilizing another outside pass around A. Bright.
Immediately, Bayston opened up a substantial gap for the lead until a lap 15 yellow for a Tyler Thomas/Brayton Lynch turn two tangle brought out the yellow at the halfway point. Shortly after the ensuing restart, eighth-running Gage Walker received contact to the rear bumper that sent him sideways at the entrance of turn three, collecting Lynch, as another yellow flag hit the speedway.
Time and again, Bayston was a force on the restarts and, on the lap 17 resumption, the 2015 series Rookie of the Year would jump out to an eight car-length lead over Bright. With 12 to go, the push was on as Bright slid up the track in turn two, allowing Boat to squeeze underneath for second.
Meanwhile, Pickens began to pound the cushion entering turn one with the right rear, then instantly flicked the steering wheel to the left and used the momentum from diamonding down the hill to blast around Bright for third.
Following a caution for the stoppage of reigning Putnamville Indiana Midget Week winner Tanner Thorson and Ronnie Gardner, Pickens continued to hold down his own patented line, entering turn one higher than any man or woman had ventured as he kept tabs on Bayston.
An outside backstretch pass for second around Boat moved Pickens to second on the leaderboard with just eight laps remaining. With anticipation building and senses working overtime, the decreasing gap between the two was increasingly visible as voices from the crowd began to murmur in excitement about the potential finish with the tension so evident, you could feel it seeping into your pores.
Pickens had closed to the tail of Bayston with five to go when sixth-running Brent Beauchamp attempted to exit the track after losing power, but was not able to get far away enough off the racing surface to set up one final shootout for the win.
The final five laps will be remembered for those in attendance as one of the most exciting midget racing duels in Lincoln Park Speedway's history, immediately bringing to mind Kyle Larson and Bryan Clauson's savage duel in 2011. Yet again, though, Bayston was strong enough on the restart to gap Pickens who stayed true to the top and his diamonding pattern off turns one and three to find any extra ounce of speed he could get like a downhill skier.
On laps 26, 27 and 28, Pickens was able to get a big enough launch from the turn one berm, but the momentum would cease off the exit where Bayston was strong enough to keep Pickens an arm's distance away. Through turns three and four, Bayston took the high road as Pickens followed suit.
Coming to the white flag, Pickens attacked the cushion like a rabid animal, lifting the left side wheels off the ground as he flat-footed the turn three cushion and countered underneath off of four to beat Bayston to the stripe with one to go. Pickens, who had so spectacularly executed the entry into turn one time-after-time, wasn't so graceful on his final entry as he bounced his way through the corner, getting completely with a half-spin that caused a slight disruption in his rhythm before pointing his car in the right direction as Bayston pulled alongside underneath.
Amazingly, little ground was lost as Pickens regained control and stood on the pedal to pull even with Bayston halfway down the back straight. Both entered the high line in three with Bayston a couple car lengths ahead, but Pickens had his plan stapled to his mind as he countered below Bayston in a wheel-to-wheel drag race to the line that Pickens prevailed in by a single car length.
It was Pickens fourth-career USAC National Midget victory and his second in as many nights to become the first driver to win consecutive races in a single Indiana Midget Week since Bryan Clauson in 2009! By virtue of finishes of 2nd, 1st and 1st in the first three Indiana Midget Week feature, Pickens now holds a 31-point lead over Brady Bacon at the midway point of the six-race series.
Lebanon, Indiana's Spencer Bayston just narrowly missed his second career USAC win and his second straight year with an Indiana Midget Week victory, coming home second in his Keith Kunz-Curb-Agajanian Motorsports/Curb Records - TRD/Bullet by Spike/Speedway Toyota.
Tyler Courtney's crew had to swap out the engine overnight after mechanical trouble sidelined the Montpelier winner the previous night at Gas City. A rough start and a 20th place starting position would not hold back Courtney as he raced to a third-place finish to earn KSE Racing Products Hard Charger of the Race in his Clauson-Marshall Racing/Driven 2 Save Lives - Indiana Donor Network/Spike/Stanton SR-11.
Contingency award winners Thursday night at Lincoln Park Speedway include Michael Pickens (ProSource Fast Qualifier), Ronnie Gardner (Simpson Race Products First Heat Winner), Tanner Carrick (Competition Suspension, Inc. Second Heat Winner), Alex Bright (Chalk Stix Third Heat Winner), Zach Daum (Indy Race Parts Fourth Heat Winner), Tyler Courtney (KSE Racing Products Hard Charger), Dave Darland (Wilwood Brakes 13th Place Finisher) and Holly Shelton (ProSource Hard Work Award).
Back to News