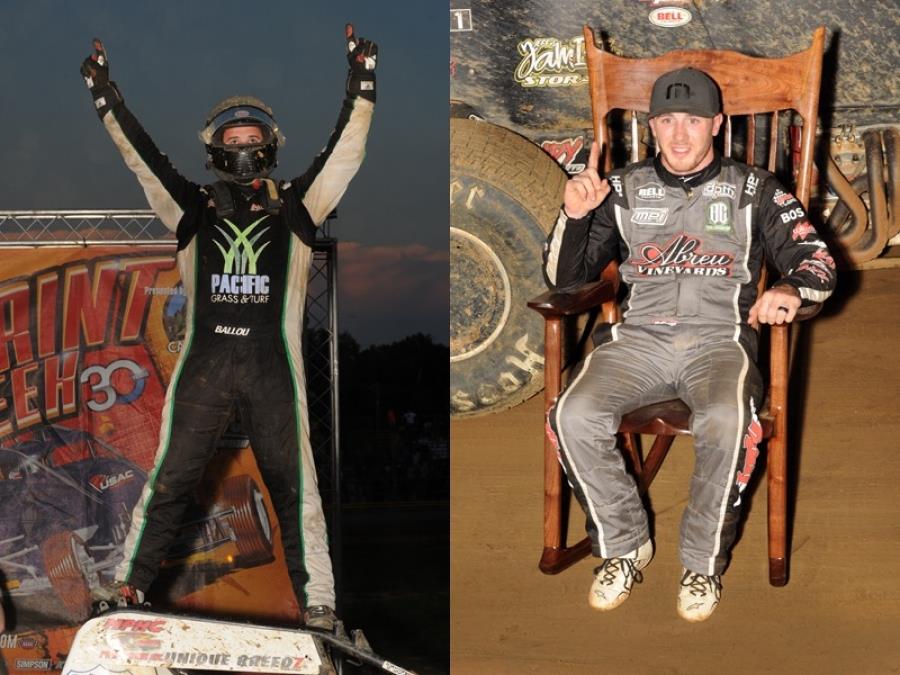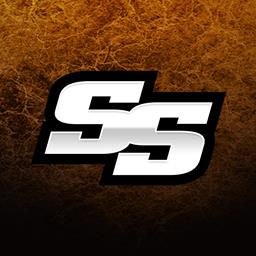 ---
BALLOU BAGS PUTNAMVILLE FINALE; THOMAS TAKES INDIANA SPRINT WEEK TITLE
Separated by just 23 points entering Sunday night's Indiana Sprint Week presented by Camping World feature at Lincoln Park Speedway, Kevin Thomas, Jr. and Robert Ballou each knew what was on the line. Win the race and the points will take care of themselves is the motto you'll often hear, but as the race wore on, the two ISW title contenders would find themselves on two separate paths: Ballou with a stranglehold up front and Thomas attempting to overcome a tumultuous beginning that, at one point, had him teetering on the edge of squandering the title.
Ballou maintained his presence at the front for all but the first lap to score his second USAC AMSOIL Sprint Car National Championship victory of the season while Thomas, having to finish eighth or better, thrived in the final eight-lap stretch to finish a hard-fought fifth to win the ISW points title, a feat he came so close to accomplishing in 2013 when he led the standings entering the final race of the series before seeing it slip away, something he wasn't going to let happen this time around despite a turbulent road to get there.
"Right before the feature, I knew it was 23 points going in," Thomas said. "It does put a little pressure on you, but I normally like pressure. You don't want to think about points, but at the end of the day, no matter who you are, it's in the back of your head when it's Indiana Sprint Week. This is such a historical week. Everybody wants to win it."
Thomas did what he needed to do early in the night, gaining a coveted six-point bonus for recording ProSource/B & W Auto Mart Fast Qualifying time, which put him on the outside of row three for the 30-lap feature with the six-car invert. On the other hand, that set up his nearest combatant, Robert Ballou, on the pole position, though he wouldn't escape to the point without a fight. On the opening lap, Ballou stuck to the bottom while Chad Boesplfug ripped around the top off turn two to grab the lead momentarily. Ballou fought back on the bottom, hopping his way off the fourth turn and pulling the wheels off the ground, just missing the lead by a small margin as the two crossed the stripe. Ballou stayed true to the bottom on lap two, but this time, much, much smoother as he gunned it off four to blast by Boespflug for the lead.
"We set up to run the curb," Ballou said. "But when I stuck the bottom at the start, it seemed pretty good down there. Chad got around me right away and for some reason, I was able to stick the entry really well which is something I couldn't do all week. I think if we had this setup at Gas City, we would've been a hell of a lot better."
A little further back, things weren't going as pristine for Thomas. On lap nine, Thomas stumbled on the turn two curb, dropping him from sixth to eighth, the furthest back he could run with Ballou leading in order to maintain his slim point lead, which stood at two with a third of the race completed. Thomas was fully aware of the situation as the pressure mounted and the laps clicked away.
"It does put a little pressure on you," Thomas admits. "I normally like pressure, but right there at the start, I got a good jump and I kind of got shuffled around. From there, I just made some bad driving mistakes. I jumped the cushion a few times, then I got flustered. I got a run on Kyle Cummins, jumped his right rear going down the backstretch and almost turned it over. I made a lot of dumb mistakes, to be honest. I knocked my floor pan off and the gas pedal wouldn't even go all the way down. It was touching the brake; I couldn't even use the brakes!"
By the halfway point, last year's Lincoln Park ISW feature winner Brady Short put on a patented charge to the front as he moved into second from his tenth starting spot and began applying pressure to Ballou for the race lead just prior to a yellow for Josh Hodges with ten to go. Thomas remained mired in seventh with a five-point buffer as the caution briefly silenced the beehive of competitors that surrounded him.
On the lap 21 restart, Ballou darted away from Short while Thomas picked up a much-needed spot as he raced into sixth past C.J. Leary. Two laps later, Leary's successful ISW that included a pair of wins, ended with a tumble in the rough in turn three to end his night. The Greenfield, Indiana driver walked away from the incident. Bernal was also involved, but would restart from the tail, practically eliminating multiple contenders who were in the midst of a battle in the trenches with Thomas for positions sixth, seventh and eighth.
But a late red flag period can, at times, make a profound impact on the race whether it knocks a driver off his rhythm or, conversely, allows them to exhale and regroup. Perhaps, it allows teams to make adjustments on the car that can go one of two ways. This time around, it brought about different initial reactions between Ballou and Thomas.
"I was worried to be honest with you," Ballou admits. "We had issues where my tires would get too low. They build up a bunch of heat and, when they cool off, they lose a pound or two. When the bleeder bleeds off to a certain poundage, they cool off and lose more air and its harder for them to build back up when they get too low. I was trying to spin them as much as I could, but nothing helps really. It's tough."
On the other hand, the red flag was a welcome sight through the eyes of Thomas.
"Normally I don't like stoppages like that. This time I did," Thomas explains. "I made a few shock adjustments because I was pretty tight out there for where I was having to run. I just really wasn't running a great enough race to be able to run the cushion the way I'd normally want to. I had to make a few adjustments to be able to rotate on the bottom and to not get myself tight. I knew I had to go get going and I knew I had to do something. I just had to keep myself calm and get back to doing what I wanted to do and pass some race cars. Sometimes you like to see the red, sometimes you don't. This time, I did. I had time to gather my thoughts and had to make a few decisions."
As the green fell for the restart with eight laps to go, Ballou was unsure of what to expect in regards to how his car would react.
"I was biting my tongue when I headed into turn one on the restart," Ballou details. "You aren't sure if you're going to tip over, if it's going to toss the nose or what's going to happen. It's a guessing game and I hoped I entered the corner just right. It was tricky, but that's what makes racing racing."
It worked out for Ballou as he was able to distance himself from Short who wound up losing his spot on the restart to Tyler Courtney, who slalomed through turn two to the runner-up spot on the bottom. Yet, he remained a second behind Ballou as the laps waned until a yellow with three to go for the turned around car of Tyler Thomas put a halt to the action. Kevin Thomas, Jr., meanwhile, had found a happy place and resided comfortably in fifth as he settled into a groove after a hectic beginning.
Ballou had yet another solid restart on lap 28, keeping Courtney and Boespflug at bay as those two tussled for the runner-up spot a second behind as he finished off the final three laps handily in his Robert Ballou Motorsports/Deaton's Waterfront Services - Lucas Oil/Twister-X/Ott ahead of Courtney, Boespflug, Short and Kevin Thomas, Jr., who stamped his name in the record books as the champ of the 30th edition of Indiana Sprint Week.
Thomas earned a custom-cut Bridgeport Rocker courtesy of John Youngs and a $5000 dollar award amongst his prizes for the title run that concluded with what he calls "the ugliest fifth-place of (his) racing career." Yet, they don't award points for style in this form of racing. Just results. That result was good enough for an 11-point victory in the most rigorous stretch of the USAC National Sprint Car season.
"It's just a relief to be able to win this thing," Thomas exhaled. It's a lot of hard work not only from myself and my family, but the guys back at the shop. Both of them have day jobs and they are as hard-working and passionate about the team as hard as anybody I've ever seen. Like Saturday night at Haubstadt, we ran second and I think they were as mad, if not madder, than I was. That's what I like to see. It's an intense week and you have to be intense about it."
Over a seven-race stretch, one position here and one position there can make all the difference in a title run. With qualifying, heat races and even the semi-feature offering points toward the final tally, each and every time a driver hits the track, it means something. It's something Thomas took advantage of this time around.
"You can't let one little point or one position get away from you because it can be a matter of one, two or three spots in the end," Thomas points out. "Robert and I have raced together for a long time. He's a past Indiana Sprint Week champion and, to be able to do what we did and beat those guys, it's truly remarkable."
It was the Indiana Sprint Week round at Lincoln Park in 2014 where Ballou turned the corner to his string of modern-day success that we have become accustomed to. Yet, the Rocklin, California native and 2015 USAC National Sprint Car champion admits he still struggles here despite the success that also includes a July victory in 2016.
"I struggle here," Ballou acknowledges. "I like my racecar to be tight and you can't have a tight racecar here. I came from winged sprint cars originally. I still like to be straight and fast. That's why I go so well on the big joints. This is one of the first tracks I was able to figure out and was able to run well at consistently. You have to be careful on the curb and you have to tiptoe around the bottom."
Ballou's Indiana Sprint Week certainly had its bright spots with a runner-up result at Gas City and concluded with his first USAC win in over two months in the ISW finale. But, Ballou admits it's still a struggle at times as he and the team attempt to return to the consistency that had become so commonplace over the last three years.
"We changed everything," Ballou said. "We were changing a gear when they blew the eight-minute horn. We never give up. We tried to throw the kitchen sink at it. We're just trying to get our program back together. We've just been a tick off every single night. We're close, but we just got to keep putting one foot in font of the other and we'll get there."
Contingency award winners Sunday night at Lincoln Park Speedway include Kevin Thomas, Jr. (ProSource/B & W Auto Mart Fast Qualifier), Chris Windom (Simpson Race Products 1st Heat Winner), Josh Hodges (Competition Suspension, Inc. 2nd Heat Winner), Robert Ballou (Chalk Stix 3rd Heat Winner), Chase Stockon (Indy Race Parts Semi-Feature Winner), Josh Hodges (KSE Racing Products/B & W Auto Mart Hard Charger) and Ryan Bernal (Wilwood Brakes 13th Place Finisher).
Back to News