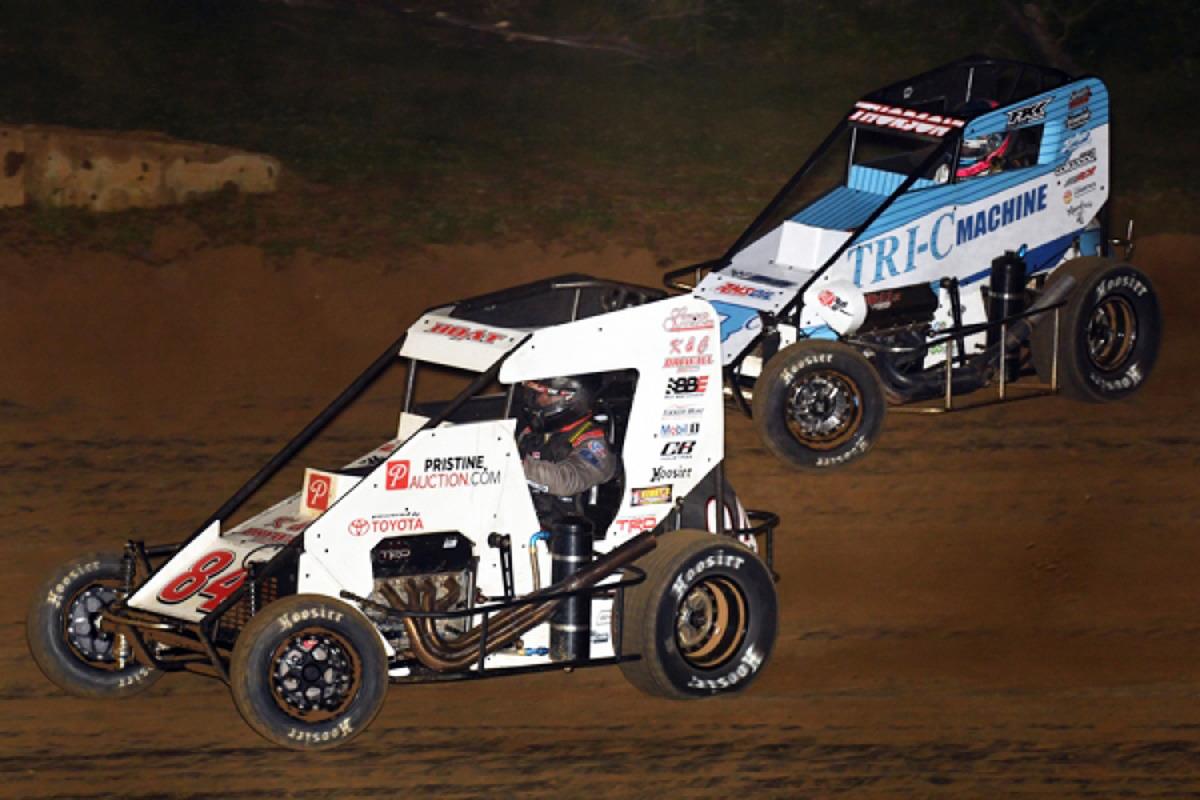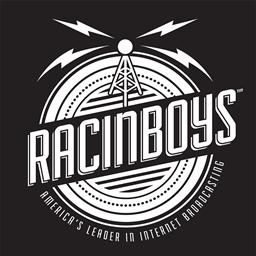 ---
Boat tallies Indiana Midget Week win at Putnamville
By Richie Murray, USAC Media (Putnamville, IN) -- Over the past couple of years, Chad Boat had affectionately become known as Mr. August to some. Six career USAC P1 Insurance National Midget victories all coming in the month of August will do that to you. There's no shame in that, but why wait until August to have some fun?
Boat shed the label two months early this season with Thursday night's wild "Indiana Midget Week" victory at Lincoln Park Speedway. After swapping a case of sliders with Tanner Thorson throughout the middle stages of the race, the Phoenix, Arizona driver then denied a late charge from Justin Grant to win his first career IMW feature event.
PHOTO: 84 Chad Boat battles #3c Tanner Thorson for the lead during Thursday's "Indiana Midget Week" feature at Lincoln Park Speedway in Putnamville, Indiana--CREDIT: David Nearpass Photo
In reality, the shedding of the label began much earlier than Wednesday. With the competition the way it is right now, with stacked competition night in and night out, Boat and the Tucker/Boat Motorsports team began seeing the fruits of their labor come to fruition late last season, which has translated to the early rising of success so far in 2018.
"We learned a couple things at the tail end of last year with our cars and built on that through the winter and through the indoor season," Boat explained. "We started off strong at Du Quoin and were really good at Kokomo. I think our cars are where we need them to be. We've been fast right off the trailer. If we do the right things throughout the night, I think we should be competitive and in the hunt every single night."
Boat began the 30-lapper from the outside of the front row, yet it was Thorson who rode the bottom to the lead on the opening lap. Thorson would hold down the fort at the front for much of the first half, using different approaches to tackle each end of the racetrack. In turns one and two, the 2016 series champ utilized the bottom line, and in turns three and four, took it upstairs on the cush.
Meanwhile, Boat made consistent use of the middle of the racetrack, a groove higher than that of Thorson, as the pair broke away from the rest of the crowd.
"He made me work for it, but it should be hard to win at times," Boat said. "It makes it even more gratifying when you're able to put it in the circle after a good battle like that. I knew I was better than him, but whenever I seemed to get a good run, we had a caution and that was kind of messing up my flow."
After multiple cautions and a flip by teammate Zane Hendricks stifled his rhythm before midway, Boat was even more eager to press Thorson for the lead. On the 17th lap, Thorson swung wide on the entry to turn three, nearly touching wheels with Boat in the process. Boat checked up slightly and darted back to the middle between turns three and four, emerging with the lead by the time the two hit the stripe.
This then set off an epic chain of salivating slide jobs that served as eye candy for anyone with a beating heart. At the start/finish line on lap 18, Thorson dove low into turn one, ripping the lead away briefly before Boat cut down off turn two to reclaim his acreage on the back straight. Rinse and repeat on lap 19 and 20 with the same result: Boat riding the tide back to the front after withstanding an assault of sliders that's enough to stand your arm hair up on end.
"It's probably not as fun for me as it is for you guys," Boat said with a laugh. "But, at the end of the day, putting on a good show is number one, so I'm glad we were able to do that. It's even better when you're able to come out on top. You always enjoy the slider fest when you're the one who comes out on top. If you ask Tanner, he probably didn't enjoy it as much as I did."
Following Boat's wake were Clauson Marshall Racing teammates Justin Grant and Tyler Courtney. Grant pulled a two-for-one deal on the lap 21 restart, carving down the middle of a 7/10 split between turns three and four to roll past his teammate and Thorson for the second spot after starting back in the sixth row.
Grant closed quickly, trying to set up a slider of his own with three laps remaining for turns three and four, but Boat slammed the door as he moved a lane lower on entry to defy Grant's move. One lap later, Grant's run all but ended when he eked it a little bit too sideways in turn two, allowing Boat to motor away for good, closing out the first USAC victory of the year for he and his PristineAuction.com – K & C Drywall/Spike/Speedway Toyota ahead of Grant, Courtney, Zeb Wise and Tanner Thorson.
"Honestly, I still thought it was Tanner," Boat admitted. "I could only see the little bit of white on his nose. I started to try running a little bit more defensive line to not give him a big opportunity to slide me. I knew as long as I didn't make any mistakes, I was going to be able to hold my own ground. The big thing was just making sure I had good corner exits and didn't leave the door open for him to go through."
Courtney has now moved to the forefront of the IMW points with three races remaining, Friday at Bloomington Speedway, Saturday at Lawrenceburg Speedway and Sunday at Kokomo Speedway. The Indianapolis, Indiana driver holds a 20-point advantage over Thorson, Logan Seavey, Wise and Boat.
Contingency award winners Thursday night at Lincoln Park Speedway included Holly Shelton (Simpson Race Products First Heat Winner & Wilwood Brakes 13th Place Finisher), Logan Seavey (Competition Suspension, Inc. Second Heat Winner), Brayton Lynch (Chalk Stix Third Heat Winner), Tanner Thorson (Indy Race Parts Fourth Heat Winner), Tyler Thomas (Saldana Racing Products First Non-Transfer) and Ryan Robinson (KSE Racing Products Hard Charger).
---
USAC P1 INSURANCE MIDGET NATIONAL CHAMPIONSHIP RACE RESULTS: May 31, 2018 – Lincoln Park Speedway – Putnamville, Indiana – 14th Annual "Indiana Midget Week"
QUALIFYING: 1. Kevin Thomas, Jr., 63, Dooling-12.535 (New Track Record); 2. Tucker Klaasmeyer, 27, Kunz/Curb-Agajanian-12.669; 3. Zeb Wise, 39BC, Clauson/Marshall-12.747; 4. Tyler Courtney, 7BC, Clauson/Marshall-12.747; 5. Brady Bacon, 76m, FMR-12.764; 6. Chad Boat, 84, Tucker/Boat-12.779; 7. Ethan Mitchell, 19M, Mitchell-12.813; 8. Tanner Thorson, 3c, Tri-C-12.823; 9. Spencer Bayston, 97, Kunz/Curb-Agajanian-12.857; 10. Matt Moore, 35, Petry/Goff-12.926; 11. Justin Grant, 17BC, Clauson-Marshall/Wood-12.936; 12. Rico Abreu, 21, Kunz/Curb-Agajanian-12.953; 13. Jerry Coons, Jr., 25, Petry/Goff-12.970; 14. Sam Johnson, 72, Kunz/Curb-Agajanian-12.984; 15. Alex Bright, 77, Bright-13.002; 16. Tyler Thomas, 91T, Thomas-13.003; 17. Holly Shelton, 67K, Kunz/Curb-Agajanian-13.004; 18. Logan Seavey, 67, Kunz/Curb-Agajanian-13.011; 19. Brayton Lynch, 1K, RKR-13.013; 20. Zane Hendricks, 27z, Tucker/Boat-13.068; 21. Jake Neuman, 3N, Neuman-13.116; 22. Tanner Carrick, 71K, Kunz/Curb-Agajanian-13.183; 23. Andrew Layser, 77x, Bright-13.277; 24. Hudson O'Neal, 3ON, Neuman-13.281; 25. Jason McDougal, 15, Petry/Goff-13.341; 26. Chase Jones, 33, RayPro-13.385; 27. Damian Lopez, 21x, Shuman-13.829; 28. Max Guilford, 37, Felker-13.941; 29. Johnny Petrozelle, 8, Cornell-14.161; 30. Ryan Robinson, 71, Kunz/Curb-Agajanian-(Time of 12.873 disallowed); 31. Chris Hettinger, 71H, Hettinger-NT; 32. Zach Hampton, 7K, K & R-NT.
SIMPSON RACE PRODUCTS FIRST HEAT: (10 laps, top-4 transfer) 1. Shelton, 2. K. Thomas, 3. Bayston, 4. Coons, 5. Bacon, 6. McDougal, 7. Neuman. 2:11.64 (New Track Record)
COMPETITION SUSPENSION (CSI) SECOND HEAT: (10 laps, top-4 transfer) 1. Seavey, 2. Klaasmeyer, 3. Robinson, 4. Boat, 5. Moore, 6. Carrick, 7. Johnson, 8. Jones. NT
CHALK STIX THIRD HEAT: (10 laps, top-4 transfer) 1. Lynch, 2. Bright, 3. Grant, 4. Wise, 5. Layser, 6. Mitchell, 7. Lopez. 2:12.94
INDY RACE PARTS FOURTH HEAT: (10 laps, top-4 transfer) 1. Thorson, 2. Courtney, 3. Abreu, 4. Hendricks, 5. T. Thomas, 6. Guilford, 7. O'Neal. NT
SEMI: (12 laps, top-6 transfer) 1. Bacon, 2. Moore, 3. McDougal, 4. Mitchell, 5. Carrick, 6. Johnson, 7. T. Thomas, 8. Layser, 9. Neuman, 10. Hettinger, 11. Jones, 12. Lopez, 13. Petrozelle, 14. Guilford. NT
FEATURE: (30 laps, starting position in parentheses) 1. Chad Boat (2), 2. Justin Grant (11), 3. Tyler Courtney (3), 4. Zeb Wise (4), 5. Tanner Thorson (1), 6. Spencer Bayston (9), 7. Logan Seavey (17), 8. Rico Abreu (12), 9. Ryan Robinson (22), 10. Jerry Coons, Jr. (13), 11. Brady Bacon (7), 12. Tanner Carrick (20), 13. Holly Shelton (16), 14. Jason McDougal (21), 15. Brayton Lynch (18), 16. Kevin Thomas, Jr. (6), 17. Matt Moore (10), 18. Sam Johnson (14), 19. Alex Bright (15), 20. Tyler Thomas (23), 21. Tucker Klaasmeyer (5), 22. Jake Neuman (24), 23. Ethan Mitchell (8), 24. Zane Hendricks (19). NT
---
**O'Neal flipped during the fourth heat. Hendricks flipped on lap 10 of the feature.
FEATURE LAP LEADERS: Laps 1-16 Thorson, Laps 17-30 Boat.
KSE RACING PRODUCTS HARD CHARGER: Ryan Robinson (22nd to 9th)
SALDANA RACING PRODUCTS FIRST NON-TRANSFER: Tyler Thomas
WILWOOD BRAKES 13TH PLACE FINISHER: Holly Shelton
NEW USAC P1 INSURANCE MIDGET NATIONAL CHAMPIONSHIP POINTS: 1-Seavey-259, 2-Wise-250, 3-Boat-245, 4-Courtney-240, 5-Grant-238, 6-Bayston-218, 7-Robinson-214, 8-Bacon-201, 9-K. Thomas-197, 10-Coons-180.
NEW "INDIANA MIDGET WEEK" POINTS: 1-Courtney-149, 2-Thorson-129, 3-Seavey-128, 4-Wise-124, 5-Boat-120, 6-Bayston-118, 7-K. Thomas-113, 8-Abreu-112, 9-Grant-110, 10-Coons-110.
NEXT USAC P1 INSURANCE MIDGET NATIONAL CHAMPIONSHIP RACE: June 1 – Bloomington Speedway – Bloomington, Indiana – "Indiana Midget Week"
---
Submitted By: Kirk Elliott
Back to News