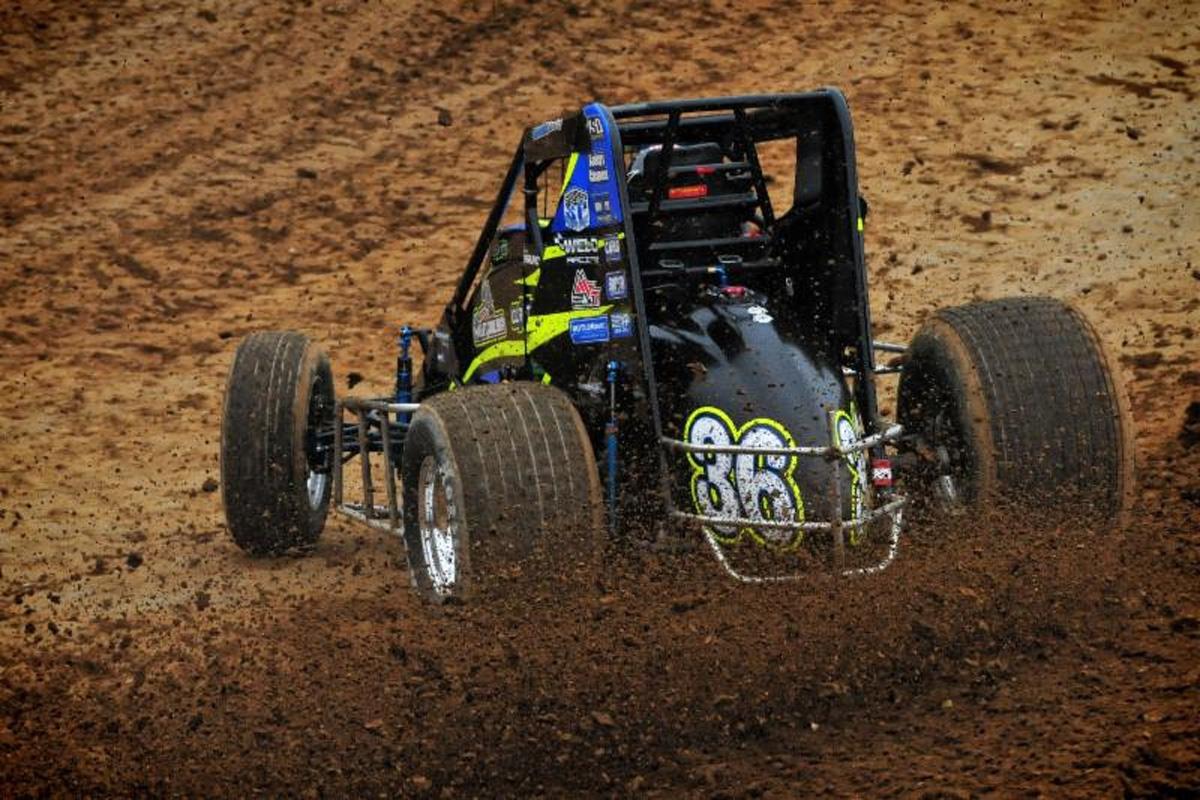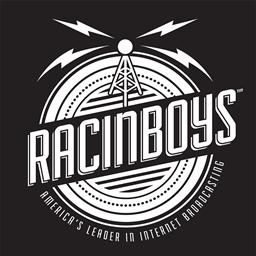 ---
Darland delivers ISW victory at Lincoln Park
By Richie Murray, USAC Media (Putnamville, IN) -- When thumbing through the major statistical categories of USAC AMSOIL National Sprint Car racing history, Dave Darland is the name that'll most likely appear at the top of every list you lay your eyes on.
He's the only driver to reach 60+ wins, the only driver to start at least 700+ feature events and the only driver to win a USAC-sanctioned feature in 26 consecutive seasons.
PHOTO CREDIT: Chad Warner photo
Thursday night's round five of NOS Energy Drink "Indiana Sprint Week" provided the Lincoln, Indiana driver with one more treasure to add to his overflowing cup of accolades: the first driver to reach 19 ISW wins. Darland wired all 30 laps in relatively dominant fashion at Lincoln Park Speedway for his first ISW win since 2014 aboard the Goodnight Racing-Curb-Agajanian/Curb Records - The Pallet Builder/Maxim/Claxton Chevy.
It was a homecoming of sorts for Darland as the victory came at the same place he won his very first ISW feature, back in 1990. In the process, he became the winningest USAC Sprint Car driver at the 5/16-mile dirt oval, breaking a tie with the great Sheldon Kinser for his sixth win there, all of which have come during ISW.
Yet, despite racking up victory after victory over the decades, the truth is that all of them mean just as much to him, whether it was win number one or win number 61 in USAC competition.
"It was just as satisfying as my first 60," Darland exclaimed. "We've been struggling a bit; we've been good for a fifth or a fourth or a tenth recently. We've been running okay, we just couldn't get over the hump. A good starting spot was key, which gave us an open track. The yellows came out at just the right time and kept me from getting in lapped traffic. Everything just went well for me tonight."
Darland raced to the point from the outside of the front row on the opening lap as Chad Boespflug diced and julienned with Kevin Thomas, Jr. for second with an exchange of sliders until Thomas cleared away for the position in turn two on lap two.
In an instant, Darland established a ten-car length advantage over Thomas until lap seven when Brandon Mattox spun to a stop, backwards in turn one. Darland's theme would repeat itself like the three chords of an AC/DC song, churning out a consistent, dominating riff on every occasion the field was closed up for a restart, which he did again on the lap eight resumption, putting himself in a class of his own with another near half-straightaway lead until leading series Rookie Timmy Buckwalter flipped over the turn three cushion on the 13th lap.
On the ensuing lap 14 restart, Darland's performance would hit a literal snag in turn one, akin to a broken guitar string in the midst of a mind-bending guitar solo in front of a packed house. Darland was able to recover quickly, though, strumming along the cushion to get back in tune with the beat and slide back into the rhythm after Thomas nearly Wally Pipp'd him at the front.
"I really don't know why, but the right rear just snagged too hard in the middle of one and two down there and I lost the front end," Darland recalled. "After it pushed up in turn two, I was way slow in that corner and he gained a lot on me. I saw him slide under me down in three. It just takes a little time to get it back and it varies on the track conditions as to how long that takes, and we did."
It was basically no harm, no foul and Darland was quite confident in his ability and that of his racecar to get the mission accomplished.
"I knew I had the position and it was my race to lose," Darland said. "I had the lead and just didn't want to screw it up myself by overdriving the car. I just had to ease into the corners and pick up the cushion when I could and try to get the exit right, make distance on them and keeping those guys behind me."
Dave Darland (middle) celebrates his 19th NOS Energy Drink "Indiana Sprint Week" victory Thursday at Lincoln Park Speedway alongside 2nd place finisher Chris Windom (left) & 3rd place A.J. Hopkins (right). (David Nearpass Photo)
As Darland slipped away into the distance, Thomas became involved in a tussle with five-time Lincoln Park Speedway winner A.J. Hopkins for the second spot. The two made contact between turns three and four amidst the battle for position and Thomas eventually got shuffled like an iPod back to fifth and out of contention as Hopkins grabbed second and set his sights on Darland for the race lead.
After multiple yellows on lap 16 and lap 21 for spins by Brady Bacon and Brent Beauchamp, respectively, Darland was as smooth as a silkworm each time. But the battle raged on for second, specifically on the lap 21 variety, which had Windom attempt a slider on Hopkins for second. Instead, the two greeted each other with a sprint car version of a fist bump, sending Hopkins over the ledge and dropping him back to fifth for a moment before he clawed his way back to a third by race end.
Up front, though, Darland was making some sweet music of his own, greeted by a hero's cheer from the massive throng of fans on hand as he crossed the finish line, winning by nearly two seconds over Windom, Hopkins, Thomas and Justin Grant.
Meanwhile, Windom not only took over the ISW points lead, but stretched it out to 25 with two races remaining Friday at Bloomington Speedway and Saturday at Tri-State Speedway in Haubstadt. Lawrenceburg and Terre Haute winner Tyler Courtney struggled mightily to a 21st place finish at Lincoln Park, dropping to fourth in the standings, 44 behind the leader. Thomas resides in second while Darland moved up to third, 30 points out of the lead.
Contingency award winners Thursday night at Lincoln Park Speedway were Brady Bacon (Bell Helmets Fast Time Award), Chad Boespflug (Simpson Race Products First Heat Winner), Justin Grant (Competition Suspension, Inc. Second Heat Winner), Tyler Courtney (Chalk Stix Third Heat Winner), Jordan Kinser (Indy Race Parts Fourth Heat Winner), Kyle Cummins (KSE Racing Products/B & W Auto Mart Hard Charger), Isaac Chapple (Wilwood Brakes 13th Place Finisher) and Jake Swanson (Roger & Barb Tapy 13th Fastest Qualifier).
---
USAC AMSOIL SPRINT CAR NATIONAL CHAMPIONSHIP RACE RESULTS: July 26, 2018 - Lincoln Park Speedway - Putnamville, Indiana - 31st NOS Energy Drink "Indiana Sprint Week"
BELL HELMETS QUALIFYING: 1. Brady Bacon, 99, Bacon-12.276; 2. Tyler Thomas, 2E, Epperson-12.369; 3. Shane Cockrum, 45, Lawrence-12.425; 4. Chris Windom, 5, Baldwin-12.436; 5. Chase Stockon, 32, 32 TBI-12.473; 6. A.J. Hopkins, 4J, 4J Motorsports-12.475; 7. Kody Swanson, 23, Karraker-12.478; 8. Colten Cottle, 5c, Cottle-12.480; 9. Kevin Thomas, Jr., 69, Dynamics-12.481; 10. Carson Short, 21, RCM-12.503; 11. Tim Creech, 2c, Creech-12.522; 12. Timmy Buckwalter, 7, LNB-12.526; 13. Jake Swanson, 92, Sertich-12.527; 14. Dave Darland, 36D, Goodnight/Curb-Agajanian-12.544; 15. Scotty Weir, 17G, On The Gass-12.597; 16. Thomas Meseraull, 5B, Briscoe-12.625; 17. Chad Boespflug, 11p, Pottorff/Short-12.639; 18. Justin Grant, 4, TOPP-12.670; 19. Brent Beauchamp, 34, Olson-12.682; 20. Jordan Kinser, 70, Hurst-12.709; 21. Josh Hodges, 74x, Hodges-12.722; 22. Dakota Jackson, 3, Jackson-12.725; 23. C.J. Leary, 30, Leary-12.737; 24. Brody Roa, 91R, BR-12.761; 25. Jason McDougal, 21K, Krockenberger-12.766; 26. Brandon Mattox, 2v, Fitzpatrick-12.791; 27. Shane Cottle, 5G, Goacher-12.818; 28. Isaac Chapple, 52, LNR/Chapple-12.829; 29. Jerry Coons, Jr., 17GP, Dutcher-12.849; 30. Tony DiMattia, 50, TDM-12.853; 31. Tyler Courtney, 7BC, Clauson/Marshall/Newman-12.854; 32. Matt Westfall, 33m, Marshall-12.871; 33. Clinton Boyles, 57, Hazen-12.886; 34. Robert Ballou, 12, Ballou-12.889; 35. Nate McMillin, 24, McMillin-12.912; 36. Jadon Rogers, 14J, Rogers-12.925; 37. Daron Clayton, 5o, Schmidt-12.931; 38. Shelby VanGilder, 22v, VanGilder-12.964; 39. Kyle Cummins, 3c, EZR/Cummins-12.967; 40. Kevin Studley, 57K, Studley-13.008; 41. Koby Barksdale, 22, Barksdale-13.041; 42. Travis Thompson, 28, Mattox/Nigg-13.053; 43. Matt McDonald, 5m, McDonald-13.072; 44. R.J. Johnson, 19, Reinbold/Underwood-13.177; 45. Robert Bell, 71, Bell-13.581, 46. Brady Ottinger, 4B, 4J Motorsports-13.669; 47. Harley Burns, 12w, Burns/Maurer/Youngblood-14.084.
SIMPSON RACE PRODUCTS FIRST HEAT: (10 laps, top-4 transfer to the feature) 1. Boespflug, 2. Hodges, 3. K. Thomas, 4. Stockon, 5. Bacon, 6. Coons, 7. Barksdale, 8. J. Swanson, 9. Boyles, 10. Bell, 11. Clayton, 12. McDougal. NT
COMPETITION SUSPENSION, INC. (CSI) SECOND HEAT: (10 laps, top-4 transfer to the feature) 1. Grant, 2. Short, 3. Darland, 4. Jackson, 5. Ballou, 6. Hopkins, 7. DiMattia, 8. T. Thomas, 9. Mattox, 10. VanGilder, 11. Ottinger, 12. Thompson. 2:12.84
CHALK STIX THIRD HEAT: (10 laps, top-4 transfer to the feature) 1. Courtney, 2. Leary, 3. Beauchamp, 4. Cummins, 5. Creech, 6. Cockrum, 7. S. Cottle, 8. Weir, 9. K. Swanson, 10. McMillin, 11. McDonald. NT
INDY RACE PARTS FOURTH HEAT: (10 laps, top-4 transfer to the feature) 1. Kinser, 2. Roa, 3. Windom, 4. Chapple, 5. Buckwalter, 6. Johnson, 7. C. Cottle, 8. Rogers, 9. Studley, 10. Meseraull, 11. Westfall. NT
C-MAIN: (10 laps, top-4 transfer to the semi) 1. Westfall, 2. Ballou, 3. DiMattia, 4. Boyles, 5. Barksdale, 6. Rogers, 7. McDonald, 8. Studley, 9. Johnson, 10. Thompson, 11. VanGilder, 12. Bell, 13. Burns, 14. Ottinger. NT
SEMI: (12 laps, top-6 transfer to the feature) 1. T. Thomas, 2. Bacon, 3. Hopkins, 4. Buckwalter, 5. Cockrum, 6. Mattox, 7. Ballou, 8. Meseraull, 9. C. Cottle, 10. Weir, 11. Westfall, 12. S. Cottle, 13. K. Swanson, 14. J. Swanson, 15. Creech, 16. Boyles, 17. Coons, 18. DiMattia. 2:57.07
FEATURE: (30 laps - starting positions in parentheses) 1. Dave Darland (2), 2. Chris Windom (6), 3. A.J. Hopkins (10), 4. Kevin Thomas, Jr. (4), 5. Justin Grant (12), 6. Carson Short (3), 7. C.J. Leary (17), 8. Chad Boespflug (1), 9. Chase Stockon (5), 10. Brody Roa (18), 11. Kyle Cummins (22), 12. Jordan Kinser (14), 13. Isaac Chapple (20), 14. Robert Ballou (23), 15. Shane Cockrum (9), 16. Brady Bacon (7), 17. Brandon Mattox (19), 18. Timmy Buckwalter (11), 19. Brent Beauchamp (13), 20. Josh Hodges (15), 21. Tyler Courtney (21), 22. Dakota Jackson (16), 23. Tyler Thomas (8). NT
**Meseraull flipped during the fourth heat. Buckwalter flipped on lap 13 of the feature.
FEATURE LAP LEADERS: Laps 1-30 Darland.
KSE RACING PRODUCTS/B & W AUTO MART HARD CHARGER: Kyle Cummins (22nd to 11th)
WILWOOD BRAKES 13TH PLACE FINISHER: Isaac Chapple
BELL HELMETS FAST TIME AWARD: Brady Bacon
SALDANA RACING PRODUCTS FIRST NON-TRANSFER: Robert Ballou
ROGER & BARB TAPY 13TH FASTEST QUALIFIER: Jake Swanson
NEW USAC AMSOIL SPRINT CAR NATIONAL CHAMPIONSHIP POINTS: 1-Windom-1595, 2-K. Thomas-1583, 3-Courtney-1570, 4-Bacon-1380, 5-Stockon-1369, 6-Darland-1366, 7-Ballou-1334, 8-Grant-1292, 9-Leary-1288, 10-Boespflug-1017.
NEW NOS ENERGY DRINK "INDIANA SPRINT WEEK" POINTS: 1-Windom-354, 2-K. Thomas-329, 3-Darland-324, 4-Courtney-310, 5-Bacon-300, 6-Leary-294, 7-Grant-284, 8-Stockon-283, 9-Short-213, 10-Ballou-207.
NEXT USAC AMSOIL SPRINT CAR NATIONAL CHAMPIONSHIP RACE: July 27 - Bloomington Speedway - Bloomington, Indiana - 31st Annual NOS Energy Drink "Indiana Sprint Week"
---
Submitted By: Kirk Elliott
Back to News