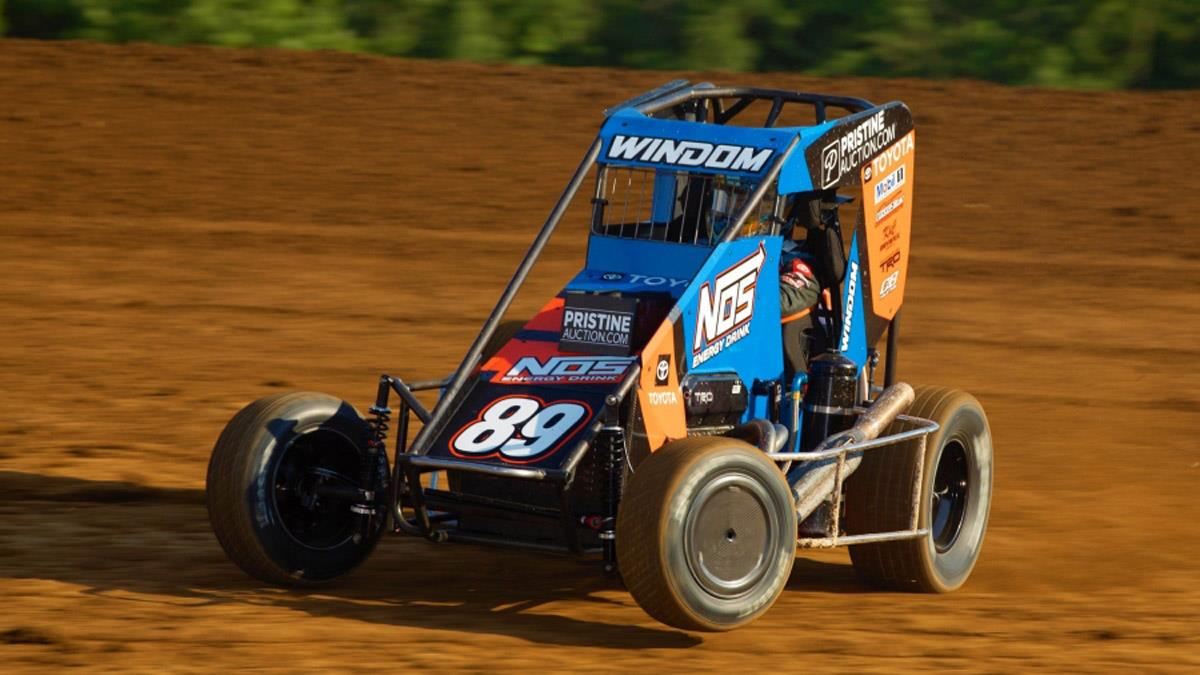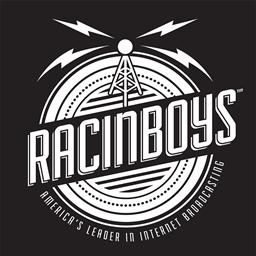 ---
Windom stops Larson's win streak
By Richie Murray, USAC Media (Putnamville, IN) -- On a night where a throng of watchful eyes were affixed on whether Kyle Larson could continue his unbeaten streak at Indiana Midget Week, it wound up as the continuation of another ongoing streak – the dominance of Tucker-Boat Motorsports, as Chris Windom captured the team's fourth-straight USAC NOS Energy Drink National Midget victory of the week with a one-two Tucker-Boat sweep led by Windom and Larson on Friday night at Lincoln Park Speedway.
PHOTO CREDIT: Rich Forman
Windom stole the show, dominating the final half of Friday night's 30-lap feature event to become the third multi-time winner of the season with the series after earlier winning in February at Ocala, Fla. during Winter Dirt Games, joining two-time victor Tanner Thorson and three-time winner Larson, each of whom would play a starring role up front on this night at LPS.
Larson was aiming to become the first driver to win four consecutive USAC NOS Energy Drink National Midget races since he, himself, did it in 2012-2013. However, Windom (Canton, Ill.) had his own plan to abide by, winning his second career Indiana Midget Week race after capturing his first IMW win just a little over a year ago.
In doing so, Windom collected an extra $1,000 by claiming the bounty set forth by Priority Aviation throughout Indiana Midget Week for anybody who could defeat Larson, something that hadn't been accomplished by anybody between USAC, the World of Outlaws, the All Stars over the past couple of weeks.
"It's pretty cool to dethrone him because he's probably the best racecar driver maybe to ever live," Windom said. "It's pretty awesome to come here with this Tucker-Boat team, and every single night, we've had a win. I just can't thank all these guys enough on this team for all the hard work they do running three or four cars every night."
Larson had earlier recorded his second Fatheadz Eyewear fast qualifying time of 2020 IMW, then proceeded to win his heat race and was vying to sweep the night's program from the sixth starting spot in the feature with the inversion.
With the average starting spot for a feature winner with the series this year being 9.25 throughout the first eight races to begin the year, no driver had yet to win a USAC NOS Energy Drink National Midget feature from the front row in this season.
Starting on the outside of the front row in his Tucker-Boat Motorsports/NOS Energy Drink - Pristine Auction - K & C Drywall/Spike/Speedway Toyota, Windom fought for the lead in a hardcore feud with polesitter Buddy Kofoid. After Windom led the first two, Kofoid crossed Windom over exiting turn four on the third lap, leading Windom to the stripe a single car length up front.
Windom immediately came back at Kofoid with a barrage of haymakers on each end of the racetrack, sliding past Kofoid on entry three consecutive times, but Kofoid ultimately closed the path of the slider line on Windom in turn three to secure the position on lap four.
On the seventh lap, fourth-running Tyler Courtney spun sideways at the top of turn one and into the path of Larson, who promptly T-boned Courtney in close proximity. Appearing to briefly remain connected to Courtney, Larson stayed on the gas and was able to untangle himself from the web and continue onward with seemingly little in the way of wear and tear.
Meanwhile, Courtney stopped on the top of the banking, and was forced to restart from the tail where he drove back to a 14th place finish, dropping from first to third in the season-long USAC NOS Energy Drink National Midget standings of which he is a defending champion.
On the 13th lap, Windom returned the favor on Kofoid, ducking to the bottom of turn one and sliding up in front of Kofoid for the lead. Kofoid came right back after Windom in turn three a half-lap later, sliding past the two-time USAC National champ who turned down and drove right past the top-performing series Rookie thus far to snare the position and the race lead with 17 laps remaining.
With eight to go, Larson was still mired in fourth, but a late charge saw him lunge past Kofoid for third on the bottom, then by Thorson for second in quick succession. However, thwarted in traffic with the lapped cars of Robert Dalby and Maria Cofer, Thorson surged back past Larson for the position, first high, then low, as needed. to reclaim the spot, seemingly for good.
Meanwhile, the coast was clear for Windom as he closed out his fourth career USAC NOS Energy Drink National Midget feature victory by a 1.825 second margin of victory.
Thorson, who appeared headed for a solid second-place finish, had an engine failure coming out of turn four, dropping him back to seventh at the finish line. Larson collected a second-place finish with Kofoid, Ricky Stenhouse Jr. and Tanner Carrick rounding out the top-five.
Windom became the new overall USAC NOS Energy Drink National Midget point leader by 27 markers over Courtney and admitted that it was a physical 30 laps, but he knew he had to do everything he could to beat Larson, Kofoid and a host of others just a little over a year following his first career series win during IMW.
"Damn, I'm worn out after that," Windom said with a laugh in victory lane. "The track was giddy up. Once we got to the lead there, I knew I could maintain speed as long as I didn't make any mistakes through three and four."
For Larson, it was a magical run that lasted nearly two weeks and encompassed a string of eight victories across three series, a performance that won't soon be forgotten. However, the streak came to an end Friday at Lincoln Park, although it did help him enhance his IMW point lead to 28.
"I didn't do a great job there," Larson admitted. "Everybody was kind of going places and I felt like maybe I spent too long trying to hit the bottom of three and four. Every streak comes to an end eventually. It was nice to get eight. I've got seven in a row before, so to beat that was pretty special."
"We were trying to run above the cushion (in turns one and two) and exit low," Larson continued. "It was kind of hard to cross over the cushion and keep your rear tires underneath you. To run the bottom, I felt like that was coming in, and I was trying to get myself lower and lower and got myself into the grease and I think that allowed Tanner (Thorson) to get by me. Then, I didn't do a great job in traffic, so I felt like if I would've cleared those two cars when I got to them, I would've had a really good shot at Chris, but he ran a great race and didn't make any mistakes."
---
USAC NOS ENERGY DRINK MIDGET NATIONAL CHAMPIONSHIP RACE RESULTS: June 19, 2020 – Lincoln Park Speedway – Putnamville, Indiana – 5/16-Mile Dirt Oval – Indiana Midget Week
FATHEADZ EYEWEAR QUALIFYING: 1. Kyle Larson, 86, Tucker/Boat-13.039; 2. Ricky Stenhouse Jr., 17s, Clauson/Marshall-13.102; 3. Tyler Courtney, 7BC, Clauson/Marshall-13.138; 4. Tanner Thorson, 19, Hayward-13.194; 5. Chase Johnson, 25, Malloy-13.212; 6. Chris Windom, 89, Tucker/Boat-13.272; 7. Buddy Kofoid, 67, Kunz/Curb-Agajanian-13.279; 8. Tanner Carrick, 35, Petry-13.279; 9. Jason McDougal, 21KS, Reynolds-13.362; 10. Shane Golobic, 17w, Wood-13.368; 11. Daison Pursley, 9, Kunz/Curb-Agajanian-13.381; 12. Kevin Thomas, Jr., 5, Petry-13.394; 13. Cannon McIntosh, 71K, Kunz/Curb-Agajanian-13.400; 14. Ethan Mitchell, 19m, Bundy Built-13.400; 15. Kyle Cummins, 3G, Yeley-13.440; 16. Jake Neuman, 3N, Neuman-13.487; 17. Zach Daum, 5D, Daum-13.519; 18. Clinton Boyles, 98, RMS-13.531; 19. Cole Bodine, 39BC, Clauson/Marshall-13.536; 20. Kaylee Bryson, 71, Kunz/Curb-Agajanian-13.545; 21. Maria Cofer, 57, Cofer-13.562; 22. Ronnie Gardner, 7R, Iron Dome/Moonshine-13.571; 23. Justin Grant, 4A, RAMS-13.592; 24. Carson Garrett, 15, Garrett-13.598; 25. Karter Sarff, 55K, Sparks-13.620; 26. Matt Sherrell, 2D, Harris-13.684; 27. Steve Buckwalter, 25B, Buckwalter-13.690; 28. Robert Dalby, 4, Dalby-13.699; 29. Dylan Ito, 73, Ford-13.712; 30. Dave Darland, 2ND, Harris-13.724; 31. Andrew Layser, 82, Tucker/Boat-13.731; 32. Hayden Reinbold, 19A, Reinbold/Underwood-13.771; 33. Ace McCarthy, 28, Dave Mac-13.778; 34. Brody Roa, 7m, Iron Dome/Moonshine-13.787; 35. Justin Dickerson, 21D, Dickerson-13.788; 36. Jake Swanson, 73T, Ford-13.805; 37. Thomas Meseraull, 7x, RMS-13.833; 38. Brady Bacon, 4B, Klatt-13.964; 39. Ryan Hall, 2, Bush-14.034; 40. Noah Gass, 5T, Dave Mac-14.065; 41. Kameron Gladish, 20, Nolen-14.131; 42. Oliver Akard, 41, Akard-14.168; 43. Jadon Rogers, 4J, 4J-14.190; 44. Kendall Ruble, 11m, Martin-14.338; 45. Terry Babb, 37, Felker-NT.
SIMPSON RACE PRODUCTS FIRST HEAT: (10 laps, top-4 transfer to the feature) 1. Kyle Larson, 2. Zach Daum, 3. Maria Cofer, 4. Jason McDougal, 5. Ethan Mitchell, 6. Karter Sarff, 7. Kameron Gladish, 8. Chase Johnson, 9. Thomas Meseraull, 10. Ace McCarthy, 11. Dylan Ito.
COMPETITION SUSPENSION (CSI) SECOND HEAT: (10 laps, top-4 transfer to the feature) 1. Chris Windom, 2. Cannon McIntosh, 3. Ricky Stenhouse Jr., 4. Shane Golobic, 5. Ronnie Gardner, 6. Clinton Boyles, 7. Matt Sherrell, 8. Brody Roa, 9. Dave Darland, 10. Oliver Akard, 11. Brady Bacon. 2:19.039
AUTOMETER THIRD HEAT: (10 laps, top-4 transfer to the feature) 1. Justin Grant, 2. Buddy Kofoid, 3. Tyler Courtney, 4. Cole Bodine, 5. Kyle Cummins, 6. Daison Pursley, 7. Steve Buckwalter, 8. Andrew Layser, 9. Jadon Rogers, 10. Ryan Hall, 11. Justin Dickerson. 2:19.488
INDY RACE PARTS FOURTH HEAT: (10 laps, top-4 transfer to the feature) 1. Tanner Thorson, 2. Tanner Carrick, 3. Jake Neuman, 4. Kevin Thomas Jr., 5. Kaylee Bryson, 6. Jake Swanson, 7. Robert Dalby, 8. Hayden Reinbold, 9. Carson Garrett, 10. Noah Gass, 11. Kendall Ruble. 2:19.184
C-MAIN: (10 laps, top-4 transfer to the semi) 1. Brody Roa, 2. Thomas Meseraull, 3. Andrew Layser, 4. Jake Swanson, 5. Jadon Rogers, 6. Kendall Ruble, 7. Hayden Reinbold, 8. Noah Gass, 9. Ace McCarthy, 10. Ryan Hall, 11. Justin Dickerson, 12. Oliver Akard, 13. Kameron Gladish. NT
INDY METAL FINISHING SEMI: (12 laps, top-6 transfer to the feature) 1. Chase Johnson, 2. Daison Pursley, 3. Kyle Cummins, 4. Thomas Meseraull, 5. Kaylee Bryson, 6. Clinton Boyles, 7. Ronnie Gardner, 8. Brody Roa, 9. Dave Darland, 10. Steve Buckwalter, 11. Matt Sherrell, 12. Robert Dalby, 13. Jake Swanson, 14. Andrew Layser, 15. Karter Sarff, 16. Ethan Mitchell. NT
FEATURE: (30 laps, starting positions in parentheses) 1. Chris Windom (2), 2. Kyle Larson (6), 3. Buddy Kofoid (1), 4. Ricky Stenhouse Jr. (5), 5. Tanner Carrick (9), 6. Cannon McIntosh (13), 7. Tanner Thorson (3), 8. Clinton Boyles (17), 9. Justin Grant (7), 10. Thomas Meseraull (21), 11. Shane Golobic (10), 12. Zach Daum (16), 13. Chase Johnson (8), 14. Tyler Courtney (4), 15. Jason McDougal (22), 16. Jake Neuman (15), 17. Daison Pursley (11), 18. Kevin Thomas Jr. (12), 19. Cole Bodine (18), 20. Kaylee Bryson (19), 21. Robert Dalby (23), 22. Maria Cofer (20), 23. Kyle Cummins (14). NT
FEATURE LAP LEADERS: Laps 1-2 Chris Windom, Laps 3-12 Buddy Kofoid, Laps 13-30 Chris Windom.
**Chase Johnson flipped during qualifying.
NEW USAC NOS ENERGY DRINK MIDGET NATIONAL CHAMPIONSHIP POINTS: 1-Chris Windom-601, 2-Tanner Thorson-574, 3-Tyler Courtney-570, 4-Buddy Kofoid-553, 5-Cannon McIntosh-474, 6-Tanner Carrick-465, 7-Kevin Thomas Jr.-431, 8-Justin Grant-410, 9-Cole Bodine-378, 10-Daison Pursley-374.
NEW INDIANA MIDGET WEEK POINTS: 1-Kyle Larson-308, 2-Tanner Thorson-280, 3-Chris Windom-258, 4-Buddy Kofoid-258, 5-Tanner Carrick-225, 6-Justin Grant-223, 7-Tyler Courtney-221, 8-Ricky Stenhouse Jr.-198, 9-Cannon McIntosh-193, 10-Zach Daum-180.
NEW INDIANA MIDGET WEEK PROSOURCE PASSING MASTER POINTS: 1-Kyle Larson-36, 2-Thomas Meseraull-21, 3-Justin Grant-20, 4-Chris Windom-14, 5-Logan Seavey-14, 6-Shane Golobic-13, 7-Zach Daum-10, 8-Clinton Boyles-9, 9-Tanner Carrick-8, 10-Cannon McIntosh-7.
NEW OVERALL PROSOURCE PASSING MASTER POINTS: 1-Logan Seavey-43, 2-Chris Windom-37, 3-Andrew Layser-31, 4-Tanner Thorson-28, 5-Justin Grant-27, 6-Kevin Thomas Jr.-25, 7-Daison Pursley-22, 8-Tanner Carrick-21, 9-Thomas Meseraull-21, 10-Brady Bacon-20.
NEXT USAC NOS ENERGY DRINK MIDGET NATIONAL CHAMPIONSHIP RACE: June 20, 2020 – Lawrenceburg Speedway – Lawrenceburg, Indiana – 3/8-Mile Dirt Oval – Indiana Midget Week
CONTINGENCY AWARD WINNERS:
Fatheadz Eyewear Fast Qualifier: Kyle Larson
Simpson Race Products First Heat Winner: Kyle Larson
Competition Suspension, Inc. Second Heat Winner: Chris Windom
AutoMeter Third Heat Winner: Justin Grant
Indy Race Parts Fourth Heat Winner: Tanner Thorson
Indy Metal Finishing Semi Winner: Chase Johnson
Saldana Racing Products First Non-Transfer: Ronnie Gardner
KSE Racing Products/B & W Auto Mart/Irvin King Hard Charger: Thomas Meseraull (21st to 10th)
Wilwood Brakes 13th Place Finisher: Chase Johnson
ProSource Hard Work: Thomas Meseraull
---
Submitted By: Kirk Elliott
Back to News