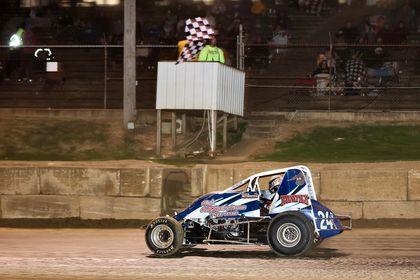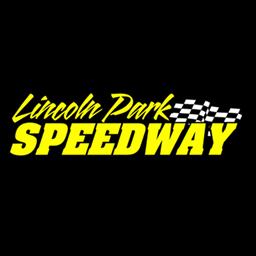 4/27/2023
Lincoln Park Speedway
---
Tye Mihocko: Bullish on Racing
In 2022 Tye Mihocko fought back from a hard tumble and some bad luck early to claim the Lincoln Park Speedway sprint car title. If the early returns on the new campaign hold form Tye's peers may be in for a long season. There is no getting around it, "The Bull" is on the loose once more and looks hungry to repeat.
The Arizona born Mihocko is among a host of racers from the West who have migrated to the Hoosier State to pursue their racing dreams. His father Tim Mihocko operated his own business servicing refrigeration systems for the transportation industry, but twisted wrenches on his friend's modified on the side. This was a bit more than a mere hobby and in 2002 his driver Darren Williams captured the famed IMCA National event at Boone, Iowa.
By the time he turned four years old Tye Mihocko was competing with the Arizona Karting Association. Even though he was underage the local officials allowed Tye to race. They may have learned to regret the decision. With a bit of prodding Mihocko admits he won "all but a handful" of the races at home, and he was soon heading to the Midwest to take on stiffer competition. From there he spent time 600 micros, and then raced Legends cars on pavement. All the while he had his eyes on sprint cars. He began in a non-wing 360 steel block class and was able to take a checkered flag in his first year. It was a feeder series and before long Tim and Tye were itching to move on.
Particularly after the closing of famed Manzanita Speedway in Phoenix the Arizona sprint car scene has been marked by a bit of instability. Sanctioning bodies seemed to change with the weather, Thus, ASCS Southwest, USAC-CRA, and USAC Southwest were among the groups that served as sprint car sanctioning bodies. What did not change were some of the heavy hitters, including A. J. Johnson and Charles Davis Jr. It was tough sledding. By virtue of his excellence on the track and his larger-than-life personality Mihocko just gravitated toward Davis. "Charles is just one of the coolest dudes ever," Tye says, "he really became like a mentor to me. We have the same personality after the races, and we always got along well. But we raced each other really hard. He didn't like it when I beat him, and I wanted to beat him too. It was hard but clean racing because we both respected each other."
Mihocko cracked the top five in USAC Southwest points in 2016 and two summers later he finished second to Davis in the season standings. He had also been working on his game outside of the racetrack. He began learning to weld in his father's business and then found an outside gig in a fabrication shop. While he did not have his life mapped out at the time, he astutely reasoned that these were important skills to have in his back pocket.
The racing scene in Arizona, as marked by dwindling car counts, was getting downright depressing for Mihocko. He had graduated from Liberty High School in Peoria and began to think it was time to look for greener pastures. In January 2019 he made his first appearance at the Chili Bowl and met Zach Parker, the nephew of veteran racer Bill Rose. Parker had a place for Mihocko to stay in his Plainfield, Indiana home and without a second thought Tye was Indiana bound. He first found work with former racer and standout fabricator Jon Stanbrough. Later he picked up extra jobs at DRC chassis which evolved into full time employment.
On the racing side of the ledger, he arrived with a small trailer and his racecar. He was now confronting full-fields and a pit full of people who had spent much of their life in the Indiana dirt track scene. He took his lumps. Conversations with knowledgeable people helped him see he needed to make some changes in his equipment, and he had to just get comfortable behind the wheel. "Coming from the desert you don't get those monster curbs you get out here," he says with a laugh, "but once I figured that out, I got to where I was calm and comfortable in the car, so it started to click."
Not surprisingly one of his goals was to attract an owner willing him to install him in their car. He had an early shot with the late Buddy Cunningham at Paragon that ended badly. It was a stout field during Indiana Midget Week, and he may have pushed too hard. Nonetheless, during the 2020 season he began to get dialed in and in his words "started showing people that I didn't come back here just to miss shows."
One owner who had one eye on Mihocko was Jamie Paul. Paul is old-school and not much for foolishness. He had enjoyed success with Shane Cockrum but other duties, such as the Silver Crown series occasionally pulled "The Chief" away. Tye got Paul's attention with a win at Bloomington, but The Bull was also on Paul's radar after a skirmish with Cockrum at Lincoln Park. After a first turn tangle with Cockrum, Paul recalls asking someone who was in that 5 car. After being informed it was Mihocko he said, "That kid will never drive my racecar." Mark this down as one time that Paul was wrong.
The 2021 season went well for Tye and ended on a high note. He had a series of great finishes for Jamie and went home and had a great run at Arizona Speedway including a sweep of the non-wing portion of the ASCS sanctioned Copper Classic with owner and longtime sponsor Michael Most. With Shane Cockrum left for other opportunities Jamie Paul had to plot his next steps. It did not take long. "Tye raced for us seven nights," Jamie says, "and in those races he won at Gas City, Putnamville, and Kokomo. I thought wow, he can run all of these tracks which are different configurations. When Shane left us, he was the first guy I talked to."
Paul and Mihocko entered the 2022 season with a goal to run up front and try to win races. The championship was never a consideration – until it was. Near the end of the year, they looked at the points and figured they had a shot. "So, it was okay," Paul says, "let's go for it, but if we don't get it done, we aren't going to cry." There were no tears to be had. Mihocko had accomplished something he could share with his father, and Paul was at the top of the mountaintop once more. "It didn't mean a lot until we got to the banquet," Jamie says, "and then everyone is there patting your back and you get the trophy."
The accomplishment for Mihocko is really an affirmation. As a young man he took a risk on a dream and made it work. Always levelheaded, he took the right approach to a major life decision. "I didn't think what if I fail?" he says, "I made up my mind I either needed to do it or start being an adult and focus on making real money and not doing racecar stuff." That decision has been made. Whether on the track or off it seems "The Bull" is rather good at this racecar thing.
---
Article Credit: Patrick Sullivan
Submitted By: Jill Spiker
Back to News