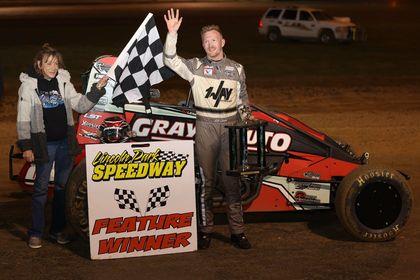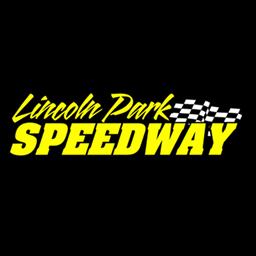 4/4/2023
Lincoln Park Speedway
---
CJ Leary Takes Day 1 At Lincoln Park Speedway
The lines at the pit gate were sometimes close to US 40 on day 1 and with 44 sprints loading the pits it was a star studded field of local veterans, Usac stars and a whole bunch of really strong looking rookies and 2nd and 3rd year racing heroes we get to enjoy in Indiana every weekend. The format would be 3 heats with the top 3 transferring with 2 b mains taking the top 3 to fill the first A with 21 cars. Group Qualifying was led by CJ Leary (14.043), Jake Swanson (13.570), Brian Hayden (14. 207), Hunter Maddox (13.617) and Thomas Meseraull (13.748). The invert for the heats was a 4 and CJ came from 4th in the first heat to win it over Kevin Thomas Jr. and Koby Barksdale. Heat race 2 went to Jake Swanson also from 4th over Harley Burns and Tye Mihocko. Heat race 3 went to Logan Seavey from 3rd over Brandon Spencer and a strong run from 6th for Jesse Vermillion. Heat race 4 went to Brayden Fox from 3rd over Tim Creech II and Hunter Maddox. The final heat Tmez came from 4th to win it over Nate Mcmillin and Clayton Rossman. We are very glad to see Nate Mcmillin back after last years scary tumble and he showed he looks strong to put it in the show day 1. As you can see from these 5 heats the competition just to make the top 3 was super tough. The 2 b mains were loaded with talent and looked like local features each and they were only to try to get in the final 6 spots to the A. B main 1 was won by Brandon Mattox over Ryan Thomas and Gabriel Gilbert who came from 7th to get the final spot. B main 2 was won by 2022 rookie of the year Ivan Glotzbach over Blake Vermillion and Jadon Rogers. This setup the A main with the front row of CJ Leary and Jake Swanson. A great battle early with Leary, Swanson and Seavey setting a real fast pace and by lap 7 they were already seeing the back of the field as lap traffic looked to be an isssue. Seavey while running 2nd pulled to a stop in turn 1 and 2 about halfway thru the A ending a great run. On the restart we could see who was fast coming from the back and it was the 2022 champ Tye Mihocko who started 12th and was up to 4th with still 10 laps to go. Tmez on the restart would try the top shelf and got the 2E to 2nd at one point. Tye would have a great battle with Jake Swanson towards the end to take the 2nd spot. CJ Leary did not miss his marks during the 25 laps and at one point lapped 6 cars before a yellow and would go on for the 1st big win. Following him at the finish it was Tye Mihocko from 12th, Jake Swanson, Tmez, Harley Burns, Kevin Thomas Jr., Brayden Fox, Nate Mcmillin, Clayton Rossman and Hunter Maddox rounding out the top 10. The 2nd feature was a 20 lap event and was won by Kyle Shipley over Daniel Whitley, Adyn Schmidt, Trey Osborne, Cody WIlliams, John Sluss, Aidan Salisbury, Kevin Newton, Michael Clark and Allen Brown rounding out the top 10. Thanks goes out to all 44 sprint teams that put on a fantastic show for the great LPS fans to kick off the 2023 season.
UMP Modifieds had 18 checked in on Sunday to start the 2023 LPS Title run along with the Indiana State UMP points title loaded with a lot of talent from Indiana. The fast times in the 2 groups were Derek Losh (14.748) and Brayden Watson (14.775). The invert was a 3 for the Mods and Derek would not take much time to head to the front and start his year with a heat race win. A great battle for 2nd went to Tyler Loughmiller over Derek Groomer. Heat race 2 had a lot of action as Jordan Wever came from 5th to win the 8 lap heat in the #91 Voorhies entry over Dillon Nusbaum and Will Bennett. This setup the A main event with the heat race winners on the front row. Derek would look just as strong as 2022 where he finished 3rd in the national points and definitely started 2023 off with a big 20 lap win at LPS. Following him at the finish was Will Bennett, Jordan Wever, Tyler Loughmiller, Michael Fish, Jerry Bland Jr., Jake Leitzman, Cody Wright, Garrett Rons and Chris Cole rounding out the top 10. There were some great battles among the top 10 to kick off the UMP points season.
UMP Super Stocks had 22 entries for the 1st day and the 3 groups were led by Zach Sasser (15.461), David Bumgardner(15.651) and Justin Massie(15.655). The invert was a 3 for the heats and Wade Goodale picked up the 1st heat holding off Zach Sasser and Blake Hull. Heat race 2 Josh Litton looked very strong with the win over David Bumgardner and Larry Raines. The final heat was won by Trey Chastain who came from 5th for the win over Jeff Allen and Justin Massie. This setup the A main. The early start had a great battle for the lead with Wade and Josh battling. Josh took the early lead and looked strong. The 12 of Trey Chastain made a strong move early from 3rd to take the top spot away. It was a great battle of southern Indiana track drivers for night 1 with many at LPS. Trey was able to hold off Josh after a 20 lap battle. Following Trey Chastain at the finish it was Josh Litton, Larry Raines, Blake Hull, Kenny Carmichael Sr., Devin Wallen, Wade Goodale, David Bumgardner, Travis Heramb and Jeff Allen rounding out the top 10. Another UMP class that looks to have a very competitive year throughout the southern Indiana tracks for 2023.
The Bomber division had 11 entries for night 1 and the 2 groups were led by Andrew Pollock( 16.176) and Corey Anstead (16.768). The heat invert was a 1 and Sheldon Oberle won heat 1 over Chucky Walden and Jason Carson. Heat race 2 was won by Corey Anstead over David Wallen and Matt Grimes. This setup the A main and Sheldon Oberle would take the 15 lap win over Chucky Walden, Megan Cavaness, Andrew Pollock, Matt Grimes, David Wallen, Corey Anstead, Jason Carson, Max Yunker and David Bumgardner II. Thanks goes out to all the 95 teams that came out for day 1 at LPS. Next week don't forget the big show with Fireworks and all sprints run a feature for the Indiana Open Wheel Racing Fest. Also Friday night we open the 100th season at the red clay of Bloomington Speedway with Sprints, Mods, Super Stocks and Hornets to start it off. Thanks again to all of our fans that came out for the Sunday opener at LPS. See you next Saturday at the Capitol of the Cushion.
---
Article Credit: Kenny Clark
Submitted By: Jill Spiker
Back to News