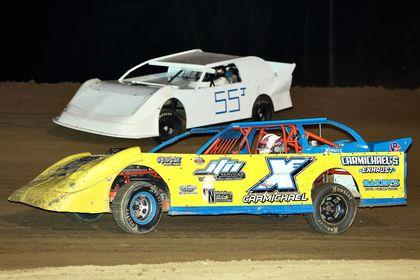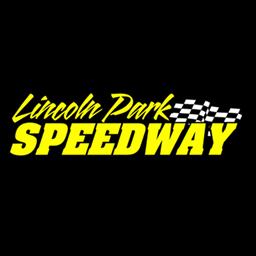 4/10/2023
Lincoln Park Speedway
---
Tye Mihocko Picks Up The Big Win On Indiana Open Wheel Racing Fest Night At LPS
The sprint car pits were packed with 38 entries ready to battle it out for 3 grand to win on the Indiana Open Wheel Racing Fest. The format would be 5 heats taking the top 3 with 2 b mains taking the top 3 to make a very stout field. The 5 groups in qualifying were led by Harley Burns(13.421), Seth Parker (13.030), Zack Pretorius (13.308), Mitch Wissmiller (13.610) and Matt Goodnight (13.668). This setup the 5 heats with an invert spin of 4 which would make it very intense from lap 1 since we were only taking the top 3 in the heats. Heat race 1 would be won by pole sitter Brayden Fox over Jesse Vermillion and Harley Burns. Heat race 2 would be won by Alec Sipes over Jackson Slone and Daylan Chambers. Heat race 3 would be won by pole sitter Brian Hayden over Tye Mihocko and Michael Clark. Heat race 4 was won by fast qualifier Mitch Wissmiller who stormed from 4th to win it over Evan Mosley and Blake Vermillion. The final heat 5 was won by Kyle Shipley over Jordan Kinser and Rylan Gray. This setup the last 2 chances to get in the A main which was not only 3 grand to win it was also 300 to start. The first B main was won by Tennessee driver Anthony Nicholson over Clayton Rossman and Ivan Glotzbach. The final B main was won by Zack Pretorius over Collin Ambrose and Kevin Newton getting the final spot in the 21 car field for the Racing Fest A main. The invert spin for the Feature was a 4 which put Mitch Wissmiller and Brian Hayden on the front row. Mitch Wissmiller was very strong early taking the top spot and setting a very fast pace on the bottom groove. Great battles in the top 10 early for sure behind him all trying to get to the front inches from each other. About half way through the big event Mitch's car slowed and he pulled off the track ending a great run as he looked to be the car to beat. This would give the lead to a hard charging Jordan Kinser who had taken the lead from Mitch when the caution came out putting him back to 2nd. On the restart when Mitch had problems the 04 would take the top spot and looked to be the one to beat. With just 2 laps to go the caution came out bunching up the field for 1 last time and it was going to be wild. On the restart Tye Mihocko took a bonzai move to middle just like Jordan did to Mitch earlier in the race and it stuck with just 2 to go and the 24P would take the final 2 laps to win the big A main over Jordan Kinser, Brayden Fox, Zack Pretorius (from 17th), Brian Hayden, Alec Sipes, Harley Burns, Rylan Gray, Jackson Slone and Anthony Nicholson rounding out the top 10. The 2nd feature would be another good one. Cody Williams led almost the whole race but with 2 laps to go Seth Parker who was a quick time early in the night had bad luck all night but he rebounded looking strong on the top side starting from 7th to win it over Cody Williams, Adyn Schmidt, Tres Mehler and Carson Dillion. Thanks goes out to all 38 teams for putting on an outstanding show for night 2 of our LPS season.
The UMP Super Stock Division had 18 entries and the 2 groups in qualifying were led by Kenny Carmichael Sr. (15.407) and Larry Raines( 15.408). Those times show how close the competition is in this class. The invert for the heats was a 4 and in heat 1 Kenny Carmichael was able to back up his fast time and came from 4th to the lead and hold on for the win over Travis Heramb and Hayden Rogers. Heat race 2 was won by pole sitter Justin Massie over Ryan Freeland and Devin Wallen. This would setup the A main with the invert spin being a 2 which put the heat race winners on the front row. Justin Massie would take the early lead but the X of Kenny Carmichael Sr. was really strong on the bottom. Sure enough coming off of turn 4 one lap he made a strong move on the bottom and took over the lead from Justin and would not miss his mark the rest of the way picking up the big win. Justin did keep the pressure on with about 5 laps to go but Kenny Sr. was really able to get good drive off the low groove coming out of each corner of Turn 2 and 4 holding on to the top spot. Following Kenny Sr. at the checkers it was Justin Massie, Wade Goodale, Travis Heramb, Jordan Almanza, Devin Wallen, Ryan Freeland, Matt Raber, Larry Raines and Hayden Rogers rounding out the top 10.
The UMP Modifieds had a great 27 entries which means a lot for that early season bonus points for UMP. Anything over 25 cars is bonus points which definitely are very important at the end of the long season for that UMP National points chase and Indian Regional points. The 3 groups in qualifying were led by Will Bennett (14.830), Derek Losh (15.083), and Dylan Woodling (15.337). The invert wheel was spun and the 4 came up which always makes the heats very interesting to see if the fast cars can come from 4th to win it. 3 heats would take the top 5 to the A main. Heat race 1 was won by Tyler Loughmiller who would hold off a hard charge from Will Bennett, Jerry Bland Jr., Bryce Shidler and Nathan Voorhies. Heat race 2 would be won by Derek Losh who did come from the 4th spot to take the big win over Cody Wright, RT Gamble, Jay Humphrey Jr., and Chris Cole. The final heat was won by Jake Leitzman who would hold off Matt Mitchell, Justin Jones, Dylan Woodling and Dalton Bishop. The final B main chance to get into the bonus Points A main would go to Andy Sherley over Sydney Landes(from 8th to 2nd), Cody Kibby, Nic Leitzman and Austin Phelps. The invert spin for the feature was a 3 which put Jake Leitzman and Derek Losh on the front row. This would be a great battle early with Derek Losh taking the early lead and by lap 6 he was about to catching the back of the field and about to be busy with lapped cars. Behind Derek there was a great battle between Leitzman, Loughmiller, Bennett and Woodling up on the cushion. This let Derek build a huge lead while the other cars were intensely battling side by side. By lap 10 Derek had already lapped 4 cars and if a yellow didn't come out he probably would have lapped well into the top 10 at a very fast pace for the 3rd in the national points driver from 2022. He is looking very strong early in the season and held on for the big back to back wins over Tyler Loughmiller, Will Bennett, Jake Leitzman, Bryce Shidler( from 10th), Matt Mitchell, RT Gamble, Chris Cole( from 14th), Jerry Bland Jr. and Sydney Landes (from 17th). Thanks goes out to the entire 27 entries for putting on an outstanding show with a very stout UMP field.
The Bomber division had 13 entries and the 2 groups in quals were led by David Bumgardner (16.203) and Joey Raber (16.211) which shows again how close time wise that this stout group is. The spin for the invert was a 3. Heat race 1 was won by David Bumgardner over Megan Cavaness, Preston Oberle, David Bumgardner II and James Phipps. Heat race 2 was won by Jarrod Krick over Joey Raber, Corey Anstead, Chucky Walden and David Wallen. The invert for the A main was a 2 which put the heat race winners on the front row. This would be an intense battle for 15 laps up front with Joey Raber storming from 4th to the lead early during the A on his first night out for 2023. Joey would not miss his mark from lap 5 thru 15 at the front and would pick up an early season win over Jarrod Krick, David Bumgardner, Corey Anstead, Megan Cavaness, Chuck Walden, David Wallen, Jason Tincher, David Bumgardner II and James Phipps.
Thanks goes out to all the teams and fans that made our Indiana Open Wheel Racing Fest an awesome show. Happy Easter to all of you. We love this racing sport but tonight we would like to send our thoughts and prayers to the entire Justin Owen Family and Friends. Tragedy is so hard in this sport that we are so in love with. Prayers also goes out to the entire Lawrenceburg family and safety crew. Next Friday (April 14th) don't forget the Larry Rice Usac classic is at Bloomington Speedway's red clay for our first Usac Sprint car race for 2023. And Saturday, April 15th, another great night of Saturday night racing at Lincoln Park Speedway with sprints, modifieds, super stocks, and bombers.
---
Article Credit: Kenny Clark
Submitted By: Jill Spiker
Article Media
Back to News