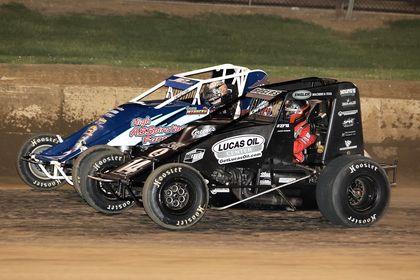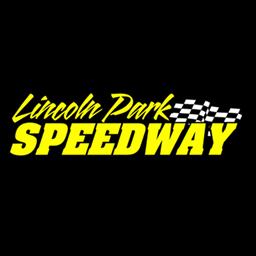 5/16/2023
Lincoln Park Speedway
---
Jadon Rogers And Tye Mihocko Bring The LPS Crowd To Their Feet With The Most Sliders Of The 2023 Season On The Cushion
Another strong showing with 33 entries for the 410 non wings. The 4 fast groups were led by Jadon Rogers 13.860, Frank Guerrini 13.472, Jack Hoyer 13.213 and Seth Parker 13.231. The format was top 4 from the heats and 4 from the B main. The invert spin for the heats was a 2 and Jadon kicked it off in Heat 1 taking the win from the 2nd spot on the top side over Blake Vermillion, Brandon Mattox and Geoff Ensign. Heat race 2 had Tye Mihocko from the pole winning over Jordan Kinser, Nate Mcmillin and Frank Guerrini. Heat race 3 had Mario Clouser come from 3rd and take the win from Jack Hoyer, Brayden Fox and Jesse Vermillion. The final heat was won by Seth Parker over Brian Hayden, John Sluss and Evan Mosley. The last 4 spots would be fought for in a stacked B main. Harley Burns would win the 12 lap B main and hold off Alec Sipes, Ivan Glotzbach and Hunter Maddox who all transferred to the 25 lap A main. The front row for the feature was Tye Mihocko and Jadon Rogers. Sure enough these 2 would put on what I think has been the best non wing feature so far in the 2023 season. Right before the feature the track was reworked and that made us all wonder do you think we will see some famous slide jobs at LPS again. All I can say is WOW we sure did. Early in the race it was 3 cars up on the cushion hard with others down low almost the same speed. Jadon along with Tye and Seth were inches from each other banging on the fresh cushion that just had some moisture put into it. Then by lap 10 or so it was time for the Slider nation to start. This would be wild and I think most of the crowd was on the edge of their seats or maybe even up on their feet. Tye and Jadon were throwing sliders each set of cushions and this went on for like maybe 7 laps with multiple lead changes. Then the craziest thing happened toward the end. They were both battling for the top spot and in turn 2 there was a little contact and 1st and 2nd did a 360 with unfortunately Seth Parker was trying to miss them both and his car got stuck in the huge cushion and came to a stop. Jadon Rogers and Tye Mihocko did not come to a stop and because we don't have a 360 rule they would get their spot back. Definitely it doesn't usually happen a 360 by a leader let alone it happened to 1st and 2nd. Amazing that both drivers kept it going and it was a real bummer that Seth Parker stopped from trying to miss a big wreck. On the restart Tye had a few laps to try it again and looked as if he was ready to pounce again to take the lead. His last few attempts just couldn't get it done and Jadon held on for the win with Tye Mihocko barely taking 2nd over Brandon Mattox, Geoff Ensign from 13th and Jesse Vermillion from 15th to 5th. The 2nd feature was won by Kyle Johnson over Michael Clark, Billy Lawless and Will Armitage. Thanks to all 33 teams who put on an outstanding show for the fans and especially for the Little Feet racers in the crowd that saw the best feature so far in the early season.
The Racesaver 305 IMCA Wing Sprints had 22 entries. This group put on a clinic at Bloomington the night before with green to checkered for all 20 laps. The fast 3 groups at LPS were led by Justin Matthews 12.695, Rod Henning 12.613 and John Paynter Jr. 12.632. The heat spin was a 4 for the 305's. Heat race 1 was won by Max Guillford from 6th over Carson Dillion and Kayla Martin. Heat race 2 Rod Henning was able to come from 4th to win the heat over Chase Baker and Terry Arthur. The final heat was won by Ethan Barrow over John Paynter Jr. and Dillan Baldwin. The 20 lap A main was an invert of 2 which put Max and Rod on the front row. Sure enough this group showed how much young talent there is in this group because they did it again. Green to checkers with no cautions and plenty of lapped cars to dodge by lap 5. Max and Rod would have a good battle early but Ethan Barrow who is really fast on the top at LPS was headed to the front in the #14 machine. He got to the lead and once again green to checkers was amazing 2 nights in a row with 22 car fields. Ethan Barrow took the big win over Dillan Baldwin from 9th, Carson Dillion, Rod Henning, Ivan Glotzbach from 10th and Bryce Norris from 16th to 6th. Great job by the 305's really showing it is such a strong group with 0 cautions 2 nights in a row.
The UMP Modifieds had 21 entries and the 3 groups were led by Derek Losh 13.990, Sydney Landes 14.861 and Matt Mitchell 14.802. The heats were straight up with Derek Losh winning heat 1 over Cody Wright and Scott Carrington. Heat race 2 Richie Lex took the win over Sydney Landes and Chris Cole. The final heat was a good battle as Wes McClara took the win over Matt Mitchell and Jerry Bland Jr. This setup the A main and like the heats the 1 was spun again which put Derek Losh on the pole. When you put the 21 on the pole it is tough to beat him and sure enough the 20 lap A main was won by him again. This is how Derek rises up the top in the nation when he gets on a role with the 75 point wins. There were some great battles behind him with a lot of passing. At the finish Derek took the checkers over Sydney Landes from 5th, Matt Mitchell from 6th , Tyler Loughmiller from 10th and Jake Leitzman from 12th to round out the top 5. Another great show from the UMP Mod class as the UMP points really start adding up and the Indiana race will get very interesting in the next couple months.
The UMP Super Stocks had 13 entries and the fast times were led by Jordan Almanza 15.527 and Larry Raines 15.212. Heat race 1 after an invert of 4 was won by Devin Wallen over Jordan Almanza and Matt Raber. Heat race 2 was won by Wade Goodale who held off Larry Raines and Ryan Freeland. This setup the 20 lap A main and the front row was Jordan Almanza and Wade Goodale after an invert of 3 was spun. Wade Goodale looked very strong just like the week before and took the lead. Many battles behind him were on as Larry Raines had come to 2nd from 4th and was hoping Wade would miss his mark. Wade did not miss his marks and looked strong in the 14G. He would hold on after 20 laps and take another big win with Devin Wallen, Larry Raines, Ryan Freeland and Travis Heramb rounding out the top 5.
The Bombers had 11 entries and the quickest times in their groups were led by Corey Anstead 16.834 and Josh Foxworthy 16.496. The invert spin was a 1 and Corey won the first heat over Megan Cavaness and Randy Foxworthy. Heat race 2 was won by Josh Foxworthy over Joey Raber and David Wallen. This setup the A main and the invert was a 3 which put Megan and Josh in the front row. Josh would be tough Saturday and take a lead early in the 15 lap A. He would run a very smooth race up front and take his 2nd win in a row. Following Josh Foxworthy at the checkers it would be Joey Raber, Corey Anstead, David Wallen and David Shepherd. Thanks to all of the 100 race teams and all of the Little Feet Bike Racers that came out also and made it a very fun night at LPS. See you next Saturday as it will be the final tuneup before the big MSCS Memorial Day weekend at both tracks.
---
Article Credit: Kenny Clark
Submitted By: Jill Spiker
Back to News