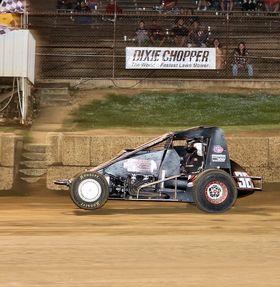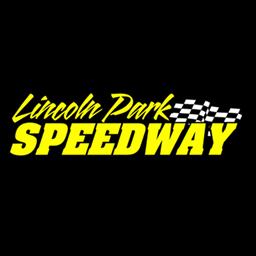 8/17/2023
Lincoln Park Speedway
---
Seth Parker With The Big Win At LPS Parks It In Victory Lane Using The Cushion Of Course
Saturday at LPS was a big sprint car count of 34 cars for the final tuneup before the Big MSCS Bill Gardner Sprintacular on Aug. 19th. The 4 groups were led in fast times by Tim Creech 13.629, Kyle Shipley 13.162, Kyle Johnson 12.970 and Seth Parker 12.739. This setup the 4 heats taking the top 4 with 1 B main taking the final 4 spots and the heats would start in the sprints with an invert of 2. Heat race 1 Brayden Fox was able to win it from the pole holding off Tim Creech II, John Sluss and Jake Swanson. Jake Swanson flipped the 5T in qualifying and jumped in the 26T of Matt Thompson for the rest of the night and came from 9th to 4th in the heat. Heat race 2 was won by Brandon Spencer who is on a roll after leading 14 laps of the A main the night before at Bloomington. He held off Kyle Shipley, Chance Crum and Daylan Chambers in Heat 2. Heat 3 was won by Kyle Johnson who ran strong and held off Sterling Cling, Aidan Salisbury and Weston Gorham. The final heat went to Geoff Ensign who held off a strong group of Seth Parker, Jordan Kinser and Harley Burns. This setup the B main and with Jordan Kinser having to scratch for the A we would take 5 cars instead of 4. Points leader Tye Mihocko would win the B main over Austin Nigh, Ivan Glotzback, Austin Cory and Mason Giddens. This setup the A main and with the 4 heats taking the top 2 to the redraw the wheel spin came up with an 8 which put Seth Parker and Sterling Cling on the front row. This A main was going to be a great battle. Seth and Sterling had a great battle early and then Kyle Shipley came up to the front using the low groove. Kyle Shipley would lead some on the bottom and Seth was up on the cushion leading some laps also. It was a 4 car battle up front and while they were battling both Tye Mihocko and Jake Swanson were passing a lot of cars from the back of the pack also. Both the low groove and the famous LPS Curb were both very fast. Back up front after Kyle Shipley led for a few laps around the midway point it was starting to show the Seth Parker was coming back up front and his car was really ripping off the cushion and he would eventually take over the lead and he was able to run a very smooth last few laps and took the checkers. It was great to see Seth Parker finally get that win in 2023 as he had had multiple nights where he was in the running and just bad luck seemed to strike a lot. Congrats to the 38P Parker entry for getting that big win. He held off Geoff Ensign, Kyle Shipley and Chance Crum.
The UMP Super Stocks had a loaded field of 24 cars. The 3 fast times were Reece Novak 14.913, Matt Boknecht 14.851 and Tucker Chastain 14.932. The invert spin was a 2 for the heats and it would be 3 heats taking the top 5 and a b main taking the top 5. Heat race 1 was won by Reece Novak over Travis Heramb and Chris Bennett. Heat race 2 was won by Larry Raines over Matt Boknecht and Devin Wallen. The final heat was won by Tucker Chastain over Jordan Almanza and Josh Litton. The B main was won by Ray Walters over Wade Goodale and Jeremy Stierwalt. This setup the A main and the invert was a 3. This put Tucker Chastain and Larry Raines on the front row. To see how strong of a field it is we had 6 of the top 10 in UMP Super Stock points in our field and multiple drivers also that are 11th through 20th in the nation. The feature was a good battle early but Tucker Chastain was very strong in his #75 on the bottom. While he was building a lead the real battle was for 2nd with Reece Novak and Larry Raines. They raced side by side for almost half of the 20 laps fighting it out for that 2nd spot. On the final 5 laps it just kept going with Reece on the bottom and Larry on the top. While Tucker Chastain was able to win the A main Larry Raines was able to win the 2nd spot by .040 over Reece Novak in almost a photo finish. These top 3 ran a very strong race in a stout field. Rounding out the top 5 was Matt Boknecht and Devin Wallen.
The UMP Mods had 20 entries with the fast times going to Derek Losh 14.151, Sydney Landes 14.649 and Matt Mitchell 14.682. This setup the heats and the invert was a 1. Derek Losh was able to win his Heat 1 over Wes McClara and Jeff Deckard. Heat race 2 was won by Tyler Loughmiller over Jake Leitzman and Jerry Bland Jr. Heat race 3 Matt Mitchell won his heat over RT Gamble and Jimmy Hayden. This setup the A main and the invert spin was a 6. Derek Losh would have to start 6th and it would definitely put him on a mission. Early in the race RT Gamble, Jake Leitzman and Wes McClara had a good battle. While they were going at it here came Derek Losh as he had made it from 6th to 2nd in a short amount of laps. Sure enough he was ready to pounce and go for another win. He would be able to get by Wes McClara and Jake Leitzman and once again Derek Losh was on a 20 lap mission. Derek would build his lead while 2nd thru 5th were having an intense battle hight and low on the track. Wes McClara and Jake Leitzman were having a great battle for the 2nd spot. There was another intense battle for 5th as Tyler Loughmiller and Jacob Steinway were having quite a Diamond battle back and forth. The final 5 laps Derek hit his mark perfect and got another big win and 75 UMP points towards his march up the national points. Following him at the checkers it was Wes McClara, Jake Leitzman, Matt Mitchell and Tyler Loughmiller.
The Bomber division had a great group of 17 cars to do battle. The 2 fast times were Corey Anstead 16.163 and Josh Foxworthy 15.866. This setup the 2 heats with an invert spin of 2. The first heat Scott Tidwell had a great run to hold off Corey Anstead, Tyler Rodgers and David Wallen. Heat race 2 Josh Foxworthy looked strong all 8 laps and won over Joey Raber, Chucky Walden and Megan Cavaness. This setup the A main and the invert was a 2 which put the teammates on the front row of Scott Tidwell and Josh Foxworthy. Any time we put that 38 of Josh Foxworthy on the front row he is very tough to beat. This was definitely the truth as the 38 was definitely not rusty after the 2 weeks off. Josh was able to win a wild 15 lap race over Megan Cavaness, Corey Anstead, Chucky Walden and Tyler Rodgers.
The IMCA Hoosier Mod Lites brought 11 cars for the night. Fast times were Michael Mann 15.922 and Jeff Cast 16.914. The 2 heats were won by Michael Mann and Brandon Freeburg. This setup the A main with an invert of 1. Anytime for the Mod Lites when Brandon Freeburg is on the front row watch out just like putting Derek Losh on the front row of an UMP mod race. This was true again for the Mod Lites as Brandon Freeburg was strong and lead the whole way for the big win. Following him was Jeff Cast, Mike Pershing, Brenden McGlothlin, Chris Hutton and Jimmy Arthur. Thanks to all the Mod Lites for joining us for the 2 day weekend race . Thanks to all the teams and fans who put on another great show at LPS. Next week at LPS is the big one. Night 1 of the Bill Gardner Sprintacular which was rained out is on the card next Saturday at LPS. It will be an MSCS race worth 5 grand to win along with the Ump Super Stocks, UMP Mods and the IMCA 305 Racesavers which will be a gigantic night and you will want to be there to see who can conquer the big cushion for the big check.
---
Article Credit: Kenny Clark
Submitted By: Jill Spiker
Article Media
Back to News