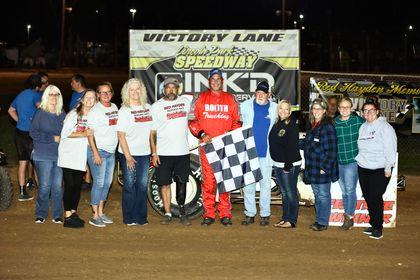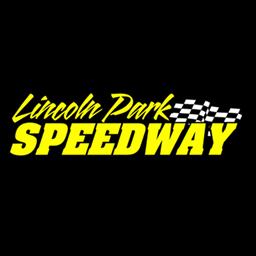 9/14/2023
Lincoln Park Speedway
---
1st Red Hayden Memorial Had A Packed Pits Of 95 Entries At LPS
Saturday night we raced in honor for Red Hayden as the Hayden family put on a great deal for all 4 classes at LPS. 31 sprint cars would battle it out for 2500 to win. The 4 fast drivers in their groups were Evan Mosley 13.153, Brayden Fox 12.952, Mario Clouser 12.952 and Shane Cottle 12.869. This would setup the heat races with an invert spin of 1 so straight up. Heat race 1 Seth Parker came from 3rd to win it as he continues his strong runs in the 2nd half of the season and won it over Brandon Spencer, Tye Mihocko and Brent Beauchamp. Heat race 2 went to Brayden Fox over Hunter Maddox, Blake Vermillion and Matt Thompson. Heat race 3 Jordan Kinser came strong from 4th win it over Mario Clouser, Jesse Vermillion and Mitch Wissmiller. The final heat went to 2E good to see him back at LPS the veteran Shane Cottle holding off Harley Burns, Kyle Shipley and Chance Crum. The final 4 spots from the B main to make it into the 1st memorial Red Hayden A main was Evan Mosley winning the B over Zack Pretorius, Matt Mcdonald and Chance Crum. This setup the A main for 30 laps and with an invert of 8 Harley Burns and Mario Clouser would be the front row. Harley and Mario had a great battle early and Mario Clouser looked strong and would lead early. About halfway through the race I will give you 1 guess who was coming to the front just inches from the infield tires? The 2E Throttle Shane Cottle who most think he may be one of the best on the bottom ever to do it. Shane is definitely one of the best on the bottom and he was up to 2nd from 5th. The Epperson 2E would then take the lead and would go on to lead the final circuits and win the Red Hayden Memorial. At the finish Shane Cottle won it over Tye Mihocko, Harley Burns, Jordan Kinser and Brayden Fox. Thanks to all 31 teams who put on a dandy for the Hayden family.
The UMP Mods had 18 entries with Jeff Deckard 14.661 and Derek Losh 14.073 leading the way in their groups. Wes McClara won heat 1 over Jeff Deckard and Matt Mitchell. Heat race 2 had Brayden Watson win it over Derek Losh and Jimmy Hayden. This setup the A main and with an invert of 4 Derek Losh and Jeff Deckard were scheduled on the front row. As Derek Losh rolled out 1 wheel cover was hanging off and he had to go to the work area so the 21 would have to start 18th and would definitely put on a show headed to the front. Brayden Watson was very strong early in the 91 Voorhies entry and Jeff Deckard was also very strong in 2nd. At the halfway point Derek had made it to 7th but it was going to be tough to catch the leaders. Brayden Watson was very strong in the 30 lap A main event and would pick up the big Red Hayden Memorial win over Jeff Deckard, Derek Losh, Matt Mitchell, Will Bennett and Tyler Loughmiller.
The UMP Super Stocks had 24 cars and the 3 fast times were Josh Litton, Paul Wright and Larry Raines. The 3 heats would also be won by all fast time guys. Heat race 1 Josh Litton won over Devin Wallen and Jack Campbell. Heat race 2 Paul Wright won it over Ryan Freeland and Elijah Freeland. Larry Raines won the final heat over Tucker Chastain and Wade Goodale. The B main was won by Jordan Almanza over Matt Raber and Megan Cavaness. This setup the A main and with an invert of 1 Josh Litton and Paul Wright would start on the front row. Paul Wright would take the lead early and this would be a 3 car battle for most of the 20 laps. Josh Litton was right there also until he had to pull off with a problem. Paul would still lead early and would look strong in the middle groove. Larry Raines would throw it up on the cushion and he would take the lead and with Paul Wright and Tucker battling for 2nd Larry would build a lead but they both made a charge back and it was a 3 car battle. On the final 10 laps Paul Wright on a restart would get the middle to work and by lap 26 it appeared he might knock the R4 off his streak of wins but the final 2 laps Larry was very strong on the cushion and take the win to keep his streak going. Larry Raines at the line won it over Tucker Chastain, Paul Wright, Devin Wallen and Chris Bennett. Thanks to all 24 teams who once again put on a dandy.
The Bombers had a strong group of 22. The 3 fast times were Josh Foxworthy, Corey Anstead and Megan Cavaness. Heat race 1 had Joey Raber win it over Josh Foxworthy and Stott Tidwell. Heat race 2 had Randy Foxworthy win it over Adam Perkins and Reese Riser. The final heat had Megan Cavaness win it over Cody Tate and David Bumgardner. This setup the A main for 1000 to win and the front row was Cody Tate and Adam Perkins. The 30 lap A had a scary crash right past the flagstand with Adam Perkins and 4 other drivers involved and we are glad the drivers are okay because it was very bad. Hopefully the cars can be repaired because they were some heavy hits. Josh Foxworthy would get to the lead early from 3rd and when the 38 is up front you can almost write the check. Sure enough Josh Foxworthy would build a nice lead and hit his marks correctly for the 1000 bucks at the 1st Red Hayden Memorial. Following Josh at the finish it was Joey Raber, David Wallen, Megan Cavaness and Corey Anstead. Thanks again to the Hayden family for a very special night for all the classes. Next week our regular show is joined with the Mod Lites and they have put on some great shows this year also to add to our great lineup every Saturday night. With just 3 nights left for UMP points and track points it is getiing very interesting in the state and nation for our UMP battles. See you next week at LPS!!!!
---
Article Credit: Kenny Clark
Submitted By: Jill Spiker
Article Media
Back to News