Saturday 6/10- Don't miss the action!
Every sprint runs a feature! Modifieds! Super Stocks! and Bombers!

USAC INDIANA MIDGET WEEK THURS. 6/8
Don't miss the action at "The Capital of the Cusion!" Thursday June 8th!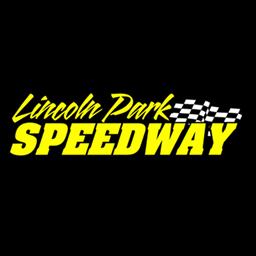 7/8/2017 - Lincoln Park Speedway
Putnamville, IN
5th Annual Slick Griffin Memorial -$1,000.00 to win $100.00 to start - Super Stock Mid-Season Champ.
DIRTcar UMP Modifieds

28 entries

Indiana Super Stocks

17 entries

Bombers

21 entries
Full Event Information on MyRacePass
DIRTcar UMP Modifieds
Finish
Start
#
Competitor
Hometown
+/-
1
3
05B
Josh Boller Greencastle, IN
Greencastle, IN
2
2
8
62
Randy Shuman Danville, IL
Danville, IL
6
3
16
92C
Kenny Carmichael Jr Terre Haute, IN
Terre Haute, IN
13
4
4
34W
James Walters
-
5
7
92
Kenny Carmichael Sr Terre Haute, IN
Terre Haute, IN
2
6
11
40
RJ Pruitt Terre Haute, IN
Terre Haute, IN
5
7
12
96
Cole Parker Coal City, IN
Coal City, IN
5
8
19
51
Rob Brickert Monrovia, IN
Monrovia, IN
11
9
10
54
Paul Bumgardner Greencastle, IN
Greencastle, IN
1
10
5
24L
Sydney Landes West Terre Haute, IN
West Terre Haute, IN
-5
11
9
33
Scott Ricketts Cory, IN
Cory, IN
-2
12
13
2A
Aaron Pace Martinsville, IN
Martinsville, IN
1
13
17
2B
Brent Hudson Terre Haute, IN
Terre Haute, IN
4
14
20
29
Aaron Zellers Shelburn, IN
Shelburn, IN
6
15
18
29J
Jordan Wever Bloomington, IN
Bloomington, IN
3
16
1
9H
Bradley Sterrett Bloomington, IN
Bloomington, IN
-15
17
15
11M
Josh McDaniel Terre Haute, IN
Terre Haute, IN
-2
18
2
6J
Jay Humphrey Jr Bloomington, IN
Bloomington, IN
-16
19
6
D48
Derek Groomer Bloomington, IN
Bloomington, IN
-13
20
14
5L
Dan Lewellen
-6
Finish
Start
#
Competitor
Hometown
+/-
1
2
2B
Brent Hudson Terre Haute, IN
Terre Haute, IN
1
2
4
29J
Jordan Wever Bloomington, IN
Bloomington, IN
2
3
10
51
Rob Brickert Monrovia, IN
Monrovia, IN
7
4
1
29
Aaron Zellers Shelburn, IN
Shelburn, IN
-3
5
7
07
JR Watkins
2
6
5
08
Chad Steinert Wichita, KS
Wichita, KS
-1
7
3
2
Jake Leitzman Paragon, IN
Paragon, IN
-4
8
6
72M
Michael Beatty Worthington, IN
Worthington, IN
-2
9
11
C0
Justin Clodfelter Rockville, IN
Rockville, IN
2
10
12
6C
Megan Cavaness Greencastle, IN
Greencastle, IN
2
11
8
4X
Michael Fish Worthington, IN
Worthington, IN
-3
12
9
40A
Alex Reid Terre Haute, IN
Terre Haute, IN
-3
Finish
Start
#
Competitor
Hometown
+/-
1
1
9H
Bradley Sterrett Bloomington, IN
Bloomington, IN
-
2
2
24L
Sydney Landes West Terre Haute, IN
West Terre Haute, IN
-
3
6
33
Scott Ricketts Cory, IN
Cory, IN
3
4
3
2A
Aaron Pace Martinsville, IN
Martinsville, IN
-1
Top 4 transfer
5
4
29
Aaron Zellers Shelburn, IN
Shelburn, IN
-1
6
7
08
Chad Steinert Wichita, KS
Wichita, KS
1
DNS
5
6C
Megan Cavaness Greencastle, IN
Greencastle, IN
-
Finish
Start
#
Competitor
Hometown
+/-
1
1
6J
Jay Humphrey Jr Bloomington, IN
Bloomington, IN
-
2
2
D48
Derek Groomer Bloomington, IN
Bloomington, IN
-
3
3
54
Paul Bumgardner Greencastle, IN
Greencastle, IN
-
4
5
5L
Dan Lewellen
1
Top 4 transfer
5
7
2B
Brent Hudson Terre Haute, IN
Terre Haute, IN
2
6
4
72M
Michael Beatty Worthington, IN
Worthington, IN
-2
7
6
40A
Alex Reid Terre Haute, IN
Terre Haute, IN
-1
Finish
Start
#
Competitor
Hometown
+/-
1
4
05B
Josh Boller Greencastle, IN
Greencastle, IN
3
2
2
92
Kenny Carmichael Sr Terre Haute, IN
Terre Haute, IN
-
3
7
40
RJ Pruitt Terre Haute, IN
Terre Haute, IN
4
4
5
11M
Josh McDaniel Terre Haute, IN
Terre Haute, IN
1
Top 4 transfer
5
1
2
Jake Leitzman Paragon, IN
Paragon, IN
-4
6
6
07
JR Watkins
-
7
3
51
Rob Brickert Monrovia, IN
Monrovia, IN
-4
Finish
Start
#
Competitor
Hometown
+/-
1
2
34W
James Walters
1
2
6
62
Randy Shuman Danville, IL
Danville, IL
4
3
4
96
Cole Parker Coal City, IN
Coal City, IN
1
4
5
92C
Kenny Carmichael Jr Terre Haute, IN
Terre Haute, IN
1
Top 4 transfer
5
3
29J
Jordan Wever Bloomington, IN
Bloomington, IN
-2
6
1
4X
Michael Fish Worthington, IN
Worthington, IN
-5
7
7
C0
Justin Clodfelter Rockville, IN
Rockville, IN
-
Indiana Super Stocks
Finish
Start
#
Competitor
Hometown
+/-
1
6
2A
Kenny Carmichael Jr Terre Haute, IN
Terre Haute, IN
5
2
3
G2
Ralph Groomer Brazil, IN
Brazil, IN
1
3
1
P3
Steve Peeden Martinsville, IN
Martinsville, IN
-2
4
16
25
Cullen Goodman Shelburn, IN
Shelburn, IN
12
5
7
23H
Chris Harcourt Fillmore, IN
Fillmore, IN
2
6
10
19M
Douglas McCullough Greencastle, IN
Greencastle, IN
4
7
15
73W
Chucky Walden
8
8
9
11F
Kenny Fields Clayton, IN
Clayton, IN
1
9
12
55J
Justin Massie Plainfield, IN
Plainfield, IN
3
10
13
42
Paul Wright Terre Haute, IN
Terre Haute, IN
3
11
11
26
Kris Starks Greencastle, IN
Greencastle, IN
-
12
4
3
Jack Campbell Greencastle, IN
Greencastle, IN
-8
13
2
45M
Wes McClara
-11
14
8
21N
Jonny Newgent Greencastle, IN
Greencastle, IN
-6
15
5
4R
Larry Raines Brazil, IN
Brazil, IN
-10
DNS
14
3M
Michael O'Conner Greencastle, IN
Greencastle, IN
-
DNS
17
05B
Josh Boller Greencastle, IN
Greencastle, IN
-
Finish
Start
#
Competitor
Hometown
+/-
1
1
45M
Wes McClara
-
2
2
G2
Ralph Groomer Brazil, IN
Brazil, IN
-
3
4
4R
Larry Raines Brazil, IN
Brazil, IN
1
4
5
23H
Chris Harcourt Fillmore, IN
Fillmore, IN
1
5
7
11F
Kenny Fields Clayton, IN
Clayton, IN
2
6
6
26
Kris Starks Greencastle, IN
Greencastle, IN
-
7
8
42
Paul Wright Terre Haute, IN
Terre Haute, IN
1
8
9
73W
Chucky Walden
1
9
3
25
Cullen Goodman Shelburn, IN
Shelburn, IN
-6
All transfer
Finish
Start
#
Competitor
Hometown
+/-
1
1
P3
Steve Peeden Martinsville, IN
Martinsville, IN
-
2
8
3M
Michael O'Conner Greencastle, IN
Greencastle, IN
6
3
6
2A
Kenny Carmichael Jr Terre Haute, IN
Terre Haute, IN
3
4
5
21N
Jonny Newgent Greencastle, IN
Greencastle, IN
1
5
4
19M
Douglas McCullough Greencastle, IN
Greencastle, IN
-1
6
3
55J
Justin Massie Plainfield, IN
Plainfield, IN
-3
7
2
3
Jack Campbell Greencastle, IN
Greencastle, IN
-5
DNS
7
05B
Josh Boller Greencastle, IN
Greencastle, IN
-
All transfer
Bombers
Finish
Start
#
Competitor
Hometown
+/-
1
1
22W
Cody Wright Indianapolis, IN
Indianapolis, IN
-
2
4
89
Josh Litton Paragon, IN
Paragon, IN
2
3
2
55F
Josh Foxworthy Marshall, IN
Marshall, IN
-1
4
3
5C
Megan Cavaness Greencastle, IN
Greencastle, IN
-1
5
6
24H
Gary Hayden Coatesville, IN
Coatesville, IN
1
6
10
14J
Jordan Almanza Roachdale, IN
Roachdale, IN
4
7
7
4C
Tom Cox
-
8
8
5S
Ron Smith
-
9
9
4G
Glenn Ogden Danville, IN
Danville, IN
-
10
11
38
Tylor Campfield Plainfield, IN
Plainfield, IN
1
11
13
7
Travis Heramb Terre Haute, IN
Terre Haute, IN
2
12
12
91
Sean Yakel Brazil, IN
Brazil, IN
-
13
15
79C
Kevian Clodfelter Rockville, IN
Rockville, IN
2
14
17
00
Robert Farris Terre Haute, IN
Terre Haute, IN
3
15
14
21R
Matt Raber Indianapolis, IN
Indianapolis, IN
-1
16
20
32
Donald Smiley Greencastle, IN
Greencastle, IN
4
17
21
57
Devin Wallen Brazil, IN
Brazil, IN
4
18
16
23C
Tom Plemons Roachdale, IN
Roachdale, IN
-2
19
19
11T
Tyler Rodgers
-
20
5
59
David Wallen Brazil, IN
Brazil, IN
-15
21
18
64
Alex Beach Greencastle, IN
Greencastle, IN
-3
Finish
Start
#
Competitor
Hometown
+/-
1
1
14J
Jordan Almanza Roachdale, IN
Roachdale, IN
-
2
2
5C
Megan Cavaness Greencastle, IN
Greencastle, IN
-
3
7
24H
Gary Hayden Coatesville, IN
Coatesville, IN
4
4
3
4G
Glenn Ogden Danville, IN
Danville, IN
-1
5
4
7
Travis Heramb Terre Haute, IN
Terre Haute, IN
-1
6
6
23C
Tom Plemons Roachdale, IN
Roachdale, IN
-
7
5
11T
Tyler Rodgers
-2
All transfer
Finish
Start
#
Competitor
Hometown
+/-
1
2
22W
Cody Wright Indianapolis, IN
Indianapolis, IN
1
2
3
89
Josh Litton Paragon, IN
Paragon, IN
1
3
1
4C
Tom Cox
-2
4
4
38
Tylor Campfield Plainfield, IN
Plainfield, IN
-
5
7
21R
Matt Raber Indianapolis, IN
Indianapolis, IN
2
6
5
00
Robert Farris Terre Haute, IN
Terre Haute, IN
-1
7
6
32
Donald Smiley Greencastle, IN
Greencastle, IN
-1
All transfer
Finish
Start
#
Competitor
Hometown
+/-
1
2
55F
Josh Foxworthy Marshall, IN
Marshall, IN
1
2
1
59
David Wallen Brazil, IN
Brazil, IN
-1
3
4
5S
Ron Smith
1
4
3
91
Sean Yakel Brazil, IN
Brazil, IN
-1
5
5
79C
Kevian Clodfelter Rockville, IN
Rockville, IN
-
6
7
64
Alex Beach Greencastle, IN
Greencastle, IN
1
7
6
57
Devin Wallen Brazil, IN
Brazil, IN
-1
All transfer