Saturday 4/1/23 Season Opener
The 2023 Season kicks off with the Indiana Open Wheel Racing Fest and Fireworks!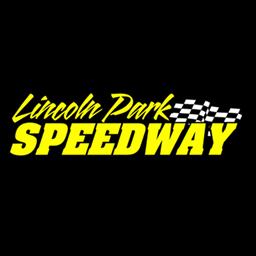 8/16/2022 - Lincoln Park Speedway
Putnamville, IN
Highlimit Sprint Car Series debut Race
The new Highlimt Sprint Car series brought to you by Kyle Larson and Brad Sweet will debut at Lincoln Park Speedway on August 16th! 410 winged sprint cars! Lincoln Park Speedway Bombers will be the support class. The support class will be by invitation only.
Don't miss this event!
Bombers

18 entries

410 Sprints - Winged

35 entries

High Limit Sprint Car Series
Available on FloRacing
Full Event Information on MyRacePass
Bombers
Finish
Start
#
Competitor
Hometown
+/-
1
2
121
Joseph Raber Greenwood, IN
Greenwood, IN
1
2
4
38
Josh Foxworthy Marshall, IN
Marshall, IN
2
3
6
14J
Jordan Almanza Roachdale, IN
Roachdale, IN
3
4
3
9
Corey Anstead Terre Haute, IN
Terre Haute, IN
-1
5
7
77X
Scott Tidwell Bloomingdale, IN
Bloomingdale, IN
2
6
14
5C
Megan Cavaness Greencastle, IN
Greencastle, IN
8
7
10
59
David Wallen Brazil, IN
Brazil, IN
3
8
5
5
David Bumgardner Fillmore, IN
Fillmore, IN
-3
9
8
77
Randy Foxworthy Marshall, IN
Marshall, IN
-1
10
12
51
David Shepherd
2
11
15
11T
Tyler Rodgers
4
12
16
1911
Jason Carson Danville, IN
Danville, IN
4
13
13
42
Albert Orr Clayton, IN
Clayton, IN
-
14
9
54BH
Katie Grigsby Spencer, IN
Spencer, IN
-5
15
11
71T
Cody Tate Mooresville, IN
Mooresville, IN
-4
16
17
46
Junior Shepherd Bowling Green, IN
Bowling Green, IN
1
DNS
18
7T
Jeremy Tate Mooresville, IN
Mooresville, IN
-
DQ
1
9MM
Andrew Pollock Danville, IN
Danville, IN
-
Finish
Start
#
Competitor
Hometown
+/-
1
2
121
Joseph Raber Greenwood, IN
Greenwood, IN
1
2
1
9
Corey Anstead Terre Haute, IN
Terre Haute, IN
-1
3
4
5
David Bumgardner Fillmore, IN
Fillmore, IN
1
4
5
77X
Scott Tidwell Bloomingdale, IN
Bloomingdale, IN
1
5
6
54BH
Katie Grigsby Spencer, IN
Spencer, IN
1
6
3
71T
Cody Tate Mooresville, IN
Mooresville, IN
-3
7
9
42
Albert Orr Clayton, IN
Clayton, IN
2
8
7
11T
Tyler Rodgers
-1
DNS
8
7T
Jeremy Tate Mooresville, IN
Mooresville, IN
-
All transfer
Finish
Start
#
Competitor
Hometown
+/-
1
1
9MM
Andrew Pollock Danville, IN
Danville, IN
-
2
2
38
Josh Foxworthy Marshall, IN
Marshall, IN
-
3
3
14J
Jordan Almanza Roachdale, IN
Roachdale, IN
-
4
4
77
Randy Foxworthy Marshall, IN
Marshall, IN
-
5
8
59
David Wallen Brazil, IN
Brazil, IN
3
6
5
51
David Shepherd
-1
7
9
5C
Megan Cavaness Greencastle, IN
Greencastle, IN
2
8
7
1911
Jason Carson Danville, IN
Danville, IN
-1
9
6
46
Junior Shepherd Bowling Green, IN
Bowling Green, IN
-3
All transfer
Finish
Start
#
Competitor
Hometown
Time
1
3
9
Corey Anstead Terre Haute, IN
Terre Haute, IN
2
8
121
Joseph Raber Greenwood, IN
Greenwood, IN
3
9
71T
Cody Tate Mooresville, IN
Mooresville, IN
4
7
5
David Bumgardner Fillmore, IN
Fillmore, IN
5
2
77X
Scott Tidwell Bloomingdale, IN
Bloomingdale, IN
6
5
54BH
Katie Grigsby Spencer, IN
Spencer, IN
7
4
11T
Tyler Rodgers
8
6
7T
Jeremy Tate Mooresville, IN
Mooresville, IN
9
1
42
Albert Orr Clayton, IN
Clayton, IN
Finish
Start
#
Competitor
Hometown
Time
1
6
9MM
Andrew Pollock Danville, IN
Danville, IN
2
1
38
Josh Foxworthy Marshall, IN
Marshall, IN
3
2
14J
Jordan Almanza Roachdale, IN
Roachdale, IN
4
8
77
Randy Foxworthy Marshall, IN
Marshall, IN
5
4
51
David Shepherd
6
7
46
Junior Shepherd Bowling Green, IN
Bowling Green, IN
7
5
1911
Jason Carson Danville, IN
Danville, IN
8
9
59
David Wallen Brazil, IN
Brazil, IN
9
3
5C
Megan Cavaness Greencastle, IN
Greencastle, IN
410 Sprints - Winged
Finish
Start
#
Competitor
Hometown
+/-
1

N/A

-
2

N/A

-
3

N/A

-
4

N/A

-
5

N/A

-
6

N/A

-
7
1
21H
Brady Bacon Broken Arrow, OK
Broken Arrow, OK
-6
Finish
Start
#
Competitor
Hometown
+/-
1
1
21H
Brady Bacon Broken Arrow, OK
Broken Arrow, OK
-
Finish
Start
#
Competitor
Hometown
+/-
1

N/A

-
2
1
21H
Brady Bacon Broken Arrow, OK
Broken Arrow, OK
-1
Finish
Start
#
Competitor
Hometown
Time
1

N/A

2
21H
Brady Bacon Broken Arrow, OK
Broken Arrow, OK
11.646