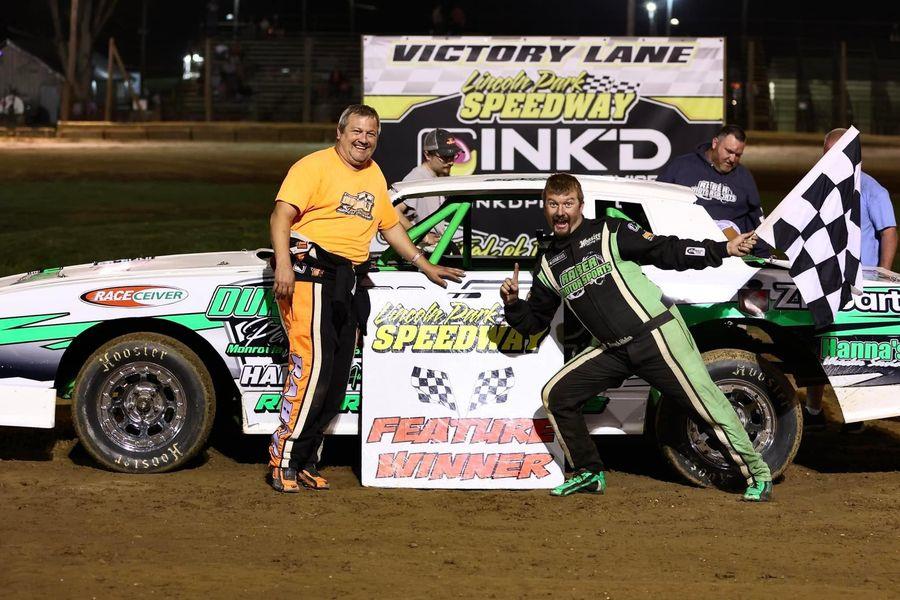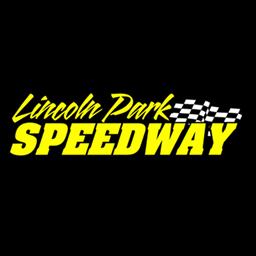 4/20/2023
Lincoln Park Speedway
---
Joseph Raber: Full agenda
If Joseph Raber did not have enough to do in his life suddenly, he was presented with a
particularly thorny problem. His wife Amanda was at a 4-H meeting with the couple's oldest
child, and now several of the family goats were on the loose. With the help of his brother
Mathew the escapees were corralled, and while exasperated, Joseph could now turn his attention
to the other items on his agenda.
Joseph and Mathew Raber's homes rest on twenty-two acres of land between
Bargersville and Morgantown, Indiana and the space comes in handy given their ever-expanding
menagerie of racecars. There are times when Joseph must step back and try to understand how
this all unfolded. With a laugh he admits, "that was the whole deal with my wife. She said I
could buy a racecar if she could have goats." With that he pauses and adds, "Now I have thirteen
racecars, a handful of goats, and not enough time in the day."
It started innocently enough. Raber is a co-owner and Sales Manager for Allied
Equipment and two of the company's employees are Tim and Cody Wright. Joseph had been
exposed to racing years ago when a second cousin raced at the Indianapolis Speedrome, but it
had been a long time since he had visited a racetrack. That was about to change. "We started
going to the track with Tim and Cody," he says, "and then Cody started getting faster, so we
started sponsoring him and making sure he had the parts he needed. Then Matthew bought a car,
so I went out and watched him and thought this looked like fun. So, I bought a car, and a year
later we had another car, and they just keep multiplying like rabbits. Now I am elbow deep in
cars and don't have enough garage space."
Taking on the bomber division he found the competition both intense and enjoyable. The
more he raced the more it became an important part of his life. On April 6, 2019, he got his first
win. "It was my very first night in the Barn Built car I am still driving," he says, "It was one that
C. J. Bryan flipped in 2018. I bought it off his car owner. We put it together and painted it green
because everybody told me green was bad luck. I told them they were wrong. That night it was
90% the car and 10% luck."
Regardless of his self-assessment he began vying for wins regularly and put real pressure
on perennial front-runner Jordan Almanza. "Jordan is good people," Raber says, and he admits
he has mixed feelings about his chief rivals' move to Super Stocks. During the week, the Raber
Brothers and Almanza engage in regular and fun trash talk via text. It is not like Raber is
standing still either. He purchased a modified, and last year he turned to veteran Matthew Cooley
to sort the car out. Raber jumped in the car for the Ricketts Memorial but when the engine
detonated in practice, he parked it for the year.
Now with the 2023 season just underway he is facing a dilemma. With back-to-back wins
in April, he is in prime position to claim a championship. He's tried running two cars on race
night and found it exhausting. Cooley has already worked to shake the modified down, but this is
also not a time to divide his attention even more. There are other considerations as well. " My ?
plan was to run a little bit with both cars because I was not going to run for points this year," he
says, "We have been doing it five years straight without missing a race. So going into this year I
told my wife that with the kids getting older we would take a weekend and go camping and get
stuff down around the house for a change. Then I get two wins in a row and Jill Spiker sent me a
text and said you are going to have to keep racing now."
It turns out that he almost missed the first race of the year for a slightly unusual reason.
Raber takes a great deal of pride in the appearance of his cars. He credits his professional
appearance to the work of C. J. Bryan and Specialty Grafix. As the new season loomed his
fastidiousness about his cars came into play. Because his car was yet to wrapped, he simply was
not going to compete. He made an exception when the first race of the year was pushed back to
Sunday. However, that is where he drew the line. "I told C. J. I had to have it wrapped," he said,
"I told him I didn't plan on finishing second and I do not plan on my sponsors seeing my car
naked in victory lane. He showed up on that Saturday about 8:30 in the morning and wrapped the
car. We backed up our end of the deal by winning but I still don't think he was happy because he
was working on about two hours of sleep."
While Raber's first 2023 win at Lincoln Park was relatively easy, the second was a far
different matter. "That one was too close for comfort," he says, "The first one was better. I could
look out my window and see second place, so I didn't stress out. The last time Megan (Cavaness)
really made me work for it and I wasn't too happy about that. My hands hurt the next day from
gripping the steering wheel so hard." Yet, when he shares this story, he quickly recalls how tight
his racing circle is. "Last year I broke a gear on the first night," he says, "and it was Megan who
gave me the gear to put in."
He got even deeper into the sport when he, Mathew, and Cody Wright bought Durabuilt
and moved the operation to Monrovia. "We have three tracks we take care of, Circle City,
Bloomington, and Lincoln Park. We have fuel tanks at all three tracks and two fully stocked box
trucks with tires and just about any part you could use at the track. I think we have about $25,000
in inventory in each truck." For Joseph, racing may have started as a hobby but now it is a
business and hence, Raber Motorsports was born.
When he arrives at the racetrack the fun part is climbing into his car, but each night has
its own challenges. "It is very stressful on race day," he says, "because we have all made the
statement that Durabuilt comes first. We need to make sure that everybody has parts, tires, and
fuel before we worry about racing. We bust our butts making sure everyone has their stuff." It
requires that one of the team members has their total concentration on this enterprise.
He fully admits that his wife holds down the fort that includes daughters Sadie and
Shelby, and his son Spencer. She is the glue to the operation, and he knows it. "I credit her for
everything," he says, and then adds with a laugh, "Except the motor. I must credit my brother for
that because I have been running his for the last year and a half. We put it in, and I got a win, and
I told him he was never getting it back because it is way faster than mine. That's why he sold the
bomber." Yes, between forklifts, kids, racecars, goats, and a serious side hustle Joseph Raber's
days are filled to the brim.
---
Article Credit: Patrick Sullivan
Submitted By: Jill Spiker
Back to News