Saturday 9/30 - Champions will be crowned!
Sprints, Modifieds Super Stocks, and Bombers!

High Limit Sprint Cars presented by K1 Race Wear
Don't miss the finale of the inaugural season, October 10th (Tuesday)! Tickets on sale now at the Ticket Hoss App

Maverick Winged Sprint Car Series Debuts Fri. 10/6
Honest Abe's Roofing Maverick Sprint Car Series Debuts at Lincoln Park Speedway, Friday Oct. 6.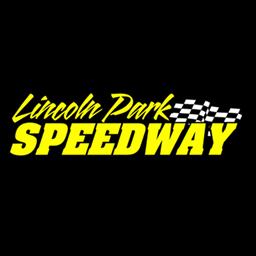 5/25/2019 - Lincoln Park Speedway
Putnamville, IN
19 entries
DIRTcar UMP Modifieds
---
A Feature 1: 1. D48-Derek Groomer[3]; 2. 29J-Jordan Wever[6]; 3. P1-Tim Prince[1]; 4. 99T-Tyler Loughmiller[5]; 5. 40-RJ Pruitt[7]; 6. 4X-Michael Fish[10]; 7. 711B-Jerry Bland Jr[11]; 8. 14R-RT Gamble[16]; 9. 22W-Cody Wright[13]; 10. 13-Nathan Krengle[14]; 11. 55S-Scott Crouch[19]; 12. 32-Donald Smiley[17]; 13. 19-Michael Kettnich[12]; 14. 40A-Alex Reid[15]; 15. 24L-Sydney Landes[2]; 16. 51-Rob Brickert[9]; 17. 22P-Wil Prater[4]; 18. (DNS) 58-Eddie Martin; 19. (DNS) 2B-Brent Hudson
Heat 1: 1. P1-Tim Prince[2]; 2. 22P-Wil Prater[4]; 3. 40-RJ Pruitt[3]; 4. 4X-Michael Fish[6]; 5. 22W-Cody Wright[5]; 6. 14R-RT Gamble[1]; 7. 55S-Scott Crouch[7]
Heat 2: 1. 24L-Sydney Landes[3]; 2. 99T-Tyler Loughmiller[6]; 3. 58-Eddie Martin[5]; 4. 711B-Jerry Bland Jr[4]; 5. 13-Nathan Krengle[2]; 6. 32-Donald Smiley[1]
Heat 3: 1. D48-Derek Groomer[6]; 2. 29J-Jordan Wever[1]; 3. 51-Rob Brickert[3]; 4. 19-Michael Kettnich[4]; 5. 40A-Alex Reid[5]; 6. 2B-Brent Hudson[2]
20 entries
Indiana Super Stocks
---
A Feature 1: 1. 05B-Josh Boller[2]; 2. 21N-Jonny Newgent[8]; 3. R4-Larry Raines[1]; 4. 64-Bryce Shidler[4]; 5. 11J-Matt Jordan[5]; 6. 89-Josh Litton[7]; 7. 42-Paul Wright[3]; 8. 45M-Wes McClara[14]; 9. 742-Daniel Norman[6]; 10. 7-Travis Heramb[15]; 11. 81P-Austin Phelps[11]; 12. 33-Scott Ricketts[16]; 13. 75-Jeff Starks[18]; 14. G2-Ralph Groomer[10]; 15. 27C-Justin Cundiff[19]; 16. 34-Kenny Weaver[12]; 17. 99J-Kyle Johnson[17]; 18. 2R-Hayden Rogers[9]; 19. 55J-Justin Massie[13]; 20. (DNS) 14G-Wade Goodale
Heat 1: 1. 64-Bryce Shidler[2]; 2. R4-Larry Raines[6]; 3. 89-Josh Litton[5]; 4. G2-Ralph Groomer[3]; 5. 55J-Justin Massie[4]; 6. 33-Scott Ricketts[7]; 7. 14G-Wade Goodale[1]
Heat 2: 1. 42-Paul Wright[1]; 2. 11J-Matt Jordan[3]; 3. 21N-Jonny Newgent[4]; 4. 81P-Austin Phelps[2]; 5. 45M-Wes McClara[6]; 6. 99J-Kyle Johnson[5]; 7. 27C-Justin Cundiff[7]
Heat 3: 1. 05B-Josh Boller[5]; 2. 742-Daniel Norman[3]; 3. 2R-Hayden Rogers[1]; 4. 34-Kenny Weaver[2]; 5. 7-Travis Heramb[6]; 6. 75-Jeff Starks[4]
A Feature 1: 1. 14J-Jordan Almanza[2]; 2. 89-Josh Litton[7]; 3. 5-David Bumgardner[3]; 4. 98-Justin Litton[10]; 5. 5X-David Wallen[5]; 6. 4C-Tom Cox[8]; 7. 54B-Barry Hicks[6]; 8. 21R-Cody Wright[11]; 9. 30P-Adam Perkins[14]; 10. 57-Devin Wallen[9]; 11. 121-Joseph Raber[22]; 12. 14-Jacob Steinway[17]; 13. 5M-Mark Dickerson[12]; 14. 54J-Jerry Hutto[15]; 15. 78-Chris Campbell[16]; 16. 32-DJ Smiley[18]; 17. 9CJ-Jeff Allen[4]; 18. 5C-Megan Cavaness[13]; 19. 11T-Tyler Rodgers[20]; 20. 17-Nik Davis[19]; 21. 95-Albert Orr[21]; 22. 9MM-Andrew Pollock[1]
Heat 1: 1. 9MM-Andrew Pollock[2]; 2. 9CJ-Jeff Allen[5]; 3. 54B-Barry Hicks[6]; 4. 57-Devin Wallen[1]; 5. 5C-Megan Cavaness[8]; 6. 78-Chris Campbell[7]; 7. 17-Nik Davis[3]; 8. 121-Joseph Raber[4]
Heat 2: 1. 14J-Jordan Almanza[4]; 2. 98-Justin Litton[2]; 3. 89-Josh Litton[6]; 4. 21R-Cody Wright[5]; 5. 30P-Adam Perkins[1]; 6. 14-Jacob Steinway[3]; 7. 11T-Tyler Rodgers[7]
Heat 3: 1. 5-David Bumgardner[3]; 2. 5X-David Wallen[6]; 3. 4C-Tom Cox[5]; 4. 5M-Mark Dickerson[2]; 5. 54J-Jerry Hutto[7]; 6. 32-DJ Smiley[1]; 7. 95-Albert Orr[4]